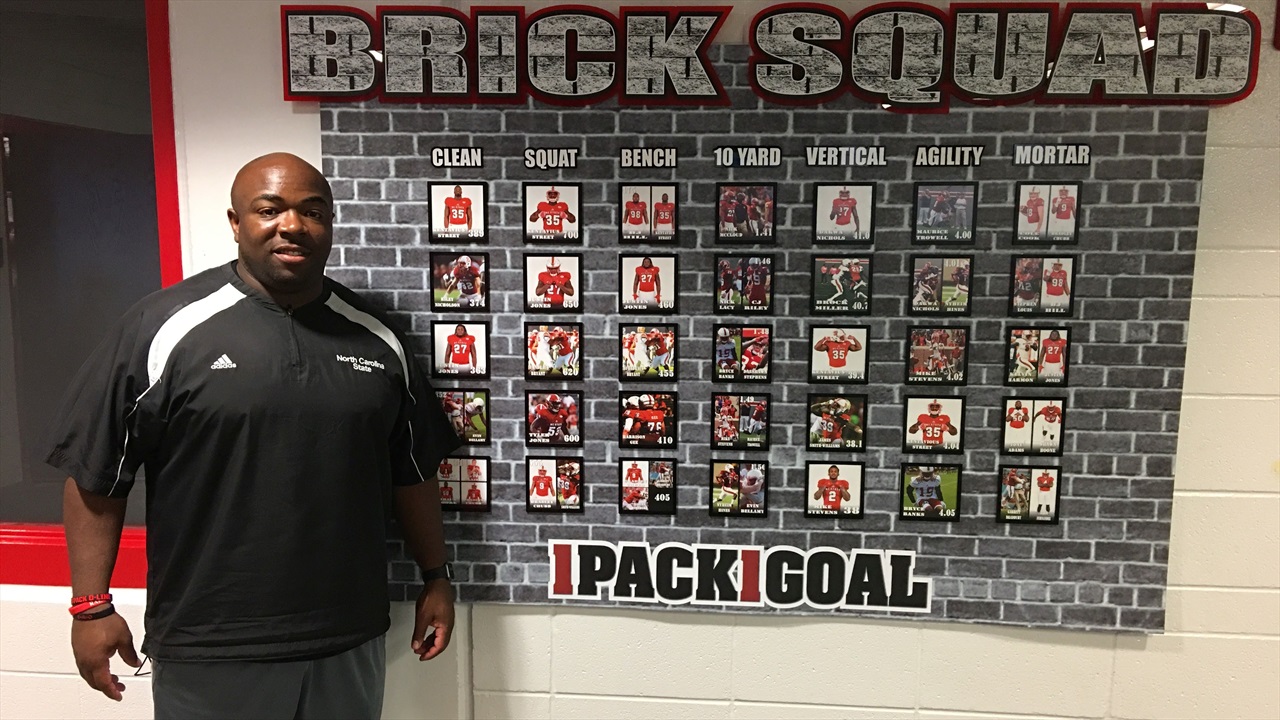 NC State Football
Thunder Dan: "I Get To Serve This Great Community"
---
NC State football strength and conditioning coach Dantonio "Thunder" Burnette has played a vital role in the program's rise in recent years, helping recruit and develop several talented players that have gone on to the NFL.
As a Wolfpack team that has its sights set on taking a step forward in 2021 continues its offseason work, Burnette is once again looking to help get both the Wolfpack's newcomers and returning veterans geared up and ready for the coming season.
Inside Pack Sports recently caught up with Burnette, and here is some of what he had to say!
---
This role, leading the strength and conditioning program, what does it mean for you -- being at your alma mater?
It's a great opportunity to be a leader in my family and a leader in my community. The great thing is I get to have a chance to be a leader here at this University. I played here and I graduated twice from here. And I get to serve this great community.
NC State fans are very loyal; they're great people. I've had multiple opportunities at other jobs, but I've decided to stay here because I love this place and it's very gratifying to have a chance to walk through the door every day and actually get to groom these young man, because I've been in their shoes before.
I wanted to ask you first – you know, when I interview kids, and then especially their parents, when they come to NC State, your name is probably mentioned as often as anyone, and a lot of the parents tell me, "we know that our kid is going to probably spend more time with the strength and conditioning staff than anyone". So it's a big part of their decision process. For fans that maybe aren't aware of this, talk a little bit about what your role is in the recruiting process -- to get these guys to come into the state.
Well, what better person to actually talk about the program? I won't even try to sell the program because I don't look at myself as a car salesman, but I look at myself as a person that tells people about the great things about NC State. Also, for me and myself, my number one goal is to be a great leader. So that's the top goal, and then the second thing is being a great educator. And then the third thing is being a great strength coach. l feel like strength and conditioning is the gift that God has given me.
The great thing about this University is that our mascot is the Wolfpack. It's not a Wolf. I understand that; it's all about relationships. And when parents get an opportunity to hear me speak they can see that I'm a very authentic person.
I tell them, any time [players] come here to NC State, I'm going to treat them exactly like I would treat my kids. I think the best thing about my experience and my opportunities to coach here at NC State is the relationships that I've built over the years. And I love the recruiting process.
Often times in recruiting, most college coaches are going to tell them how great they are. Everybody's going to tell you how great you are during the recruiting process. My job is to help them understand things they can work on to help them make it to the next level.
The flip side to that is we've been shut down for a year. How has that impacted your role? Is there really anything at this point that you're able to do on the recruiting side?
I don't think it really impacted my role much. In recruiting, I've always been the guy that absorbed digital presentations and stuff like that. So when when they shut it down, my guys could continue to roll along. I would be allowed to do recruiting presentations, I just did my recruiting presentations through Zoom.
My staff and I continue the education year round. So during the shutdown, during the pandemic, I was on Zoom every day multiple times just having an opportunity to touch bases with families and recruits during the pandemic. It hasn't slowed down, and we are operating the way I do things.
But at the end of the day, everybody's going through the same things, and interaction is interaction. I will say one thing. It is a little different because now, typically, we would be able to bring people in on campus. I'd be able to talk to [groups] on tours or in the weight room or team meeting room.
But now I have to do one-on-one presentations all the time. We've done a big Zoom once, but now it's a little bit different than being able to be in the office and continue to move forward.
I'm interested because I imagine at this time last year, the mentality of the program was a lot different than it is now – and obviously coming off of the 2019 season, a down season, maybe the players' mentality was a lot different than it is now. I'm just wondering how that feeds into your role, because obviously you're with them probably more at this point in the process than some of the coaches are. What's that like trying to have to get that mentality changed, or, you know, back focused on the positive goals.
I think we've been more appreciative of the opportunity. I just got to walk into practice this morning with Coach Doeren, and we were like, 'Man, I'm quite sure that the guys, this team last year, they thought that football was going to be shut down for so long'. This year around, we have more of a different perspective about just appreciating the Fall, appreciating the opportunity that we get to do what we do, and appreciating the opportunity that we get to develop.
So, this offseason, the guys have been completely different with their mindset, and I think a lot of that has to do with understanding that nothing is ever a given. This pandemic has forced us to understand that anything can change fast.
And so every opportunity that you get, you have to make the most of it. I will say that today, the energy in the building is just electrifying. The guys are very passionate about where we're going.
I think last season gave us the opportunity to see that we have an opportunity to be really good. We won a lot of close games. A lot of it has to do with mental fortitude. It's crazy how what I do, as a strength coach, being hands on and being in the same room with the guys, it's a very important deal. We missed a lot of time last year, being with the guys; again, once you got to the summer, we had a lot of protocols in place that they weren't mandatory, but we had to adapt on the run and we went straight into the season. Now, guys understand that we have to get everything you can out of it in order to continue to stack up on days and develop to be the team we need to be.
Do you view it like you almost lost a year with them? Was it that much of an impact not having a lot of the spring, a lot of the summer, to deal with them? And then now you're kind of back in the mix. Because I think it's interesting looking at a lot of these weight changes that were posted on the official website -- I just wonder if it was almost as much as finally kind of getting just all hands on deck with all with the guys all over again.
It was almost like you hit the reset button. You know, once we came back, it just depended on the availability, which a lot of guys didn't have. So we couldn't do a lot of testing at the end of the summer.
It was just trying to lay a baseline foundation with the guys and just trying to get them prepared, get them up to speed, and get them in shape again. You have guys that were in and out because of COVID or contract tracing. And so a lot of stuff is far different from what we do. It's like laying a foundation on a house. You must build that house on a very firm foundation.
And you can't go from saying 'Okay, I'm going to build a foundation of the house and then go right to building the roof.' You have to have some support beams and a lot of things that are gonna allow that house to withstand the rigors of football. So it was different. I'm just glad that we made it through the year and had an opportunity to play the whole season. And we're in a position now where we've taken a lot of steps in the right direction to continue to develop our guys and get the guys' ownership to a point where we all fit. I think a lot of the guys understand what to do and how to do it and continue to move forward.
Never miss the latest news from Inside Pack Sports!
Join our free email list