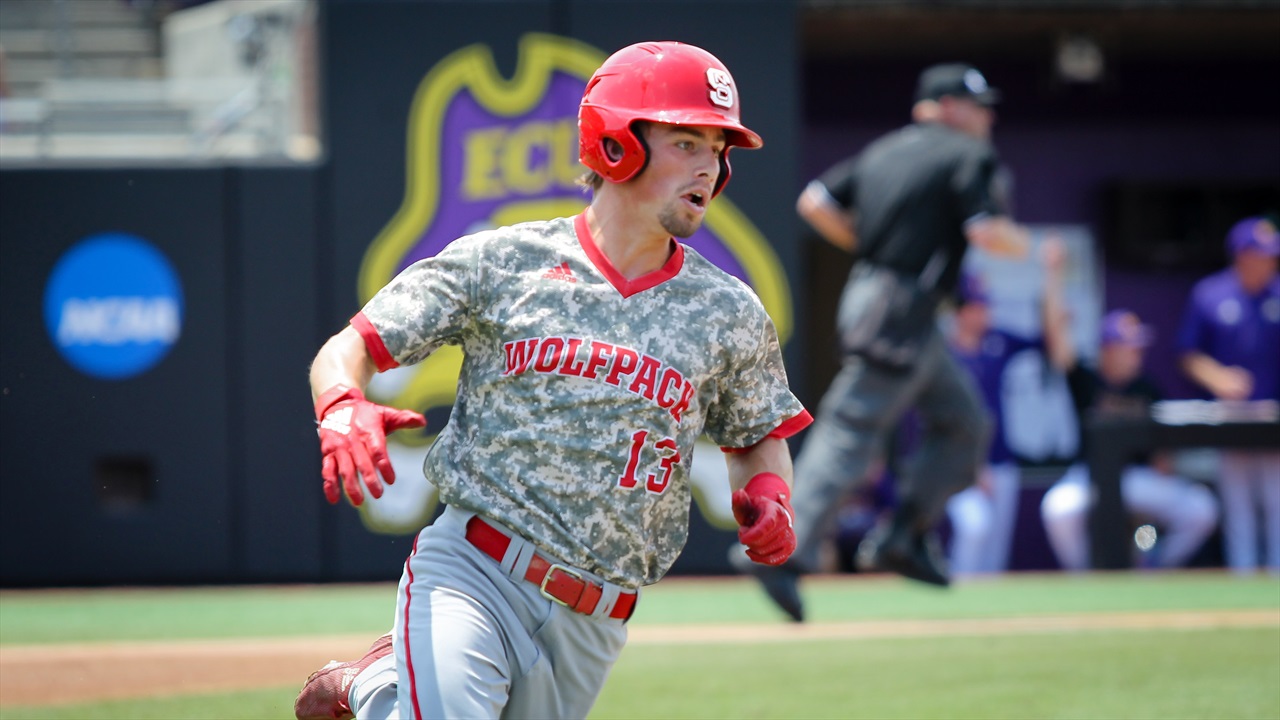 Photo by Steve Murphy/IPS
NC State Baseball
Takeaways: Wolfpack handles Aggies for sixth straight win
---
NC State baseball kept to its winning ways Wednesday night at Doak Field, topping NC A&T blank-blank for its sixth straight victory.
The Wolfpack rode a big night from its lineups and six innings of one-run, two-hit ball from Chris Villaman to victory.
Here's a few key takeaways from the win:
---
Villaman throws six sterling innings
Chris Villaman threw an excellent game in his third straight mid-week start, allowing just one run on two hits while striking out one and walking none in six innings, with his lone blemish coming on a solo homer in the top of the fifth.
Villaman did the definition of pitching to contact, retiring all of the first 11 batters he faced without a strikeout, and 17 of 19 overall. He induced 10 fly outs and seven groundouts with excellent command, as 46 of his 65 pitches were strikes.
Avent lifted Villaman following the sixth inning after he threw just 65 pitches, but said the reasoning was wanting to possibly use Villaman in the bullpen against Notre Dame this weekend and wanting to get some innings for his young relievers.
Over his last three starts, Villaman has thrown 21 innings and allowed just two runs on six hits while striking out 17 and walking five.
"He's been lights out for us, just to watch his confidence grow," Avent said. "He's a good player. He was a great player out of high school. He scuffled some early, and that happens. Every outing, his confidence continues to grow and grow."
Between Villaman's mid-week starts and recent weekend performances from Reid Johnston, Sam Highfill and Matt Willadsen, the Wolfpack seems to have found a groove with its starting pitching lately.
Pack's bats stay hot
The Wolfpack's lineup kept to its productive ways in this one, piling up 10 runs on 12 hits and forcing the Aggies to use seven pitchers. Every batter in the starting lineup except Luca Tresh picked up a hit, and Tresh reached base twice on walks.
Tyler McDonough, who reached base for the 43rd consecutive game dating back to the 2019 season, led the way with a 3 for 5 game, three RBIs and a run scored. McDonough finished a single shy of hitting for the cycle as his three hits came on a double, triple and home run.
"Consistency is what you get from Tyler McDonough," Avent said. "But you get that consistency because in practice, if you came to practice every day, you'd think he was playing a game that day. He plays so hard in practice. He plays so hard in pre game. He's always trying to get better at running down fly balls. He loves this game. Nobody outworks Tyler in terms of hustle and coming to the ballpark ready to play every day. I think he believes in himself, and that kind of hard work gives you a belief in yourself which leads to the consistency that you see on the field."
Jonny Butler also homered and drove in three for the Pack.
NC State has scored at least five runs in each game of its six-game winning streak, as a deep, talented lineup seems to have completely shaken off some early season struggles and is producing to its potential.
"Just having that consistent approach throughout the whole lineup," McDonough said. "We're talking a lot in the dugout and figuring out guys. Just figuring it out."
Wolfpack starts quick, keeps building
After Austin Murr walked to lead off the bottom of the first, the Aggies thought they had turned a 4-6-3 double play to leave no one on base with two outs. But Avent challenged the call, and Murr was ruled safe at second. Following a one-out walk for Tresh, Butler drove his fourth homer of the season just over the right-field wall to make it 3-0.
Some strong base running by Terrell Tatum helped plate another run for the Pack, as NC State's designated hitter legged out an infield single and then stole second before Vojtech Mesnik drove him home with a single to make it 4-0.
The Pack tacked on another on an RBI double for McDonough in the bottom of the second. McDonough kept his big night going in the bottom of the fourth, launching a two-run moonshot just fair over the left-field wall for his fifth homer of the season to put the Wolfpack up 7-0.
NC State three more runs in the bottom of the sixth to push its lead to 10-1, setting the stage for the Pack to cruise to victory as a trio of freshman relievers in Garrett Payne, Tristan Sipple and Coby Ingle allowed just three runs over the final three innings.
Wolfpack extends winning streak
NC State continues doing its best to claw back from an 4-9 start overall and 1-8 start to ACC play. The Wolfpack was won six straight, and since being swept by Louisville has won 11 of 13 to improve to 15-11 overall and 8-10 in conference play.
With five ACC series and three mid-week games left, the Wolfpack has plenty of season left to keep turning around its rough start and push for a spot in the postseason.
"The biggest thing is sticking with what we were doing," Avent said. "We were pretty good when we were 4-9. … I think the biggest thing is how the guys stuck with what they were doing and believed in themselves. We've played defense all throughout but we've gotten better offensively. … The biggest thing we've done different other than sticking to what we were doing offensively and defenisvely, is pitching has been really, really good. You talk about Reid Johnson, Sam Highfill, Evan Justice, Matt Willadsen and Crhis Villaman have been outstanding during the turnaround."
Up next is a weekend series at NC State.

Never miss the latest news from Inside Pack Sports!
Join our free email list