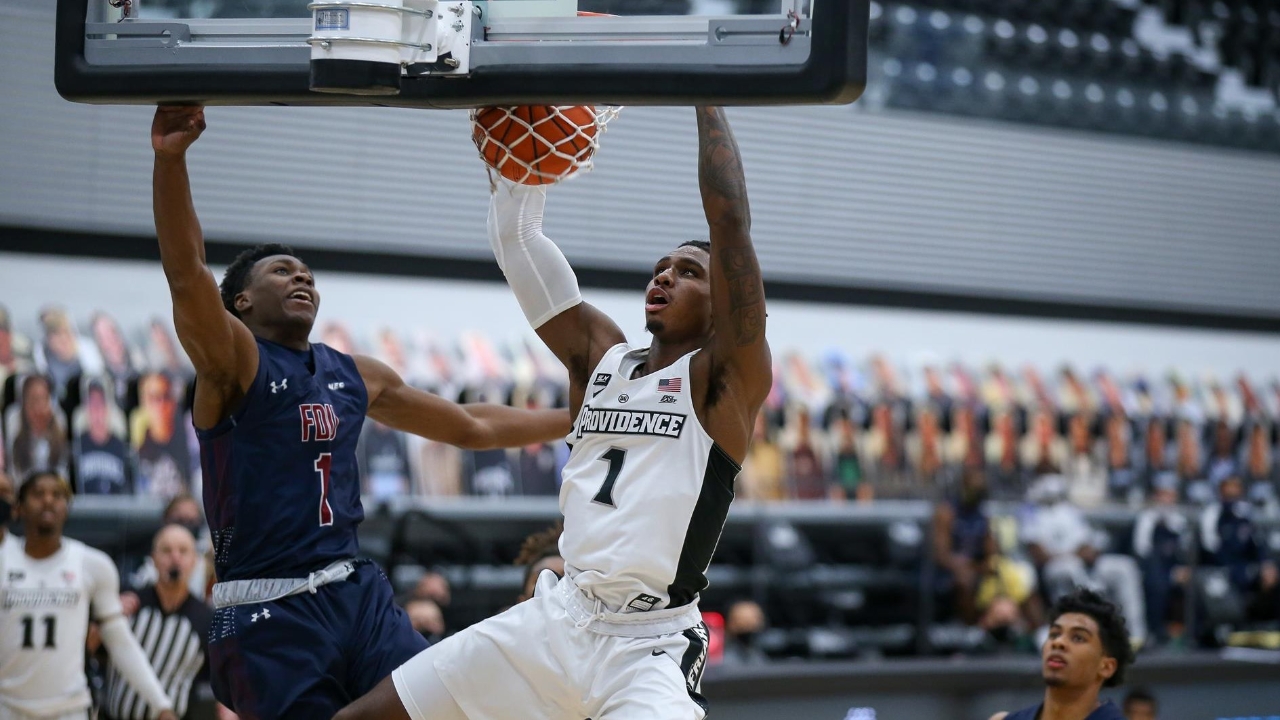 NC State Basketball
Q&A: Recruiting Analyst Discusses NC State's Two Transfer Commits
---
We recently caught up with Rivals National Recruiting Analyst Jamie Shaw to discuss NC State transfers Greg Gantt‍ and Casey Morsell‍ plus other targets and commitments.
Here's a full breakdown of everything he had to say:
---
I want to talk with you first about Greg Gantt. He's a player I know you're familiar with out of Fayetteville, North Carolina. He went up to Providence, played two years there and decided to transfer. Now he's heading to NC State. What did you think of him coming out of high school, and are you surprised he wasn't as productive at Providence?
Coming out of high school, I thought he was a really, really good jack-of-all-trades type of player. A guy who really fit into multiple situations, especially on the defensive end of the floor. He stands 6-7, 6-8, long, every athletic and all that stuff. But he gives great effort on defense. He's able to move his feet. He can switch up and down the lineup guarding both the perimeter and switching down to the four, guarding a little bit there. He does some great things in trapping situations, anticipation on the ball. He had a ton of versatility on that end of the floor.
Offensively was kind of where his game needed to step up. He had some skills and tools. He had a decent handle. He had a decent shot. He had decent stuff. That part of his game was what came a little bit later. He'd been playing on varsity on that Trinity Christian team since eighth grade, coming through with Joey Baker, who did the same thing. So he was on that team with Dennis Smith and all that. But he always got his way on the floor with the defensive end, and his athleticism and size. The offensive stuff, we would assume would come later.
Going up into Providence, yeah, I thought it would be a little bit more productive. Ed Cooley likes to run that flex system, lots of movement, reads and all that type of stuff. This past year, he got into some more ball screen type stuff and everything. I guess the fit just wasn't there, to hear him tell it. Maybe a move closer to home, more familiarity climate wise, more familiarity with the people around him and all that type of stuff may kind of trigger that improvement.
NC State runs a heavy ball screen offense. Their four man in that system can be used in a variety of ways. We saw Torin Dorn, he was kind of an offensive rebounder type. When you run that type of offense, that four man can either be a stretch four and a guy that can shoot out to the 3-point line, or a guy who can make plays for you, because he's often got some mismatches.
If you look at Greg Gantt's numbers, he shot 30% from 3 as a freshman, 23% this past year. So maybe 3-point shooting isn't his forte, but I was impressed to see he averaged almost two assists per game in 21 minutes. Do you think he's a guy who can make some plays for you? How do you view him fitting at NC State?
It kind of depends on how he's going to be. Is he going to be the roll guy in that pick and roll system? Because he's certainly not probably not going to be the corner 3 guy or the shooter with that. So it just kind of depends on where he plays out of the pick and roll and what he's looking to do there. Obviously in the flex system, there's a lot of ball movement, a lot of cutting and stuff. That gives your forwards, your wings and your bigs the ability to make passes and all that type of stuff. I don't know that Greg Gantt's necessarily getting by anybody off the bounce, but he does have a high IQ. He does have a vision. He does have the ability to see the floor and everything. And he does have some stuff off the bounce, too. He did showcase that in high school.
So it'll just be interesting to see how Keatts ends up using him in that system. Just like with [Casey Morsell] coming in, I think the defensive presence is really what's going to be the calling card, because that's what Keatts predicates everything around him with what he does. But it'll be interesting to see where he fits into that pick and roll because also too you mentioned Torin Dorn and also Chris Clark, they're both about 6-4, 6-5. Greg's 6-7, 6-8, so he's got a little bit of size there.
Previously, this past year, I guess D.J. Funderburk played that four a little bit, and he was 6-10, more of a catch and shoot guy when he did shoot from 18 feet and all that type of stuff. And then Torin Dorn, previously, 6-4 or so, was able to do a little bit off the bounce. So I don't know that Keatts has had this type of mold of player, because you have a Dereon Seabron who's also on the team. He can make the passes and he can make the plays. I know at Massanutten, Seabron played the point for the majority of the year there.
So Greg Gantt's a similar body type but a contrasting type player, whereas he will be one who crashes the boards and will be able to make plays off the rebounds. He is one that you can kind of put as the ball swings back around, see him at the top of the key and make a play off of that, make some cuts and reads off of that type of stuff as well. But as for the specific pick and roll, whether it be side pick and roll, high pick and roll, wherever it is they're running that play, it'll be interesting to see where he lines up in that set up.
It sounds like defensively is where you see his biggest impact coming. So I'd imagine you think you're not going to be able to measure Greg Gantt's effectiveness based on scoring. That's not what you're bringing him in to do.
Past history shows that he doesn't do that. So you would have assume you're not bringing him in to score when he's never shown that he does score.
But you like him defensively?
I like him a lot defensively, and I like him for the intangibles. The intangibles is kind of where he shines with that too. And he will immediately jump into that three-man rotation when it comes to [Jericole Hellems], Seabron and Gantt. I think that'll be a very interesting rotation, because all three bring something completely different to the table with that similar positioning. They can allow you to go a little bit big with one of them at the three, one of them at the four and Bates at the five, or you can have one of them in the game and throw somebody else at the three or however you want to do it. But they allow a lot of positional versatility when it comes to depth for how Keatts wants to play, especially when he's playing that type of defense where you have to be on go at all times.
I think when NC State landed Greg Gantt, they essentially took themselves out of the Jayden Gardner sweepstakes. They probably were not getting Gardner either way. But I'm interested to get your take. How did you think Gardner would have fit at NC State?
Based on how Keatts has played previously and the people he's put on the floor and had success with, I don't necessarily see how Jayden Gardner would have fit into the mold of his system. Jayden Gardner is probably a five man. He doesn't protect the rim necessarily well. I don't think he averaged a block per game. You have the best five man defensively, possibly in the league, with Manny Bates. So I'm not sure he fit in there. He doesn't stretch the floor well enough to shoot it from 3. Doesn't have that necessarily in his game, either. So I'm not entirely sure how he would have fit in, or where he would have gone, or what he would have done at NC State systematically, just for the sole purpose of Keatts hasn't had anybody like him in the past.
Casey Morsell, a top-60 kid out of the DMV area whenever he picked Virginia. He was there for two years and is kind of similar to Gantt. The production didn't match up with the recruiting profile coming out. NC State was able to land him. 6-foot-3 kid, 200 pounds, defender. In talking to Casey, he really stressed time and time again how he didn't feel like he fit at Virginia. Would you agree with that, and how do you think he could fit in at NC State?
Yeah, I agree wholly with that assessment. What Tony Bennett does up there at Virginia might not necessarily be conducive. It's a little more ball movement type and stuff like that. Defensively, I think he'd fit in with that pack line and pushing everything to where they go and all that. But on the offensive end, I don't necessarily know that his skill set matches with what, as you said, Kyle Guy or Ty Jerome do.
I think it does match a little bit more so with what they do at NC State. They need wings who can make plays. He's a downhill guy. He's athletic. He's got some stuff off the bounce, getting to the rim and all that type of stuff. When it comes to shooting, again, he's not a great shooter, as his numbers would show. But he's somebody who's athletic and can make plays. He can also really provide some strength, some athleticism, and a little bit of length on the defensive side of the floor as well in that pressing, high-octane type of defense that Keatts just loves to run.
What do you feel is ultimately his upside?
I think he's an ACC-level starter. I think he came into this situation, I guess in the past Keatts has had, they ran a lot of times last year where they had Braxton Beverly on the floor with Cam Hayes, or Shakeel Moore on the floor with Braxton Beverly. Those three guys, Cam Hayes is 6-2 but the other three are all sub 6-foot guys, with them on the floor at one time, Morsell adds a little bit of height, a little bit of size, 6-3, 200 pounds, athletic, different length and all that type of stuff. So it's a little bit different look than what he's had the past few years on the floor. While the shooting may not necessarily be there, the loss of Devon Daniels, the loss of Braxton Beverly, opens up that wing spot for a little bit of something different than what he's had.
So you like pairing him with Hayes, Seabron, Hellems, Gantt. You think that gives NC State an interesting wing-guard core?
Yeah. I think he's a great contrast to what Cam Hayes is. Cam Hayes is more of a perimeter-based guy. I think it took him three or four games last year to get his first rebound of the year. He might not necessarily be a downhill guy or a guy who like to do stuff downhill, whereas Morsell is a strong guy who likes to get downhill and likes to mix it up. So I think he's a contrast to what Cam Hayes has. And then the length of Seabron and versatility of what Seabron and Hellems and Gantt have too, being able to put two of them on the floor with both Morsell, Shakeel Moore and Cam Hayes as well, I think it allows a lot of different looks, because you can go small still. You can go bigger. And you can do all that with your one through four situation.
Never miss the latest news from Inside Pack Sports!
Join our free email list