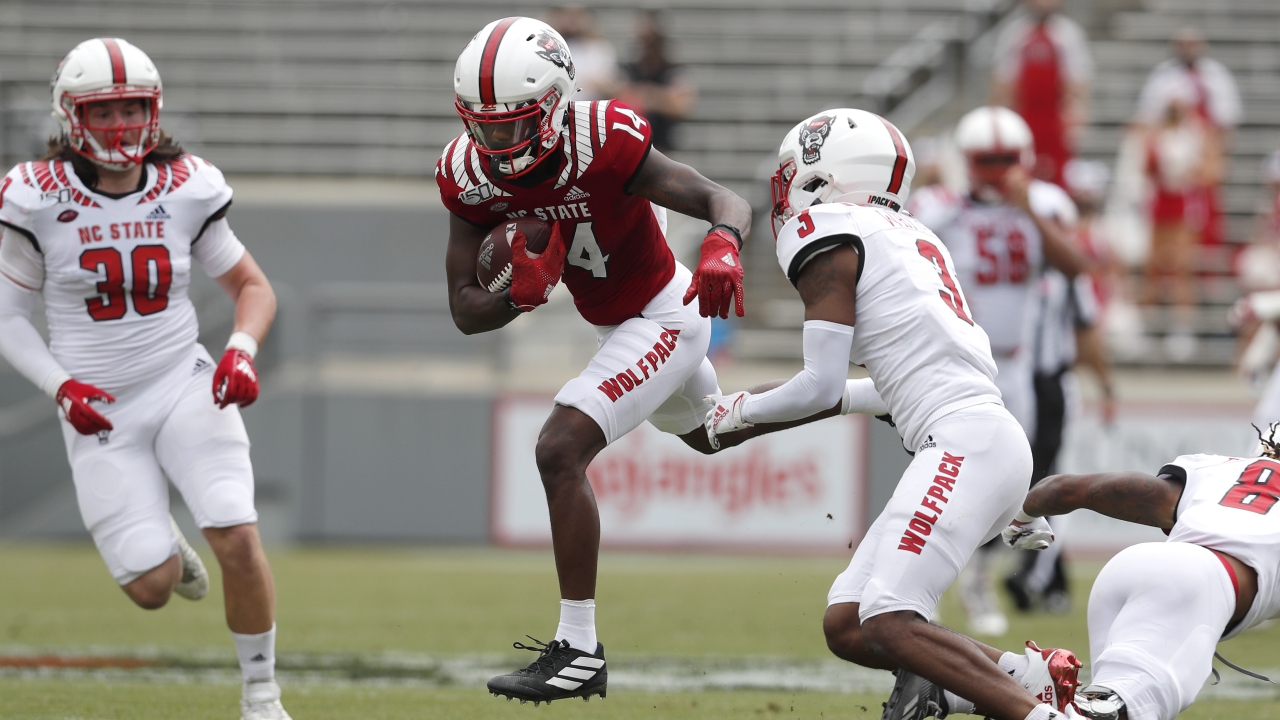 Photo by Ethan Hyman
NC State Football
Spring game takeaways: Leary, young defenders impress
---
After missing its annual scrimmage last season, NC State football took the field for its 2021 spring game Saturday at Carter-Finley Stadium, with Red defeating White 37-17.
The Wolfpack got a look at some of its key contributors for next season, including QB Devin Leary, and also saw some young players get some action.
Here's a few key takeaways from the exhibition:
Leary plays solid half
Coming into the spring game, one of the biggest storylines was how Leary would look in his first outing resembling a game situation since his leg injury against Duke last October.
Leary played one half and took a bit to find his rhythm, but ended up having a strong outing.
"Outside of the interception and the first pass, the first one he had a guy pretty open and rushed it and then the one pick, but outside of that he played well," said Dave Doeren. "... The thing I like about how Devin is playing is he's just comfortable right now. He knows the system. His eyes are in good places. He's communicating well. He's making quick decisions. He's doing what coach [Tim Beck] wants him to do. It's just fun to watch him in his progression from last year to this year.
Leary struggled with accuracy at times, especially early, but then settled in and showed off his impressive arm talent and ability to make plays outside the pocket.
After a bit of a slow start passing, the first completion of the day for any NC State QB was a good one. On third and 8, Leary threw a dart to Porter Rooks over the middle, who broke a tackle and took it to the house for a 58-yard touchdown.
Red dialed up the trickery on its next possession, with Thayer Thomas taking a handoff from Leary in the backfield and firing a 28-yard touchdown pass to Devin Carter where the 6-foot-3 wideout laid out to make a diving catch.
After a couple of stalled drives for Red, Leary again got it moving and made his two best throws of the day, rolling out and hitting Thayer Thomas on the run for an 11-yard pickup before ending the drive with a perfectly-placed corner strike to Thayer Thomas for a 9-yard touchdown that put Red up 27-10.
Overall, it was a solid showing for Leary, who was looking to continue to get his timing and rhythm back after so much time off. Leary also found some favorite targets in the Wolfpack's veteran receivers, as Carter led the way with five catches for 73 yards and a touchdown, Thomas hauled in three for 39 and the score, and Rooks took his lone catch 58 yards to the house.
"It was amazing," Leary said. "It was just fun to be back out there in a live setting competing with everyone. But it was also fun to just compete with all the brothers that we've created such great chemistry over the offseason. It's been a pretty long time coming but it was fun out there."
Ben Finley improving
While Saturday wasn't a stellar showing for quarterback Ben Finley – he didn't have much time to throw for most of the day – he did put together a couple impressive drives.
He left the game with an apparent knee injury after getting rolled up on the first series but ended up returning and playing the rest of the game, swapping from White to Red at halftime. Finley made one of the best throws of the day after returning when he hit a 35-yard fade to Chris Scott, and that drive ended with a rushing touchdown for Finley.
Finley also led a touchdown drive in the second half that saw him throw a downfield bomb 47 yards to Max Fisher.
"You hate for anyone to get rolled up, but I was right behind the play," Doeren said. "I didn't really think it was anything major. I think it's more of a contusion or a bruise than anything. It was great to see him go through the process of being evaluated and say 'I want to come back in' and then throw a really good fade ball, followed with a run down there in the red zone for a touchdown. Ben's way ahead of where he was a year ago. You'd expect that. I think all those guys at quarterback are, but just that position, you don't touch those guys. Every now and then they do get hit, and as long as they come up healthy, that isn't a bad thing for them to have to feel contact every now and then."
Young defense shows out
NC State's young defense, despite being without some of its stalwarts in linebackers Payton Wilson and Drake Thomas, performed well throughout the day, with the offense struggling to move the ball at times.
The defensive line put plenty of pressure on the Wolfpack's quarterbacks, and the secondary covered well. True freshman linebackers Jordan Poole and Caden Fordham were the main beneficiaries of Wilson and Drake Thomas' absence, as the duo combined for nine tackles and each made a big play, with Poole chasing down running back Jordan Houston and forcing a fumble, and Fordham coming up with a 13-yard pick six off Aaron McLaughlin.
"I was actually pretty impressed with a lot of the younger guys," said safety Tanner Ingle. "Especially 41 [Fordham], you saw he had a little pick-6 towards the end, that was pretty good. As far as all the younger guys and specifically in my position group, we did a good job, we didn't have that many mental errors which is always a good thing. We still got room to grow obviously, it's their first actual college football experience, they got some room to grow but as far as that, they've been doing a good job."
A deep defense with a good mix of experienced veterans and young talent should be ready to play to its strengths and help NC State take another step forward next fall.
Never miss the latest news from Inside Pack Sports!
Join our free email list