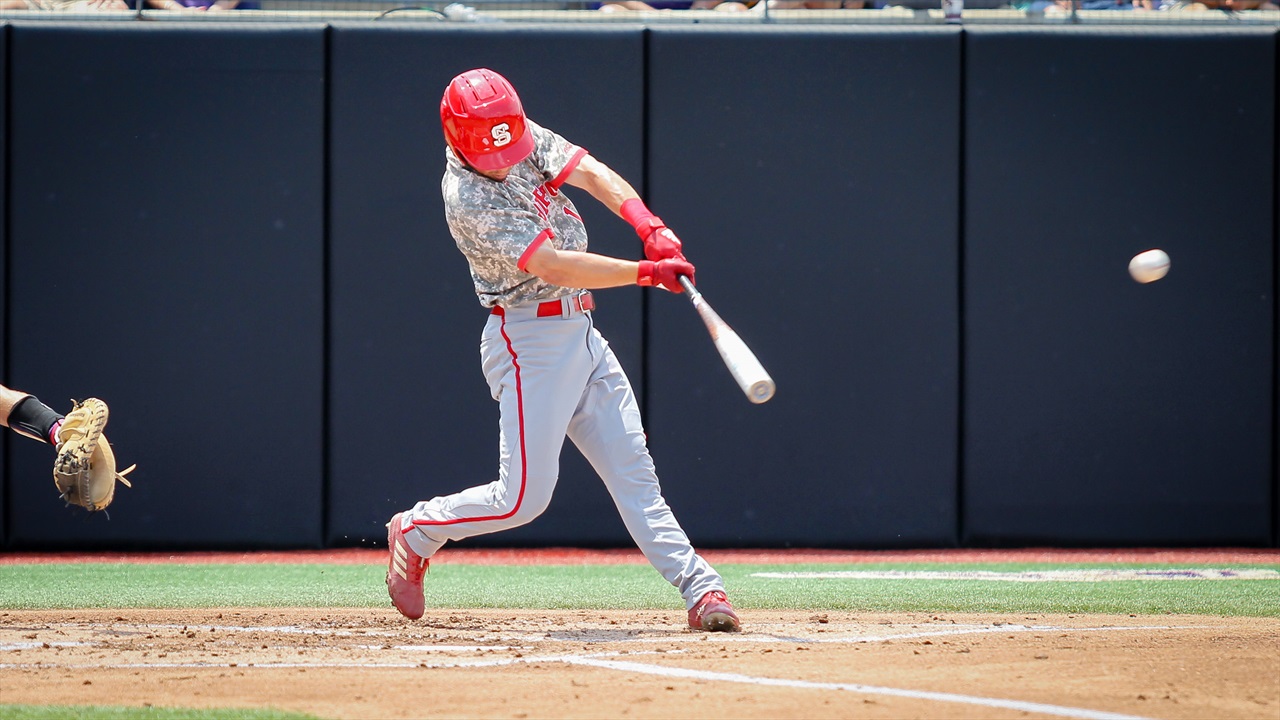 Photo by Steve Murphy/IPS
NC State Baseball
Takeaways: Pack avoids sweep with big win over Clemson
---
NC State baseball dropped this weekend's series against Clemson at Doak Field but avoided being swept with a resilient 9-5 win on Sunday.
NC State scored nine runs on 11 hits, with a game-winning single and three RBIs from Terrell Tatum, two doubles and an RBI from Tyler McDonough, and two hits apiece from Austin Murr and Devonte Brown. The Pack erased a 4-1 deficit to take a 5-4 lead and then scored four runs in the bottom of the eighth after Clemson tied the game.
Here's some key takeaways from the victory:
---
Willadsen's strong start
After throwing 9.1 combined innings to close out the second game and finish the third game of a sweep against UNC last Monday, Matt Willadsen again gave the Pack a good start.
Across 6.2 innings pitched, Willadsen allowed four runs on nine hits while striking out six and walking one on 110 total pitches. He attacked the zone, as 70 of those pitches went for strikes.
After Clemson built a 4-1 lead with a three-run second inning and a solo homer in the top of the third, Willadsen did not allow another run. On an NC State pitching staff that's faced its share of issues this season, Willadsen has been a bright spot.
"Matt Willadsen has been unbelievable for us this year," said Elliott Avent. "You come into the year, you think you've got your rotation set up and you play your preseason and think you've got it all. Matt Willadsen was someone we had as a huge guy in the bullpen, and when we had some injuries, lost some guys to quarantine, what have you, taking him and Reid Johnston was a tough, tough decision, but they both have been outstanding. … Especially falling behind 4-1 today and keeping his composure in a game that I think the team felt like we needed really badly, so I'm really proud of Matt."
Evan Justice replaced Willadsen with two outs and a runner on third in the top of the seventh and walked the first two batters he faced to load them up, but struck out his third batter looking to end the threat.
Pack's big bottom of the eighth
After Clemson tied the game at five in the top of the eighth, NC State looked to answer in the bottom of the inning and did so with four runs off Clemson closer Geoffrey Gilbert.
Jose Torres walked to lead it off, and Murr singled to put runners on the corners with one out. Brown then chopped one to third and Torres was thrown out at home on a fielder's choice, but a wild pitch moved the runners to second and third with one out.
The Tigers intentionally walked Vojtech Mensik to bring up Tatum, who came through for the second time by lining a two-run single into left to put the Wolfpack up 7-5. The Pack then tacked on two more as McDonough took second on a throwing error with runners in scoring position to make it 9-5.
"I felt like this game was really important to all of us," Tatum said. "As a collective group, we really needed this win today, especially after the past two days, where we felt like we were one pitch away from changing this whole series around. So I felt like making sure we were able to respond and come back today was a big thing for all of us."
Pack claws back from early deficit
After Clemson took a 4-1 lead through 2.5 innings, NC State responded with four unanswered to take the lead.
The Pack managed to get two runs back in the third. After J.T. Jarrett walked to lead off the inning, McDonough's second double of the game brought one run back, and Jose Torres then dropped a two-out single into right center to make it 4-3.
The Wolfpack then tied the game up in the fourth, as Brown led off with a double to deep left, Mensik singled and took second on the throw, and Tatum, pinch hitting for DeAngelo Giles, brought Brown home on a sac fly to make it 4-4.
NC State wasted no time retaking the lead in the bottom of the sixth, as Austin Murr led off with a solo shot over the right-field wall that put his team up 5-4.
"We've gone through some struggles this year, there's no mistaking that," Avent said. "This game will pull your heartstrings, as much heart as you have. And this team has a lot of heart, has a lot of character, has a lot of guys that know how to fight. But losing will rip you apart. The eighth inning was huge, but I thought even bigger than that was when [Alex Urban] hit the home run to make it 4-1, and the way the last two games went, it would be very easy for this club to say 'Here we go again.' And I thought bigger than the eighth inning was when we made it 4-3, then tied it up and kept fighting."
Justice finishes it out
Justice wasn't perfect for the Pack Sunday, but he allowed just one run in 2.1 innings to help close out the win – something NC State needed from its bullpen after some shaky outings of late.
In addition to loading the bases with two outs (but getting out of it) after taking over for Willadsen in the seventh, he also loaded them with one out in the top of the eighth and allowed the Tigers to tie the game a fielder's choice.
Overall, however, he allowed just one run on two hits while striking out three and walking one, and he pitched a clean ninth inning to seal NC State's victory.
The Wolfpack will be back in action with a mid-week home game against Appalachian State Tuesday.
Never miss the latest news from Inside Pack Sports!
Join our free email list