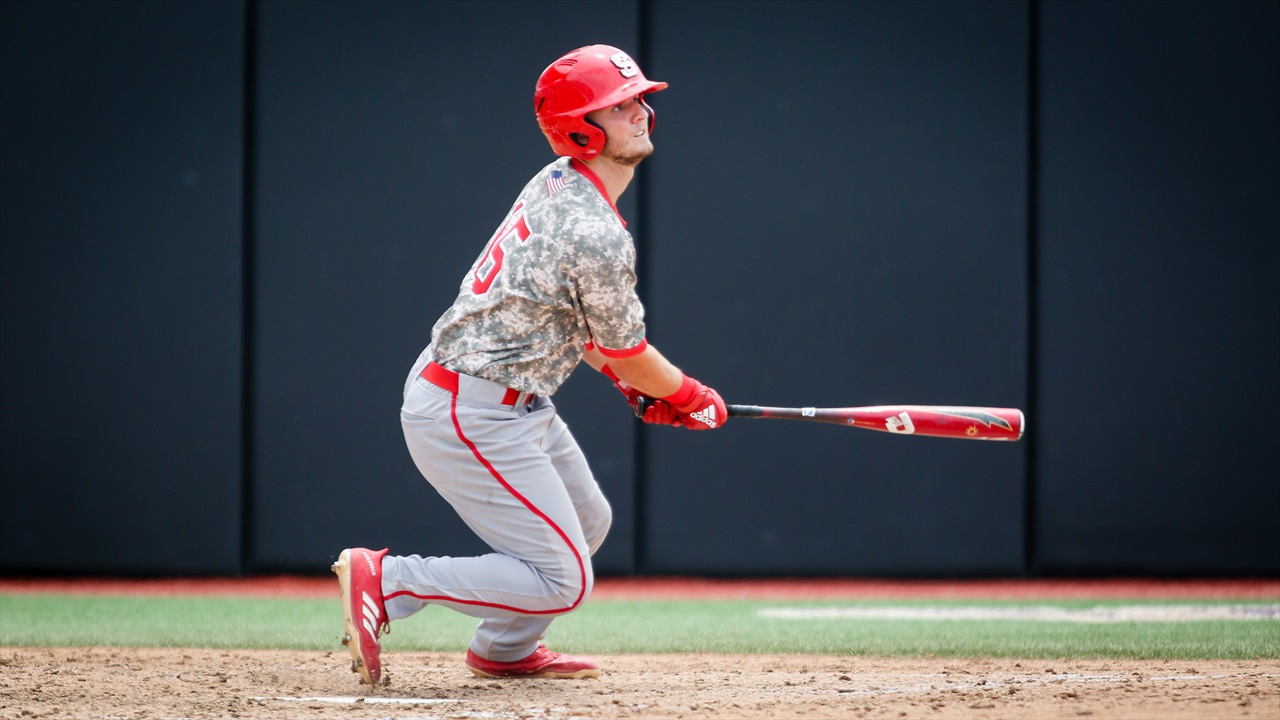 Photo by Steve Murphy/IPS
NC State Baseball
Takeaways: Wolfpack starts strong, stumbles late in series-opening loss
---
Despite a strong start to its series opener against Clemson at Doak Field Friday night, NC State baseball's five-game winning streak came to an end in a 10-6 loss to the Tigers.
The Wofpack built a 6-2 lead through four innings, but the Tigers roared back with eight unanswered, including a grand slam in the top of the fifth and four runs in the top of the eighth.
Here's some key takeaways from the Pack's loss:
Mixed bag for Reid Johnston
Coming off a complete game against UNC last week, Reid Johnston got his second straight Friday start, and pitched well for stretches but struggled with a few big innings for Clemson.
Johnston threw 114 total pitches over seven innings, allowing eight runs on eight hits while striking out five, walking one and hitting two batters. Two of those eight hits did much of the damage, as Clemson's first six runs came on a two-run homer in the first and grand slam in the fifth.
Johnston didn't get off to the best start, with Tigers leadoff man Kier Meredith walking and Dylan Brewer blasting a two-run shot to dead center to put Clemson up 2-0, but retired the side after the homer.
Following Clemson's first-inning homer, Johnston had cruised, pitching to contact and retiring 10 of 11 batters.
Disaster struck in the top of the fifth, however, as Clemson loaded the bases with a single, double and hit batter and Brewer then launched his second home run of the game, a grand slam to left field that tied the game at six.
Johnston came back out for the eighth at 110 pitches, but didn't record an out as he allowed his first two batters to reach base, and saw two more runs charged to him on an RBI single with Dalton Feeney on the mound.
Tigers take control in the eighth
NC State and Clemson entered the eighth tied at six following the Tigers' fifth-inning grand slam, but Clemson scored four to take a commanding 10-6 lead.
Despite Johnston sitting at 110 pitches entering the top of the eighth, Elliott Avent sent him back out, but the Tigers put runners on the corners with no outs with a hit batter and single, and Johnston gave way to Dalton Feeney.
"We've got a really thin bullpen right now," Avent said. "Reid is tough and competitive. He was throwing his breaking ball and [changeup] and keeping them off the base. Except for the right fielder, he hit that home run in the first, and then the big home run with two outs there. Reid kept a very good offensive team at bay a little bit. They played the long ball, it attributed for six of thier runs. So he was the best option we had right then."
Feeney walked the first batter he faced, then Alex Urban lined a one-out RBI single into right center to give Clemson its first lead since the first inning at 8-6 as the Tigers completely erased a 6-2 NC State lead.
Cooper King and Coby Ingle combined to get the Pack to two outs, but Ingle then allowed another bases-loaded single to Meredith, plating two more for the Tigers to make it 10-6, a deficit the Wolfpack would not recover from.
Wolfpack's bats start hot, end quiet
NC State started this game well, building a 6-2 lead through four with a couple big innings and 12 hits.
NC State wasted no time answering Clemson's two first inning runs with three runs on five hits in the bottom of the first. Following singles by Austin Murr and Lucas Tresh to put runners on the corners, Jonny Butler chopped a single into left to score one. Butler finished the game 4 for 4 with two RBIs and a run scored.
The Pack then loaded the bases with one out on a single by Jose Torres, and Devonte Brown came through with a two-out single to left to put NC State up 3-2.
J.T. Jarrett added to the Wolfpack's lead with an absolute moonshot over the left-field wall to lead off the bottom of the second and make it 4-2.
"After a few pitches, I timed up the fastball how I want to," Jarrett said. "With two strikes, I was trying to cover away, and I got one where I like it up and in a little bit. I got a barrell to it and good things happen."
After stranding two in the third inning, the Pack extended its lead with another rally in the bottom of the fourth. After Jarrett reached on a bunt single and Murr roped a double into the right-field corner, Tyler McDonough brought home Jarrett with a sac fly to make it 5-2.
Butler then drove a double into center for his second RBI of the game to make it 6-2, one of two important insurance runs in that inning given that Clemson would tie the game with a grand slam in the fifth.
After the fourth, however, the Pack mustered just two more hits, and could not keep pace as the Tigers mounted their comeback.
"It was 6-2 and we were rolling," Avent said. "We had first and second and no outs and couldn't get anything going. Then we had second and third with one out and didn't score. So even though it was 6-2, we had great opportunities and we squandered them. Once they tied it up, their pitching got a little better. They sniffed it a little bit and they pitched well. But we blew our opportunities early, so that's what happened."
This series will continue at 7 p.m. at Doak Field Saturday night.
Never miss the latest news from Inside Pack Sports!
Join our free email list