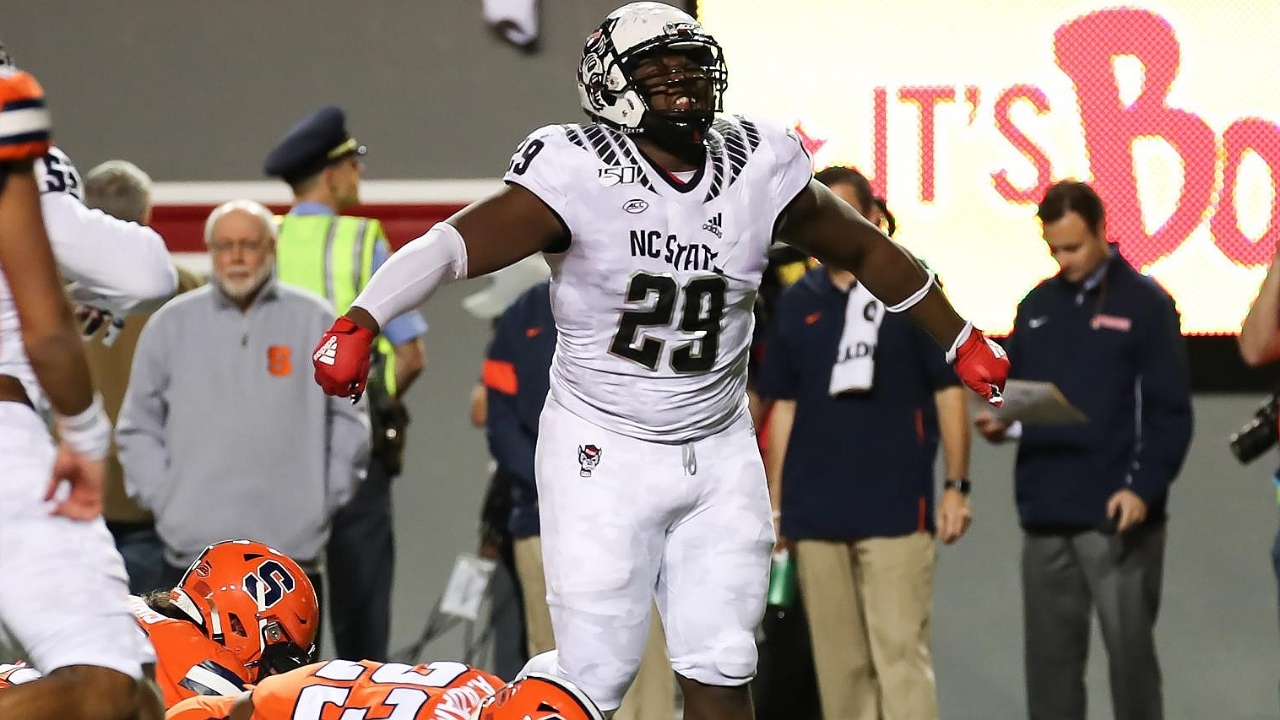 Cary Angeline
Joe Sculthorpe
Alim McNeill
NC State Football
NC State pro day report: McNeill, Angeline, Sculthorpe on draft preparations
---
When NC State football holds its pro day Tuesday, three former members of the Wolfpack in defensive tackle Alim McNeill, tight end Cary Angeline and Joe Sculthorpe will look to impress NFL personnel in hopes of being selected in next month's draft.
McNeill, Sculthorpe and Angeline spoke with the media Monday, here's some highlights of what they had to say.
Note: Click the videos in the player above to watch a specific interview.
Alim McNeill
Has there been anyone in terms of current football players or former teammates that you've leaned on through this process?
There's a couple players that I've leaned on, actually. I've gotten a lot of advice from guys from here, James Smith-Williams, Larrell Murchison was one, and then those four guys that left before me, the D-Linemen like Justin Jones, [B.J. Hill], [Bradly Chubb], [Kentavius Street], [Nyheim Hines], all of those guys. So I've definitely taken my time out to reach out to them, and they've done a really good job of getting back with me, because I know they're really busy. They've just been helping me throughout the process, just really simple advice, just staying locked in, things to look for, things to prepare for, things to notice along the process.
Have you thought about joining the group of former defensive linemen from NC State to play in the NFL?
I have thought about it, actually, because there's some legendary guys that have come out of here who have played D-Line, and my position specifically. So I have thought about it, not to an extent though, because I have not made it. I'm still on my way to progressing to be able to get to the NFL. So I have not made it yet, but I have thought about that.
When you leave Raleigh and you go to a facility and it's football 24/7, what's that regiment like, and how much different do you feel as a player from December to now?
It's a lot different, because you can simply just focus and enhance everything in that field. Whether it's eating, your wellness, things like sleep and just the workouts you're doing. You don't have to worry about class, school and other distractions while I'm on campus and in school. So it's a lot different. It has helped me and benefitted me a lot. I've just been able to enhance my diet, work on my wellness, get the right amount of sleep. I can massages and stuff throughout the days, make sure I'm recovering the right way. So it has been very different than being a college athlete, and it's been very beneficial for me. I feel like a totally different athlete right now, I just feel better about myself.
Who are some NFL teams you've been in communication with?
Forgive me if I forget a few, but I've talked to quite a few teams. More recently, I spoke to the Browns recently, the Titans, I have another meeting with them coming up. I've had two meetings with them so far. I also met with the Lions, Raiders, Panthers, Seahawks, Jets, Patriots and Eagles. Sometimes I just can't come up with them off the top of my head, but I have talked to quite a few teams over my time of being a prospect.
As you leave the program and leave behind some of the younger guys, who are some guys that you expect some big things from in the years to come?
I'm not going to lie, I really expect a lot out of every player in the starting 11 and the guys behind them. There's definitely some guys on this team that are going to be big playmakers, some time is just what they needed, being able to learn the play book from the front to the back. But if I'm talking specifically, guys like Zonovan Knight, Ickey Ekwonu, Devin Leary, Devin Carter, C.J. Riley, [Emeka Emezie], [Thayer Thomas], Grant Gibson, I could go on and on. I'm expecting a lot out of all the guys on the team, especially those starting 11 on both sides of the ball.
Who do you try to emulate yourself after the most?
[Philadelphia Eagles defensive tackle] Fletcher Cox, honestly. I watch a lot of his film. I actually go on YouTube probably every other day and just type in Fletcher Cox, and just watch anything on him, whether he's doing a vlog video or anything else. I try to emulate my game after Fletcher Cox. I like the way he destroys folks on the field. I can tell what his mentality is on the field and off the field. He's just all business when he's on the field. Guys feel him when he's on the field. His presence is known. So I try my best to emulate my game after him.
But there's a lot of different guys I watch, like the guys I mentioned earlier. [B.J. Hill] and them, Chubb, Street and those guys. I try to take a piece of everybody's game and try to put it in time, but if I had to choose specifically, I'd say Fletcher Cox.
I saw a journal entry from you on the Internet, what made you decide to write a journal on this process?
I just thought it was something neat and cool to do. This is also something I've always dreamed of doing. So to be able to wirte it down, and maybe give people tips and advice on how the process itself goes, I thought it would be pretty cool and neat to do. It's still a work in progress though. I think when the finished product is complete, I think it'll be a really cool journal to tune into and to read. But I just thought it was something neat and cool to do be able to jot down my process. Since I don't really like vlogging and stuff like that, I thought writing it down would be pretty cool.
Has it made you reflect on the journey?
For sure. I actually had one of those moments today when I woke up because of my pro day. It just made me reflect on everything. Growing up, really, I didn't know how you would get to college football, how do you have pro days and stuff like that. I would hear about it but didn't know much about it and stuff like that. I would hear about it, but now that I'm doing one tomorrow, it's made me reflect on everything. I remember my first football practice to tomorrow's pro day. So I've really thought about everything.
Cary Angeline
Throughout this whole process, have you leaned on anyone who's been through it before?
Kind of just going through the process, I've been lucky enough to build relationships throughout my career with guys that have played in the league or still playing in the league. So I'm always hitting them up for advice on what to expect or how to go about things.
How are you feeling physically with time to focus on getting into shape?
I feel good. I feel ready to go. I was down in Miami training at Bommarito and they definitely do a great job down there getting you ready for pro day, testing and stuff like that. So I definitely feel good.
Is there a player or two in the NFL that you model your game after?
I'm always trying to watch the great tight ends, whether it's [Rob Gronkowski] or [Travis Kelce]. And then over the past year or so, I've kind of paid attention to guys like Jack Doyle, guys like that with similar styles of play to me, or Tyler Kroft, he's a tight end with the Jets and he went to the same high school as me. So I've always been watching him since I was younger.
Are there any NFL teams that you've spoken with?
I've talked to a couple teams so far. I've kind of been hearing from the Vikings, Bears, I had a meeting with the Cardinals the other day. I've definitely been hearing from some teams, and it's kind of just cool going through the whole process. Ever since I was a young kid, I always wanted to play in the NFL. Just hearing from teams has been pretty cool.
What do you see from the other guys in the tight end room and what are your expectations from that group at NC State?
I already know coach [Tod Goebbel]'s going to have all those guys ready. I know he's on them every day. They're in spring ball right now. So definitely I've heard they've been improving a lot. Obviously Dylan Parham is coming back next year. He has a lot of experience. And then I think everybody kind of believes in him. There's also some younger guys coming up that have some talent. I definitely think the tight end room will be in good hands with coach Goebbel and Dylan Parham coming back.
Joe Sculthorpe
What has life been like for you since your final college game?
Right after the [Gator Bowl], I had a weekend where I went home and dropped all of my stuff off, moved out of my apartment in Raleigh. Then I shipped off to Boston and started my training. I was up there the whole time. About four or five weeks into my training, I was fortunate enough to get an invite to the Hula Bowl, and then I went out to Hawaii to compete in that, which was a great time. It was just a great opportunity to go to Hawaii. I'm never going to turn that down, and I just showcased more of my football talents, and then finished off training for about five more weeks. I just got back into town Thursday, and I've been at a hotel, just coming into the weight room, getting onto the field and just doing some stuff for the pro day tomorrow.
Have you spoken with guys like Garrett Bradbury or former offensive line teammates for advice on the process?
Fortunately, I do have a lot of contacts, and Garrett Bradbury's been a great resource and great friend throughout the process. Everytime I've asked questions, I've alwyas been fortunate enough to get answers from him and just get little insights of what's the best thing to be doing, how should I best present myself to give myself the best chance to get drafted and go to the NFL. He's been a great resource, but I've definitely reached out to Bradbury a few times and talked to him during this whole 11-week training course that I've been going through.
Do NFL teams project you more as a center or guard?
I've talked to a lot of teams. Everyone sees my versatility as playing both guard and center. Some teams see me more as a center, some teams see me more as a guard. But all the teams I've spoken to have recognized that I do both, and that it's probably one of my biggest assets that I carry with me as I attempt to play professional football, is I feel comfortable playing any of the interior positions on the offensive line. I feel comfortable enough to play left guard, center and right guard all on the same series if I have to. Whatever a team needs me to do, I feel comfortable enough to play it, and I'm able to fill that role and just be as versatile as possible so I can land myself a job in the NFL.
What are you expecting to see from the NC State offesnive line moving forward?
I feel bad for the defensive linemen that are going to have to go against our offensive line next season. They're going to be doing great things, and I expect very high things out of everything across the line. Granted, I did decide to move on, but I don't think there's going to be a drop off at any of the positions. If anything, they're going to continue to raise the standard that we've established for offensive line play at NC State.
I'm looking forward to seeing a lot of my guys play. I was actually lucky enough to go out there and watch them scrimmage the other day. I thought they looked really, really good. I felt like they haven't missed a beat. Obviously they've been training, and I know they're going to want to continue to chase the success that we established last year and continue to set that bar for NC State as a whole. I'm looking forward to seeing the offensive line lead the way through all the future wins at NC State.
Never miss the latest news from Inside Pack Sports!
Join our free email list