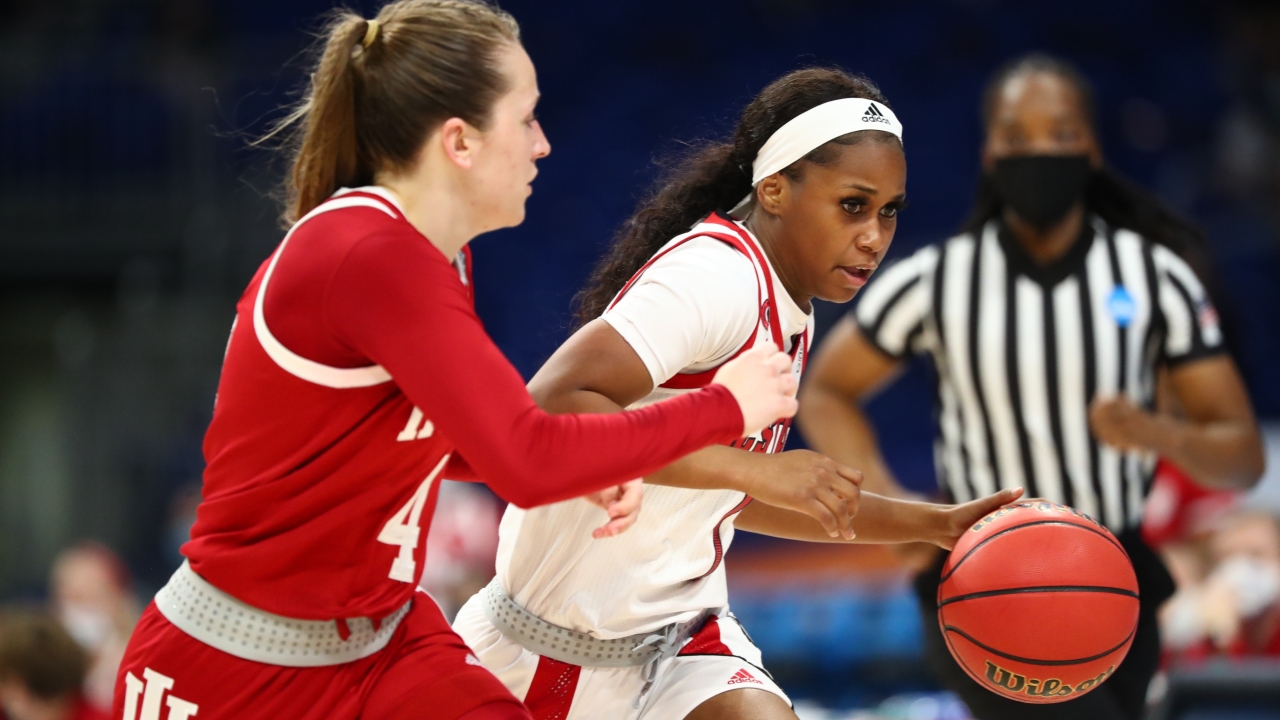 Photo by NCAA Photos via Getty Images
NC State Women's Basketball
TAKEAWAYS: Wolfpack women fall in Sweet 16
---
NC State women's basketball's season came to an end sooner than the Pack hoped Saturday night. The team fought to the last possession, but turnovers and a poor middle two quarters ultimately sunk the Wolfpack in a 73-70 loss to Indiana in the Sweet 16.
For the third straight tournament, the Pack fell in the third round as a second trip to the Elite Eight in school history continues to elude it.
Here's some key takeaways from the loss:
---

Too many mistakes
The Pack did plenty right in this game. All five starters (Elissa Cuane, Kai Crutchfield, Raina Perez, Jakia Brown-Turner and Jada Boyd) finished with at least nine points. NC State shot the ball well, shooting 50% from the field and 47% from 3 compared to 48 and 14 for the Hoosiers.
But turnovers were the biggest factor that sunk NC State, with 11 in the first half and 17 for the game, and could not get enough stops, particularly in an uncharacteristically poor third quarter. NC State was outscored 44-26 in the second and third quarters.
The Pack fought to the end, but ultimately did not play well enough to win against a team like Indiana in the NCAA Tournament.
"They were just playing hard," said Cunane. "They wanted to win. They were playing like it. We definitely had some turnovers. I know I had multiple turnovers that were unforced. I could have taken care of the ball a lot better. Turnovers were definitely a big reason why they won this game. We knew they were going to have good pressure and defense from the jump. That was just bad execution on our part. Like I said, I know I turned it over a bunch, too, so that's on me."
Fourth-quarter rally falls short
In a fourth quarter in which it trailed by as many as 14 points, NC State had the ball within a score on the game's final possession, but came up empty.
"I never doubted that we could win that game until the buzzer went off, "Cunane said. "I think the team never doubted each other, too. We all had each other's backs in the huddles, knowing we could come back, we've done it multiple times this season. That has been the story. We didn't start off too hot in any of the games in any the NCAA tournament, I don't think the ACC Tournament we started off hot. We knew we were going to come back in the second half. We made a run for it. It just fell short. But never once doubted this team."
Crutchfield opened the fourth quarter with her third 3 of the game (she finished 3 for 3, and 10 for 11 in the tournament) to bring the Pack within seven, but Indiana responded with a 6-0 run to push its lead back to 13.
The Pack continued to battle, and back-to-back buckets by Cunane, who finished the game with 12 points and 12 boards, brought NC State within eight with 4:34 left to play. As it has all season, NC State refused to quit. After Mackenzie Holmes fouled out for Indiana, the Pack ripped off an 8-0 run, as Perez (17 points, 7-of-9 shooting) and Boyd (18 points) hit back-to-back 3s, and then Boyd knocked down a jumper to bring the Wolfpack within two at 70-68 with 1:21 left to play.
Boyd fouled out in the last minute of the game, but a jumper from Perez with 11 seconds left kept NC State in it. Wes Moore curiously burned NC State's last timeout after that, something he later said was a mistake he regretted.
NC State ended up with a chance to tie the game with a 3 at the buzzer, but was forced to take a contested 3 from Cunane. It was off the mark as the Pack's season came to an end.
"We set a flat pick on the ball there," Moore said. "We were hoping we could maybe kick it either to the wing or maybe even kick it back to Elissa. Obviously Elissa shoots about 42% from three. We were hoping if both defenders kind of tried to stop the drive, we could kick it back for the 3 there. Obviously we weren't able to get that done."
First-half game of runs
The Wolfpack roared out of the gate in this one, courtesy of a red-hot start from Boyd. Making her second-straight start in place of the injured Kayla Jones, Boyd scored seven points in the first three minutes of the game, hitting a pair of layups and knocking down a 3.
The Pack's hot start was short-lived, however, Indiana took advantage of NC State's turnovers to go on a 9-0 run and take the lead.
The Wolfpack, however, ended up finishing the quarter on a 15-5 run after Indiana took the lead for a 22-14 lead through 10 minutes. The Pack started 4 for 4 from 3, with Cunane, Crutchfield, Boyd and Brown-Turner each knocking one down in the opening frame.
Indiana mostly controlled the second quarter, out-scoring the Pack 20-11 to take a one-point lead into the break.
NC State had a pretty good half offensively, shooting 54% from the field and 56% from 3. The most glaring issue, however, and the reason it trailed at the half, was the aforementioned sloppy passes. The Pack, which averaged 12.8 turnovers per game coming into this one, coughed it up a whopping 11 times in the first half, giving away possessions to a Hoosiers team it largely outplayed in the first 20 minutes. The Pack also did not get to the free-throw line in the opening half, while Indiana went 4 for 7 from the stripe.
Pack digs third-quarter hole
In its first and second-round victories, NC State roared out of the gate in the third quarters. In this one, it did the opposite with the Hoosiers extending their lead to seven with an 8-2 run in under two minutes and Boyd picking up a third foul.
Things continued to go from bad to worse, as the Pack couldn't get shots to fall and Indiana seemingly couldn't miss, and the Hoosiers opened the first three minutes and change of the quarter on a 13-2 run to take a 47-35 lead.
The Hoosiers ended up out-scoring the Wolfpack 24-15 in the third frame to take a 58-48 lead into the fourth quarter. Indiana shot 69% from the field in the third quarter compared to just 38% for the Wolfpack.
NC State did score four unanswered to get within 10 heading into the final frame, but found itself facing a do-or-die fourth quarter.
A disappointing ending
There's a lot to be proud of for NC State after this season. The Wolfpack won back-to-back ACC Championships, won 22 games and earned its first NCAA Tournament No. 1 seed in program history.
"I'm proud of our players, all they've done this year, all they've gone through," Moore said. "I'm proud of them today, especially, too, the way they competed and fought and got back in the game. "We're going to get over the hump. We've got to get over the hump. So got to keep putting ourselves in this position, then hopefully close the deal and take advantage of it."
The team had higher goals, however, of getting to the at least the Elite Eight for the first time since 1998, and the season ending this way will sting for a group that fought through so much in a season played amid the COVID pandemic.
"Yeah, I'll definitely take some time to reflect on the season, look at more ups," Cunane said. "Right now I'm just looking at the downs. It definitely does suck that you got this far yet to get nowhere. I'm proud of us for getting to the Sweet 16, but that wasn't our goal. We knew we could go further than Sweet 16. We're a No. 1 seed; there's no reason why we couldn't have won this tournament. So I think that knowing that, knowing expectations that we set on our team, coming up short, it just kind of sucks.
"I think I'm super, super thankful for our whole support staff who has taken care of us while we've been in San Antonio. I'm thankful for the NCAA for having this tournament, whether there's disparities or not. I'm really just thankful that everything happened, that we were able to be here but it definitely does suck. We definitely could have gone further in the tournament. That's going to be on the shoulders of us for the rest of our time here and beyond."
Never miss the latest news from Inside Pack Sports!
Join our free email list