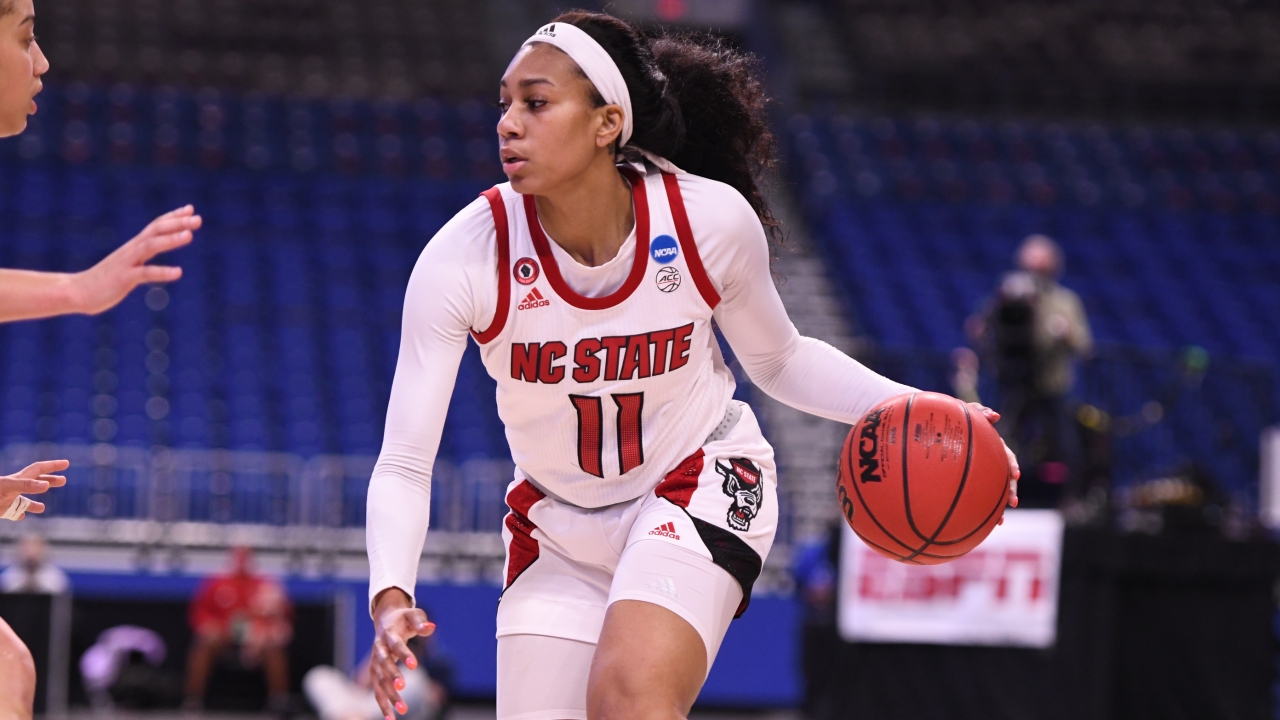 Photo by Chris Downey, NC State Athletics
NC State Women's Basketball
NOTEBOOK: Hoosiers Up Next For Wolfpack
---
Here are some pregame notes on No. 1 seed NC State heading into this evening's matchup with No. 4 seed Indiana.
Tip-off is scheduled for 6 p.m. EST (5 p.m. local) on ESPN2, with Ryan Ruocco, Rebecca Lobo, and Holly Rowe on the national call. Patrick Kinas will also have the call on WKNC 88.1 FM in Raleigh.
---
A WIN ON SATURDAY WOULD...
• Secure NC State's second Elite Eight berth in program history and its first since the 1998 NCAA Tournament
• Be the 967th win in program history (966-473)
• Be head coach Wes Moore's 749th career win (748-233)
• Be Moore's 191st win at NC State (190-64)
• Maintain the Wolfpack's perfect all-time record over Indiana (4-0)
• Extend NC State's winning streak to 11 games, a streak that started on February 1
NOTING THE WOLFPACK (22-2)
• Ranked No. 3 in the final Associated Press Top 25 to tie as its best final AP ranking in program history; been ranked in the national top five since Dec. 7
• Secured 20+ win season for the sixth year in a row and the seventh time in eight seasons under the leadership of Wes Moore; that marks the longest such streak since it had nine consecutive 20+ win seasons from 1976-77 through 1984-85
• No. 6 nationally in defensive rebounds per game (31.1)
• No. 11 in field-goal percentage (.469)
• No. 12 in scoring margin (+15.8)
• No. 18 in assist-to-turnover ratio (1.24)• No. 19 in scoring offense (77.5)
• No. 22 in rebound margin (+7.6)
• No. 25 in three-point percentage (.363)
• Four members of the squad with scoring averages in double digits - Elissa Cunane (16.3), Jakia Brown-Turner (13.7), Kayla Jones (11.9) and Jada Boyd (11.2)
• Shot better than 50 percent as a team in a total of eight games this season, including its first-round win against North Carolina A&T
• Raina Perez owns an assist-to-turnover ratio of 2.90, which ranks eighth in the nation this season; also 32nd nationally in assists per game with an average of 4.8
• Held five of its opponents to under 30 percent shooting and 16 opponents to under 40 percent
• Averaging 37.7 points in the paint and also a threat from distance with an average of 7.0 made three pointers per contest
• Outscored in the paint just twice and beating out its opponents in that category by an average margin of +12.2
• Put together three-point shooting percentages of 40 percent or better in nine outings, including two games with 50+ percent mark
SERIES HISTORY WITH THE HOOSIERS (NC State leads 4-0)
• Tuesday marks the fifth overall meeting between NC State and Indiana. It is the first time that the teams have met in the NCAA Tournament.
• The Wolfpack is unbeaten (4-0) in its previous matchups with the Hoosiers.
• NC State has beat Indiana by as many as 18 points and as few as two points in the series history between the squads.
• The teams last met for the ACC/B1G Challenge during the 2016-17 season. NC State came away with the 84-70 victory inside Reynolds Coliseum.
SOPHOMORE SENSATIONS
Boyd and Brown-Turner lead the Pack in scoring in their first NCAA Tournament run. Boyd averages 18 points, 7.5 rebounds and 63.6 percent (14-of-22) shooting through two games, and Brown-Turner averages 14.5 points, 7.0 rebounds and 55.0 percent shooting (11-of-20). Both sophomores have also posted double-doubles through these first two games.
Boyd's 18 points against North Carolina A&T on March 21 marked the most by a player in their NCAA Tournament debut in the Wes Moore era. Elissa Cunane and Jennifer Mathurin both posted 16 points in the first NCAA Tournament games of their careers.
WOLFPACK WES
Wes Moore was named National Coach of the Year by the WBCA and ACC Coach of the Year by his conference colleagues. He is also one of four finalists for the 2021 Naismith Women's Coach of the Year award. The honors come after leading his team to a multitude of firsts including the program's first back-to-back conference tournament titles and first-ever No. 1 NCAA Tournament seed.
His 748 career wins rank eighth among active NCAA Division I women's basketball head coaches.
RANKED WINS UNDER MOORE
Under Moore's leadership, NC State has defeated a total of 23 nationally-ranked opponents, 16 of which have come in the last four seasons. The Pack is unbeaten in ranked matchups this season, with all three of its wins coming against squads ranked in the national top five.
Never miss the latest news from Inside Pack Sports!
Join our free email list