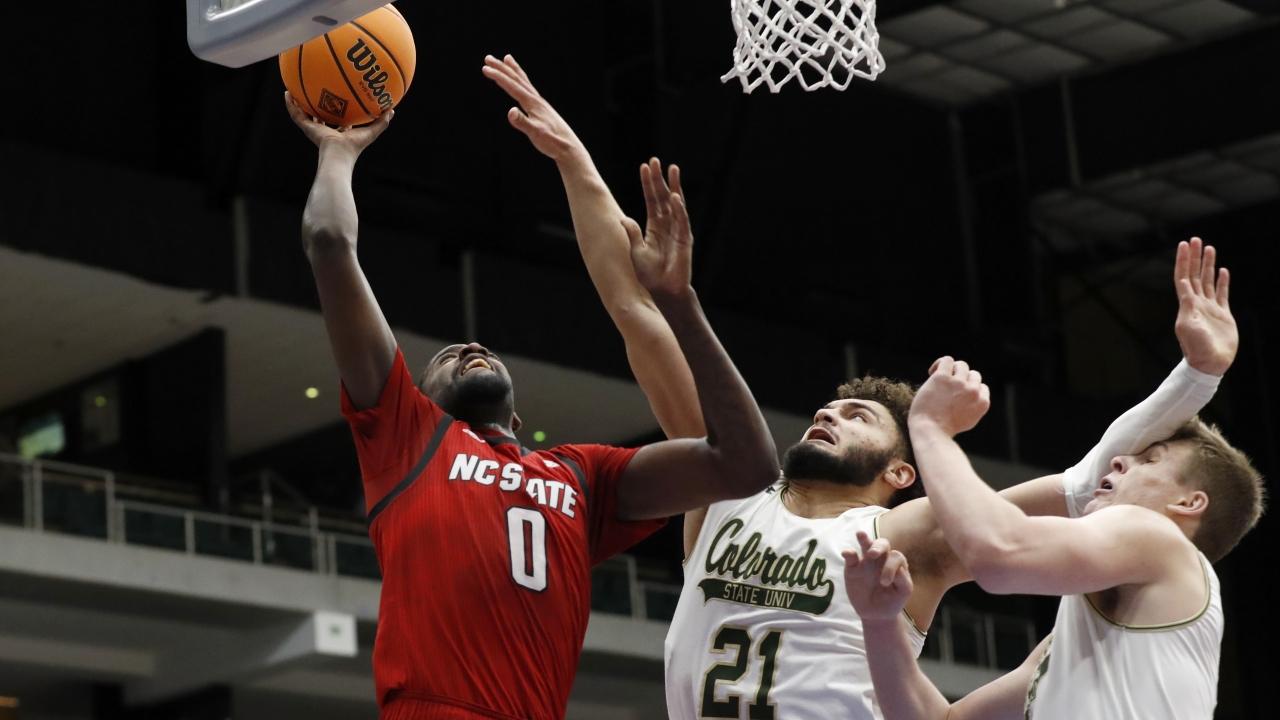 D.J. Funderburk
Manny Bates
NC State Basketball
LOCKER ROOM REPORT: Wolfpack Players
---
Redshirt senior forward D.J. Funderburk and redshirt sophomore forward Manny Bates met with the media via Zoom following the Wolfpack's 65-61 loss to Colorado State in the 2021 NIT Quarterfinals.
NOTE: Click on each player's respective thumbnail to watch each interview.
---
D.J. Funderburk
What did Colorado State do to you defensively to make it more difficult to get it to you in the second half?
"From what I could remember, I think they started to put [John Tonje] on me. I think they just told him to front me the whole time. That's what it felt like. Every time we came down, regardless of what the play was, he was trying his hardest to play his role and front me. He did a good job of that and made sure the guards couldn't see that I was open a few times. It is what it is."
How frustrating was that, considering your strong start in the first half?
"You can see it on my face. It's very frustrating. The game is over. I can't take anything back."
Can you describe your experience having your senior year with COVID-19 impacting the season?
"To be honest, the COVID thing wasn't really that big of a struggle for me personally even though I did get COVID. I don't think it really did too much. I just think it was more of a mental thing as far as keeping our guys together and making sure we weren't out doing the regular college stuff that we usually do in other years. I think that was the biggest part: just being wary of that and being wary of who we were around and staying focused and making sure we could make it this far into the season. There's a couple of teams that opted out the whole season. We could have been one of those teams."
What are your emotions right now?
"I've got 1,000 emotions running through my mind. It was very emotional in the locker room, but I just love my team. I love my team. I love the way we play with passion, effort, and everything. I just love my guys. I couldn't ask for a better group to go out there tonight and play my last game."
Manny Bates
Coach Keatts said that a big part of going into the NIT was the experience moving forward for the guys coming back for 2021-22. How important were these two tournament games?
"I think it was big for us just for the future. We know what the postseason feels like. Granted, it's not the NCAA Tournament, but it is still somewhat of a postseason. It's just that knowledge and feeling of what to expect for next year can take us a long way into the future."
What did you personally get out of these games?
"I wouldn't say anything that really changed, but just mindsets. I feel like, personally, I had a few little side injuries. I was just trying to play through the pain for the majority of the time. It was just my mindset of being locked in at all times because, just like tonight, anybody can be beaten at any moment."
What was the difference for Colorado State in the second half?
"It was really just their energy. Their energy was tremendous coming out in the second half."
Never miss the latest news from Inside Pack Sports!
Join our free email list