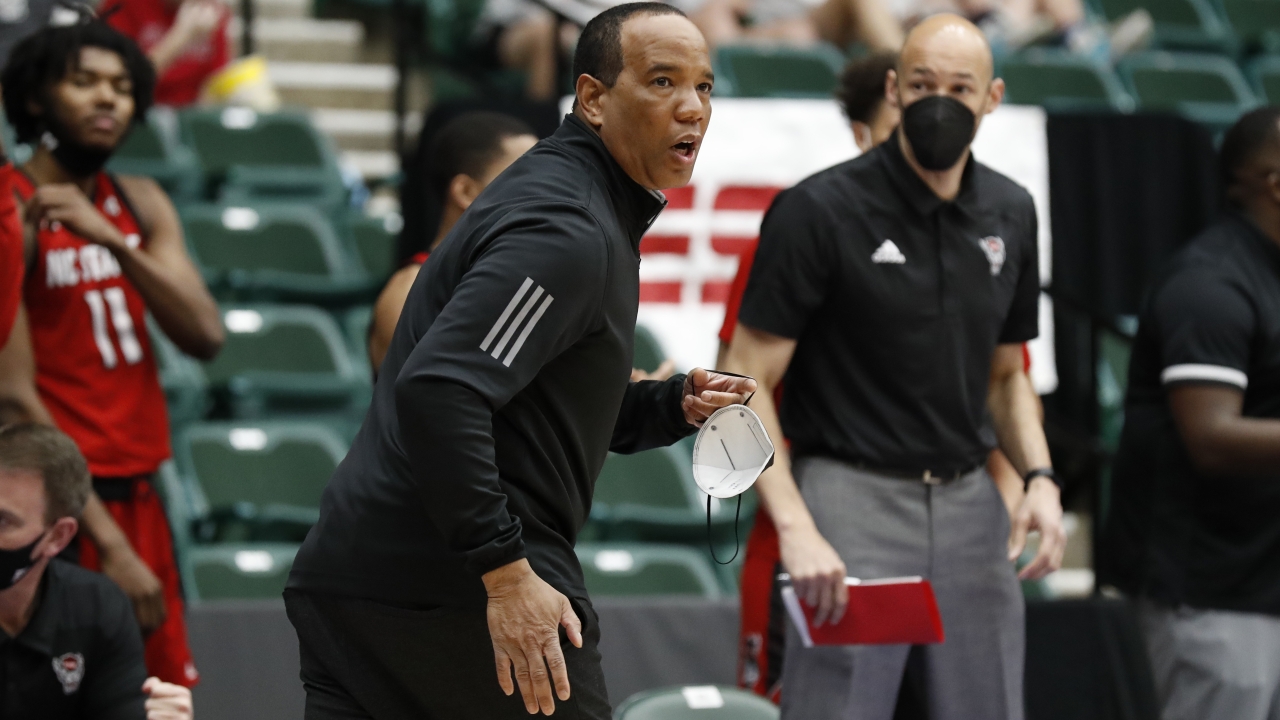 Photo by Roger Steinman Photos
NC State Basketball
Kevin Keatts: "I Couldn't Be More Proud"
---
NC State head coach Kevin Keatts met with the media via Zoom following the Wolfpack's 65-61 loss to Colorado State in the 2021 NIT Quarterfinals.
NOTE: Click on the video in the player above to watch Keatts' press conference.
---
Opening Statement
"Well, I couldn't be more proud of a team than I am of this team. This team has fought through everything that you could ever imagine when you talk about COVID, the injuries to Devon Daniels and Thomas Allen, and then not having the opportunity for Braxton Beverly to play tonight. I walked into the NIT with the expectation that our guys get some experience in playing, and we absolutely got that. My hat goes off to Colorado State. I thought they played well and made some plays down the stretch, but at the end of the day, I'm proud of these guys and the things that they've accomplished. When you look at us, we're one of the few teams in the ACC that didn't have to stop as much because of the virus. Our guys did a great job of protecting our bubble. We did a tremendous job in the middle of the season of running off a bunch of road games in a row. It's a lot of things. I feel really bad for our seniors, especially Braxton Beverly who couldn't play in the game, but at the end of the day, what I told those guys in the locker room is that I love everybody for their fight. There wasn't one day or one practice that I didn't think our guys competed. I've always said to our guys that, if they play extremely hard, I'll live with the results, and the results were [that] we came up a little bit short. That doesn't define what type of year we had, and I'm proud of our fight."
After getting the ball inside at will in the first half, you didn't get it there as much in the second. Was that a matter of Colorado State's defense adjusting or the guards not getting it there as much as before?
"I think they made an adjustment. Without Braxton Beverly being out there, we lost a shooter. It's easy just to sag off some of those guys that don't shoot the ball as well. They packed the paint a little more in the second half. I drew up a couple times we were trying to get D.J. [Funderburk] the basketball because he hadn't had a touch in a while, but we couldn't get it there. And I thought we had some bad turnovers trying to force the ball in just because it was our gameplan."
Was Jericole Hellems' three-point attempt the play that was drawn up?
"No, what we wanted out of it was it was a two-part play. We wanted Jericole to come off the stagger screens, or elevator, and we thought they would hedge out on it and be able to slip D.J. to the rim. It was one of two options: to either get D.J. the basketball on the slip or Jericole to come off and get a jump shot into another ball screen, and he had a look. He's played well for us all year long, so I'll live with the shot."
Did taking the week off between games hurt the team's energy?
"I'll have to disagree [with that notion]. I think our guys played hard. We just didn't make shots. When you look at that Davidson game, we made shots. I thought we completely played well. When the score is 28-25 at halftime, you're doing something right. I thought we were great defensively. It was one of those games, and we knew that. If you look at the history of us, anytime we play a pack-line team, it's gonna be a low scoring game. That's typically how Virginia plays. We knew we were gonna have to win a game if it was gonna be 41-40. I don't think coming back affected anything. I just think they made plays and we missed some shots down the stretch, and that's the way the ball bounced."
How concerned were you about having to defend Isaiah Stevens and David Roddy?
"They're really talented. Both of those guys can make shots. Stevens was really good. I thought he got in the paint and made a couple of pull-ups. Both of those guys made really tough shots down the stretch for those guys when they needed it. They were a concern. They were the top of the scouting report, trying to figure out how to take Roddy's right hand away. I thought we did a good job. He made a couple countermoves and made some shots. They're talented. That's a good basketball team, as you know. We knew that coming in, and my hat goes off to them the way they played."
Can you talk on the team's growth, especially for the freshmen?
"I couldn't draw up more opportunities than these guys had. Now, it's not anything that we definitely wanted to, but let's just look at the last game in general. Every veteran guard that we have on our roster didn't play. The experience that Cam Hayes, Shakeel Moore, and Dereon Seabron have gotten, it's unbelievable. Typically, you might get one freshman that gets a chance to play a bunch of minutes in a season, but you don't get three. I thought all three of those guys have matured in a lot of ways. I'm not going to define them because they didn't have great games, but I think the experience that they have gotten has been great. I'm excited and that we came to the NIT. I think we learned a lot from it, and now we have to build on it."
How does this loss play into the freshmen's first true offseason?
"You typically like to learn with a win. That's the best way to do it. You win the game, they don't play well, but you win and learn from that. Unfortunately for us, we lost, so we're gonna have to learn with a loss. I think that's great for those guys to be able to go into the summer and look at that and see what they've got to improve, see what they have to work on; they've got to get bigger, they've got to get stronger, they've got to be better shooters, they've got to be better ball handlers. The greatest thing about freshmen is that they all become sophomores. If they all have a great summer leading up to next year, they can all be really great basketball players."
Can you put into perspective just how challenging the pandemic made this season from every aspect?
"To be honest with you, COVID sucked. It was bad. What we don't take into consideration is the mental aspect of what these kids have to go through. They didn't have a chance to be kids this year. They didn't have a chance to hang out with the student body. Our freshmen didn't have a chance to meet other people on campus, not that we wanted those guys to go out to parties, but they couldn't. They didn't have a chance to go to the movies. It was tough. You don't know what these kids are going through and the struggles they are going through. They've got family members that may have passed away because of COVID. They've got family members that were sick because of it. It's a tough deal. I just hope and pray that we can get the vaccine to as many people that want it and we can get back to being normal because I would love for these kids in general that have fought the entire year. It's not just my guys. It's guys in college basketball and all sports that have had to do it a different way to get back to being normal. Things weren't normal. We can say what we want to. It's tough. We play in a 20,000-seat arena, and those guys never got the chance to experience PNC. They never got the chance to experience what it's like to play a true road game where people are yelling at you. That's tough. I think if everybody would do their part, hopefully we can all get back to doing things the way we used to. As a coach from my perspective, it's probably the toughest year that I've had to manage in college basketball in my career. Every hour, after every practice, every night I used to text the guys, 'Make sure you stay. You can't go out. You can't go out in groups. You've got to protect our bubble.' It became one of those things. It's tough, and then I'll give you this: On a personal standpoint, I've got two sons, and those guys were online. It affects how they study. I feel bad for kids in high school and below because you don't get the social skills of hanging with other people. You don't get any of that stuff. It's been completely affected. My son, in the last couple years, didn't get a full year of playing AAU basketball, and that's been tough. We get a lot of people that will complain about kids. It's crazy because we get that on the internet about every school and the way a kid plays. At the end of the day, they don't know the struggles that we had to go through to get these kids just to get on the court and be able to play. Shame on them for doing those types of things."
Never miss the latest news from Inside Pack Sports!
Join our free email list