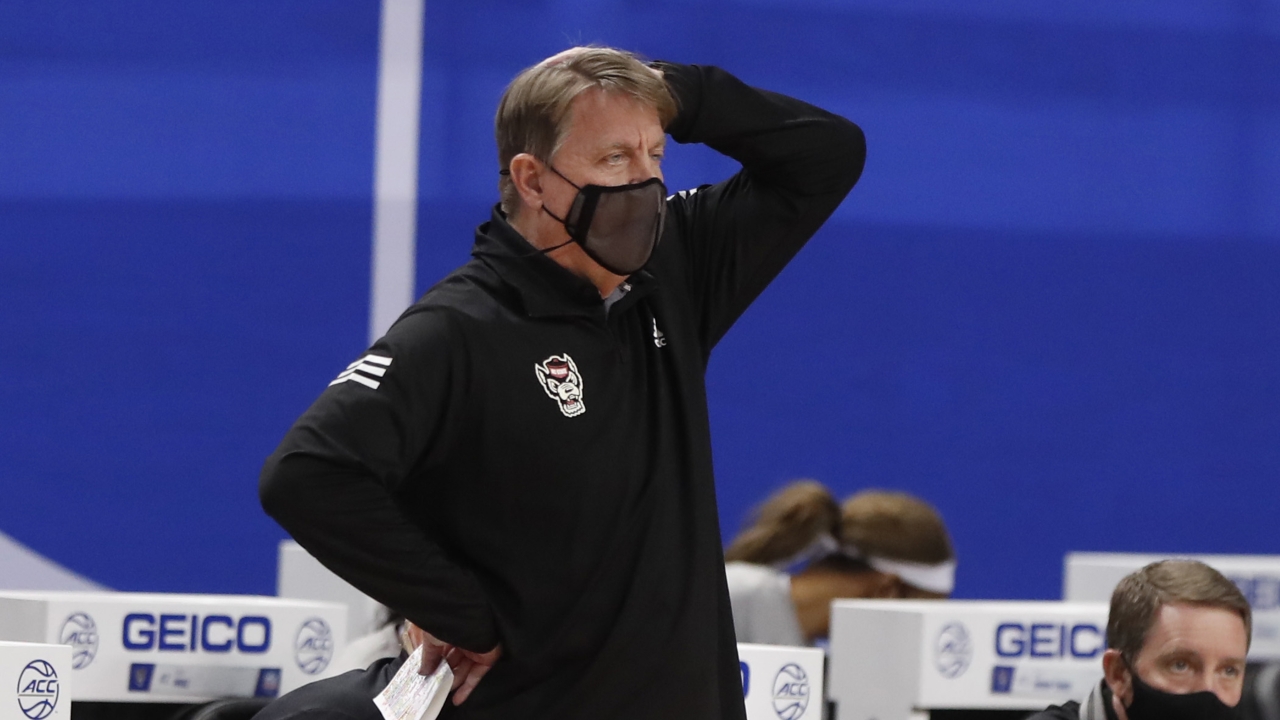 Photo by ehyman@newsobserver.com
NC State Women's Basketball
Wes Moore: 'We've got a lot of momentum as a program'
---
NC State women's basketball head coach Wes Moore will look to take his team to the elite eight for the first time in his tenure with Saturday's Sweet 16 matchup against Indiana.
Moore spoke to the media Thursday morning about his team's upcoming matchup and much more. Here's a full breakdown of everything he had to say:
---
What are your thoughts on what [Hoosiers head coach Teri More] has been able to do with Indiana's basketball program?
Obviously I've had an opportunity to see them a bunch through the last several years. Actually one of our former players who just graduated about three years ago, Ashley Williams, is on her staff as an assistant coach. Due to that connection I've followed them some. I think they're always well prepared, very well coached. Their kids have high basketball IQs. They are very skilled, very fundamental and, again, very tough. I know we'll have our hands full, for sure.
What is it going to be like to face [former NC State player] Ashley Williams on the other sideline Saturday?
She is on a fast track. Let me just say, first of all, NC State is a great engineering school. Ashley graduated with an engineering degree with a GPA of about 3.9. Then she comes into my office her senior year and says 'hey coach, I think I want to go into coaching.' I said 'well Ashley, until this moment I thought you were a very intelligent person.' It definitely carries over. She has a passion for the game. Because of that, she works very hard at it.
She's very intelligent. She's been moving up the ladder quickly. I can see her being a head coach at a very young age. She's definitely an impressive young lady. She played for us just a few years ago, so she knows about everything we do. That's going to be interesting, too. I might have to switch up the signals a little bit or disguise things and try to be as covered up as I can be. But again, it'll definitely be interesting with her over there on the other sideline. But I'm very proud of her.
What did it mean for you to get the recognition of WBCA Coach of the Year?
It's just very humbling. You look at the coaches around the country and this great game, and it's very humbling. That's all I can say. Let me just say, let's face it; it's a team award. It starts with the players. They're the ones. You can draw up all these little cute plays and have all this great scheme and stuff, but they're the ones that get it done. And then the staff, the assistant coaches and the time they put in preparation and recruiting. They get very little credit. They're awesome. I think we've been very prepared going into games, and the staff has a lot to do with that. I'm very proud of it.
I just found out, and I'm sorry, I didn't realize it had Pat Summitt's name on it. That makes it even better because I have a lot of respect for Pat. She had a great influence on me. I'm very appreciative of the WBCA and the coaches.
How are things going in the bubble and how is the team keeping itself entertained?
I know this is tough. You bring 64 teams to one place. I grew up in Dallas, so I'm very proud of Texas and San Antonio and what they're doing. I know we had a couple of hiccups early, but you've got to respect the way they corrected them and have made things better. They provided a riverboat trip for the team. They provided a private tour of the Alamo. They've had some things to do, as much as you can in this environment.
Again, very thankful to the NCAA and the city of San Antonio and the committee and the job they've done in pulling this all together. Our players, we've got great young ladies. If you're gonna be confined, consolidated, quarantined, whatever, you want to do it with great people. That's what has made it good. I've lost track. I didn't realize we've been here this long. I didn't realize what day of the week it was yesterday. It's a different world that we're in, but again, they've made the best of the situation as possible.
Has there been a message about having a sense of urgency or just trying to get out to a better start or is it just the quality of the opponents you are facing?
I think it's a combination. All of the teams here are going to be very well prepared and talented and are going to bring it. It's that time of year. But I agree, we do need to get off to better starts. We've done it all year, and we've been able to come back. But I always say 'if you play with fire enough, you're eventually going to get burned.' We need to make sure that we're a little more focused and ready from the tip. We've talked before about how we're really locked in in the second half or the fourth quarter or whatever, but we've got to be locked in from the tip. So, we'll definitely talk about that and try to get focused on getting off to a better start. These kids have a lot of confidence, so if they do fall behind they still believe that they're gonna be able to get it done. And I believe in them as well.
What does it say about Jada Boyd and Jakia Brown-Turner that they've stepped into their first NCAA Tournament and performed the way they have?
Yeah, let's try to keep that as quiet as possible. Maybe they won't think about that. But no, Jakia has always been able to step up in big moments, even last year as a freshman in the ACC Tournament I thought she came up big. I think it's to your approach. It's the same. As boring as it is, the process; preparing for the next opponent and the next game and the preparation that goes into it as far as film and scout and on the court. I think you try to make it as normal as you can. It's just the next game. Hopefully your focus is on that and playing the best you can.
Is there any update on Kayla Jones?
I think it's still the same. We're just gonna have to see how she feels on gameday. I know the doctors and her will have to figure all that out, where she's at. I think a lot of it has to do with her being able to tolerate the pain and discomfort, but the doctors are also going to make sure that there is no risk involved and that it can't do any damage. Really I'm just leaving that up to the medical staff. We'll find out. It may be Friday night or Saturday before we know. But we'd definitely love to have her out there. A senior, first-team All-ACC. I've said all year that she's our glue. She holds us together. I'm proud of Jada Boyd and how she played and how the team stepped up without her, but we'd definitely love to have her back.
What was it about the NC State job that led you to believe that you could get to a higher ceiling and get to where the program is now?
Well first of all, they offered me the job. That always helps. I had a good connection there. I was with Kay Yow for two years as an assistant, the legendary Kay Yow. Then her sister, Debbie Yow, was the AD at the time, so I had a little bit of an in there.
I'd been here as an assistant. I knew they had all the resources and support you need to compete at the highest level. I felt like we could recruit and get the top players we wanted in here. That's the thing; I want to be somewhere I can recruit unbelievable young ladies, outstanding citizens, high-character kids that are also talented. Some places you may not have that ability to recruit both character and ability. At NC State we can. We can attract those kinds of kids. It's been unbelievable.
I've been so blessed. My 15 years at Chattanooga were unbelievable. I loved those people there. But now at NC State what's going on, we've got a lot of momentum as a program. We're excited about right now, and we're excited about where we are headed.
Never miss the latest news from Inside Pack Sports!
Join our free email list