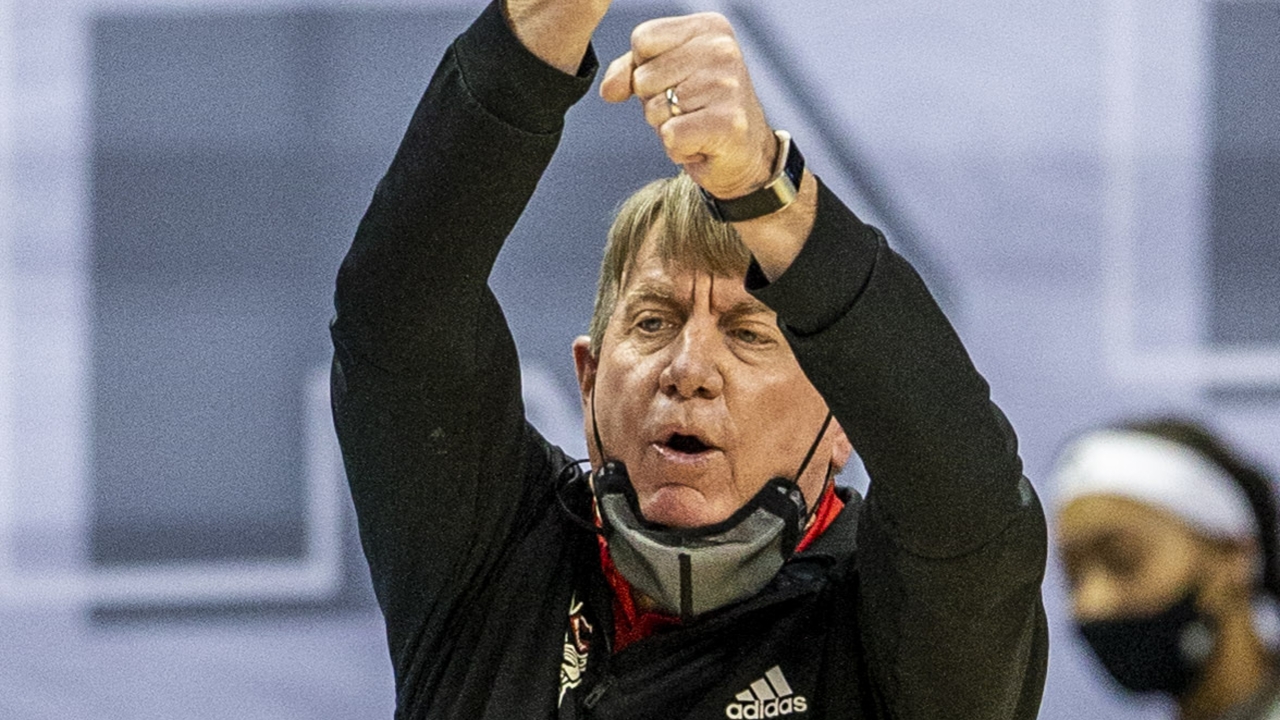 Photo by Woody Marshall
NC State Women's Basketball
Wes Moore: 'You've got to be ready'
---
NC State women's basketball used a red-hot third quarter to advance to its third straight Sweet 16 with a 79-67 win over South Florida in the NCAA Tournament Round of 32 Tuesday.
Head coach Wes Moore spoke to the media after the victory, here's a full breakdown of everything he had to say:
---
I asked Jakia if it was halftime adjustments or your speech that got it going in the third quarter. She said it was a little bit of both. Does this team have enough veterans that you just kind of leave them alone at halftime?
Jakia's not been shooting as well as she normally can. So I just kept reminding her, 'You've done it all your life. You've been a great shooter all your life.' She was getting to where she was passing up 3s and looking to attack, but we need her to knock down 3s, because that creates spacing for our offense. It gets people off [Elissa Cunane]. And, of course, Kai Crutchfield's been doing a great job of that out here as well, shooting the heck out of it. But we need to get Jakia going, and it was good to see her hit 2 out of 4 today. We need that to have some balance in our offense. It was a big lift for us.
Were you leaning on this team's experience to battle back or did you make a lot of adjustments and get into them?
I wouldn't say I really got into them. We stressed that we've got to do a better job on the boards. South Florida's a great offensive rebounding team. In the second half, we got hurt even more, I thought. But we've got to do a better job than that. Again, rebounding's what wins championships. You give a team like South Florida a second or third look at a 3, they're going to knock it down. So we've got to do a better job there. We were not taking care of the ball. I think at halftime we had four assists, six turnovers and maybe in the second half we flipped it and had like 11 and four. So a much better job taking care of the ball.
Of course, Jakia's only a sophomore, but as a freshman she started and played so much that you almost look at her like a veteran as well. With Kayla Jones not out there, I thought some other people really stepped up and did a good job with the leadership role.
What do you think the key was to those two big runs in the third quarter?
I think they only scored 11 points in the third quarter, so that was a big part of it, if you can defend like that. Again, South Florida's an explosive offensive team. They've got a lot of people that can hurt you. So I thought that was better. We did a good job of defending it with some urgency and then finishing it with a box-out for the most part in third, it seemed like.
We got in a little bit of a rhythm offensively. That's when Jakia came out and hit some 3s, and Kai hit some 3s. Elissa, they were very physical with her. Obviously their post, they could rotate them and their post in general picked up a lot of fouls, but they were spread out among three or four players. I thought Elissa did a pretty good job of handling that. It's tough when people are trying to be so physical with you, but she handled it well. Again, it's good when you can see the ball go through the net. I think that helps. That also helps you on the other end of the floor. We seem to play better defense when we're knocking down shots. I hate it that's way, but that's the way it usually rolls. But we've got to defend and rebound if we want to stick around.
Is there an update on Kayla Jones and how big was Kai Crutchfield's ability to be a jack-of-all trades out there?
As far as Kayla Jones goes, and you kind of hit on it right there talking about Kai, Kayla Jones is like our Swiss-Army Knife. She does everything well. She helps us handle the ball in the full court. She rebounds, even pushes it some in transition, can shoot the 3. So we really miss her. I don't know when she might be back. Fortunately, we were able to get through today without her. A lot of it's just going to depend on the pain and how intense it is. It's a patellar injury. So hopefully she'll improve in the next few days and we can get her back out there.
I thought Jada Boyd did a great job and Elle Sutphin did a great job when she went in there and knocked down a couple of shots. So we're having to play a Genesis Bryant, an Elle Sutphin, we're having to play some people that maybe haven't played a whole lot during the season, but due to these injuries and different things, foul trouble, they're getting opportunities and I thought they've held up really well.
As far as Kai Crutchfield goes, I go back to a few weeks ago, she had a hand injury on her shooting hand, had it all taped up. So offensively, she was struggling some, but she still did an unbelievable job defensively for us, and she's that person we try to have matched up with the other team's best scorer. For the most part, she's done a good job with that. But it is good to see her. I think she hit three 3s today. I tell you what, the other thing is, six assists, one turnover. So again, she did a lot of things well for us. So the Swiss-Army Knife or jack-of-all-trades comparison, Kai's doing that for us at a good time of year.
How big was the spark Jada Boyd provided in the starting lineup instead of coming off the bench?
Jada is just so explosive and athletic. She creates some matchup problems for some people. She had a double-double, as did Elissa. When you've got a forward and a post that are doing those kinds of things, I think it takes a little pressure off your guards and maybe that's why the guards shot the ball well today as well. We definitely wanted to get it inside. South Florida has showed a tendency to double the post from the weak side, so we spent quite a bit of time trying to prepare for that as best you can. Sometimes you get in a hurry and Jada or Elissa both will try to get in a hurry. Against that double team you can't do that. We're very blessed and fortunate to have Jada Boyd. I've said all year long that we've got six starters. With Kayla Jones out, Jada Boyd steps right in. It does hurt us a little bit depth wise, and like I said, [Jones] does so many things. It's hard to replace that. I can't think of anyone I'd rather have coming in and filling in like that than Jada Boyd.
How have you evolved as a coach over the years and how do you prepare for trying to take the next step and get past the Sweet 16?
I think the biggest thing is that you keep doing what has worked all year. You go through the same process. Our players are probably tired of the process by now. It's just a matter of preparing for the next opponent, putting in the time on film and scout. I think that's why our kids do a pretty good job defensively. They really buy into knowing what's going on and trying to take things away. I think that's a big part of it.
I learned a long time ago that it's about the players. You prepare and try to put them in a position, but at the end of the day they are the ones making the plays, making the shots and doing the little things that help you win. I'm really proud of this group. Everybody knows that it's been a tough year in a lot of ways. We had about a three-week pause in January. The pressure is on them, different things. They just keep taking it. I think that's helped them here.
Again, it's a little bit different than normal, all the quarantine and isolation and all that. They've just taken it in stride. I think the other thing that helps us is that we have great kids, great young ladies. You don't mind being quarantined and locked up with people you really enjoy being around. That helps us as well and carries over to us on the court and why we play pretty well together.
What are your feelings on making a third straight Sweet 16 and what is it going to take to get over the hump and get to the Final Four?
Again, it gets tougher every step, obviously. This year I knew there was going to be more upsets than ever because the top-16 seeds didn't get to host those first two games. You're playing teams that are capable of getting on a roll, getting hot and beating you, quite honestly. I've been very blessed and fortunate. At NC State we have all the resources we need to recruit some of the best players in the country and compete at the highest level. I loved my 15 years at UT-Chattanooga, but I think you always knew that there was going to be a little bit of a ceiling once you reached a certain point. Here there's no ceiling, but it's tough.
The rest of the teams that are left on that board are all pretty good. You just can't afford to take a day off. You've got to be ready and hope you're shooting the ball well. Today was great to see Jakia Brown-Turner kind of get back on track, and Kai Crutchfield. Like I said, she's been shooting it well. Hopefully we can keep on that roll a little bit. Raina Perez knocked down a 3 as well. We've got to be able to do that, have balance, to keep going deep because people are going to make it hard on Elissa inside, as we saw today. You've got to have that balance and keep doing what we're doing.
We get a day off. Tomorrow will be a day off. We haven't had one in awhile. It'll be good to catch our breath, and we'll still have a couple of days to prepare for our next opponent once we find out tomorrow.
What does it say about Elissa Cunane that she can be productive with her rebounding and defense even on an off day offensively?
It's important for us just to make sure that she gets touches and gets shots. Fifteen shots, I'd be thrilled with that pretty much every game to get her in that range. She normally shoots about 60 percent from the field. I go to Vegas in August every year for about a week, and I know you want to play the odds. Elissa has pretty good odds when you're shooting 60 percent.
Again, they were pretty physical with her. They tried to bang her. They tried to double her some. That made it tough. You've got to slow down and make sure that you're seeing the help. She's doing so much better with that. Three assists and one turnover today. What's scary is that I've told her 'if you are ever getting to where you're getting more assists than turnovers, I'll let you have your dream.' She wants to play point guard. I've got to be careful here. She's getting a little bit better at it.
We'll move on to the next game and keep going to her. I've got a lot of confidence. I think Darrell Royal, the old Texas football coach, used to say 'I'm gonna dance with the one that brung me.' So, we're gonna keep dancing with Elissa, that's for sure.
Never miss the latest news from Inside Pack Sports!
Join our free email list