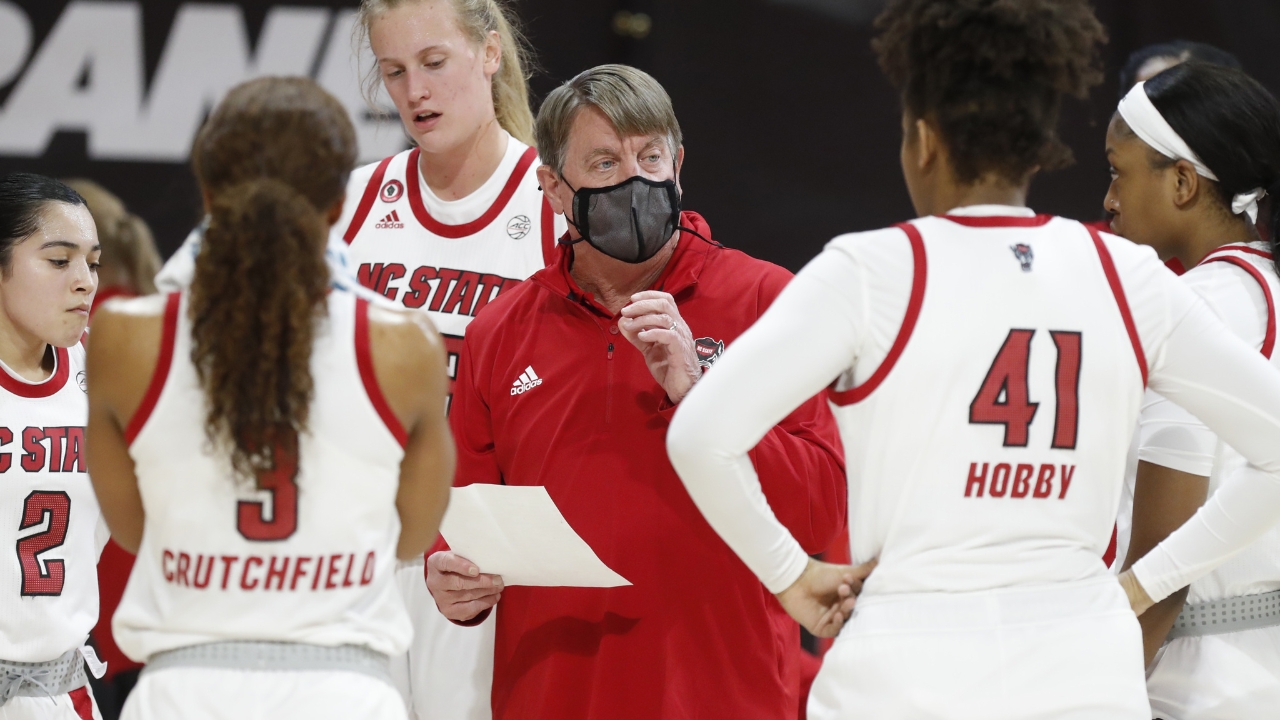 Photo by Ethan Hyman, News&Observer
NC State Women's Basketball
Takeaways: Wolfpack finish strong in first-round win
---
It's often not about how you start a game, but how you finish it. That was certainly the case for 1-seed NC State women's basketball in its NCAA Tournament opener Sunday. The Pack overcame a sluggish start and outscored NC A&T 48-21 after trailing by six in the second quarter en route to a 79-58 victory.
NC State will now move on to the round of 32 and will face South Florida Tuesday at 3 p.m. on ESPN2.
Here's a few key takeaways from the Wolfpack's victory Sunday:
Balanced attack
The ACC Tournament was all too often the Elissa Cunane show, with the All-American center carrying the load en route to winning Tournament MVP as some of the Pack's other top players struggled.
Cunane certainly got hers Sunday, with 12 points, five rebounds, and three assists, but she wasn't quite as dominant as she was in Greensboro as the Aggies made her a focal point on defense. But she didn't have to be.
Three other players -- Jada Boyd, Kai Crutchfield, and Jakia Brown-Turner – all finished the game in double figures for the Wolfpack.
Boyd led the way off the bench, with 18 points on 8-of-11 shooting for the Pack. She was a weapon both inside and out and was particularly effective in a third quarter in which NC State took control for good, with 11 points on 5-of-5 shooting.
"It's a great day when we all can come and share the ball, when we're all doing what we're supposed to do, we're definitely going to come out with a win," Boyd said.
Moore said multiple times down the stretch of the regular season that the Pack needed Boyd to be great, and she certainly was that on Sunday.
On a day when NC State shot 42% from 3-point range, Crutchfield, the senior guard, led the way in that regard, hitting 4-of-5 shots from beyond the arc as she scored 14 points. Crutchfield helped NC State overcome a slow start to take the lead at halftime with a personal 5-0 run to close out the second quarter.
Brown-Turner, who had some of her worst games of the season in the ACC Tournament, bounced back well Sunday, putting up 10 points and 10 rebounds for her second double-double of the season. She grabbed big buckets and boards when the Pack needed it.
Freshman guard Genesis Bryant, playing her first game action since Feb. 11, also game up big, scoring nine points, including the 3-pointer in the second quarter that put NC State ahead for good.
Moore said that Bryant had impressed him in practice this week, and he told her she'd be the team's first perimeter option off the bench Sunday.
"Without a doubt, it was good for her to play that well," Moore said. "Moving forward now, I think she'll have that to draw from and lean on a little bit. Again, it takes a freshman some time. I know we're in a microwave society, everybody wants it to happen right now. It's a big jump from high school to this level. The ACC, for instance, that's a big jump. It takes people some time. But I'm very encouraged late in the year with how she's looked, and I thought she deserved her opportunity and ran with it. Hopefully that's going to help her come Tuesday night as well to be comfortable."
A potential loss
Senior Kayla Jones exited the game with an injury, and Moore said the team likely wouldn't have a further update on her until later after the game.
"We've got a doctor with us, travelling with us, and they said they'll probably get an MRI tonight and see what it is, what's going on in there," Moores said. "We don't think it's an ACL or anything like that, but obviously it's really tender and all those things. Hopefully we can get some ice on it and she'll feel better, tonight or tomorrow or whatever. Obviously she's a big part of what we do and a great leader for us. We won't know until we get that later tonight."
If Jones has to miss any time in this tournament, it would be a big loss for the Wolfpack.
Sluggish start, hot finish to first half
Playing its first game in two weeks, NC State struggled early in this one. The Pack couldn't get its offense going early, and the Aggies started red hot on offense. NC A&T used a 9-0 run to take a six-point lead about halfway through the second quarter. NC A&T seemingly couldn't miss at that point, with the Aggies shooting 60% for the game at a media timeout with 4:37 left in the half.
NC State seemed to wake up after that stoppage, however. The Pack started to get stops, run its offense, and attack in transition, ultimately finishing the last four minutes of the half on a 13-0 run to take a 44-37 lead to the locker room. That run included five points and the go-ahead three from Bryant.
"I'm most proud of the people that came off the bench and stepped up in areas that we needed, they just worked so hard in practice so them coming out and showing it, it makes me feel great," Boyd said."
As she's done all season, Crutchfield made two big plays to close out the half, knocking down a three, then following that up with a steal and layup to push the Wolfpack's lead to seven. Freshman guard Genesis Bryant was important in turning the Pack around to end the half, with five second-quarter points including the 3-pointer that gave the Pack the lead.
"We didn't have our energy," Moore said. "We didn't have our mojo, so to speak. And we need to find that in a hurry. Part of it is that you have to give North Carolina A&T some credit. They came out and hit shots. We felt like they were so athletic and so explosive that we wanted to try to contain them and try to force them to shoot jump shots, and they made them. They knocked down a lot of good shots.
"For whatever reason, we seemed to kind of lose our energy. Fortunately, we were able to get going in transition a little bit and see the ball go through the net a few times. Yeah, we've got to find it. This is the time of year you've worked so hard, so long for. My goodness, you've got to come out here and be ready to go. Hopefully we'll be better on Tuesday."
Pack takes over in the third
NC State roared out of the gate in the second half, extending its run to 19-0 with six straight points from Boyd. The Pack ended up holding the Aggies scoreless for a stretch of 6:57 spanning the second and third quarters.
It was clear in the third quarter that the Wolfpack had awakened into the dominant version of itself, running its typical inside-out offense and smothering the Aggies on defense. The Wolfpack outscored A&T 20-7 in the third frame and ripped off a 33-7 run between trailing by six late in the second quarter and the end of the third.
The Pack shot 80% from the field and pounded the paint in the third, scoring 14 points there, and held the Aggies to just 23% shooting.
Boyd was money in the third, scoring 11 points on 5-of-5 shooting and knocking down the Wofpack's only 3-pointer.
"I thought Jada Boyd did a great job, gave us a great lift," Moore said. "She does that a lot. She's just so athletic and long. We were able to get the ball inside to her there a couple of times, and she did a really nice job of finishing. We needed a lift. We needed a bolt of energy, and I thought she really gave that to us."
That allowed NC State to cruise to its first-round victory, as NC State's lead never dipped below 17 points in the fourth quarter.
Obviously Sunday's performance wasn't perfect for the Wolfpack, but NC State did the most important thing a team can do this year: win, and pick up its fourth straight NCAA opening-round victory.
"Personally, I'd rather have jumped out early to start the game and been clicking and firing on all cylinders," Moores said. "We didn't particularly look like a No. 1 seed or any of that in that first half. So hopefully it was just a situation where maybe we've been off so long, and maybe this will help us knock off a little bit of the rest, maybe draw from it, have some confidence, but we're going to have to play a lot better moving forward."
Never miss the latest news from Inside Pack Sports!
Join our free email list