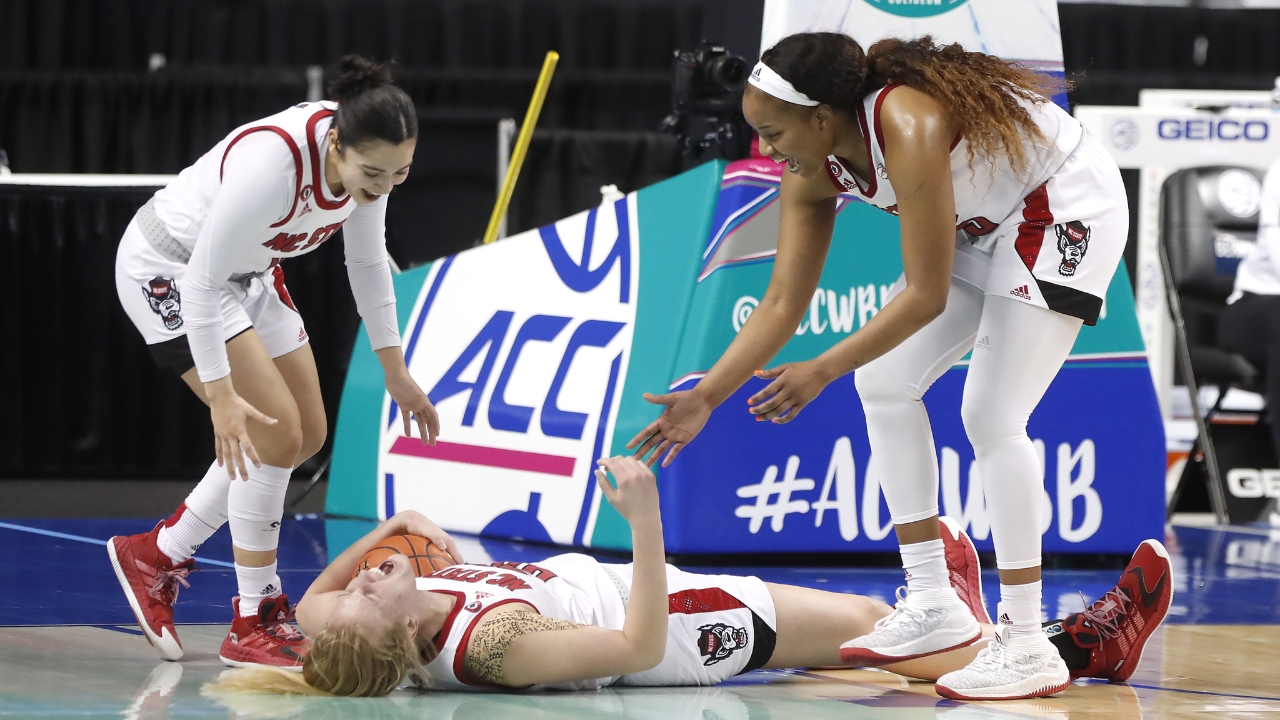 Photo by Ethan Hyman, News&Observer
NC State Women's Basketball
NOTEBOOK: Wolfpack Opens NCAA Tourney vs. NC A&T
---
Here are some pregame notes on No. 1 seed NC State heading into this afternoon's matchup with No. 16 seed North Carolina A&T.
---

SERIES HISTORY WITH AGGIES (NC State leads 9-0)
Sunday marks the 10th overall meeting between NC State and North Carolina A&T. It is the first time that the teams have met in the NCAA Tournament.
• The Wolfpack is a perfect 9-0 in its previous matchups with the Aggies.
• NC State has beat North Carolina A&T by as many as 47 points (76-29 home win in December 2004), and its narrowest margin of victory over the Aggies is one point (92-91 overtime road win in December 1993).
• The Pack has outscored the Aggies by an average margin of +26 in those previous nine meetings.
• NC State and North Carolina A&T last met during the non-conference portion of the 2019-20 schedule. The squads faced off on November 6, 2019 for the Pack's season opener, and NC State went on to claim the 80-44 home victory.
A WIN ON SUNDAY WOULD
Mark NC State's fourth NCAA Tournament first-round win in a row.
• Be the 965th win in program history (964-473).
• Be head coach Wes Moore's 747th career win (746-233).
• Be Moore's 189th win at NC State (188-64).
• Maintain the Wolfpack's perfect all-time record over North Carolina A&T (9-0).
GOING DANCING!
2021 marks NC State's 26th overall NCAA Tournament appearance in program history and its fifth under the leadership of head coach Wes Moore.
•For the first time in its 26 NCAA Tournament berths, the Pack earned the No. 1 seed for the upcoming postseason event. NC State had previously been the No. 2 seed three times in a row in 1989, 1990, and 1991.
• The Wolfpack has been selected to compete in the NCAA Tournament four seasons in a row. That is the longest such streak for the team since it also went to four straight from 2004 to 2007.
• NC State has advanced out of the first round in each of its last three NCAA Tournament appearances. The last time the Pack put together such a streak was in 1989, 1990, and 1991.
• The Pack concluded the 2018-19 season in the Sweet 16, making its second consecutive appearance in that round for the third time in program history and the first time since 1990 and 1991. The 1989, 1990, and 1991 seasons mark the first and only time that NC State has reached the Sweet 16 in three NCAA Tournaments in a row.
BACK 2 BACK
The Wolfpack was an automatic qualifier for the 2021 NCAA Tournament after punching its ticket with a victory in the ACC Tournament title game. The 58-56 win over top-seeded Louisville gave NC State its first set of back-to-back ACC Tournament titles and was the sixth conference tournament win in program history.
Raina Perez hit the game-winning jumper with 2.1 seconds remaining to seal the win. NC State trailed by as many as eight points in the fourth quarter, but the Pack held Louisville to just two points in the final five minutes.
Elissa Cunane scored a game-high 20 points and added nine rebounds. Nine of her 20 points were scored in a key fourth quarter.
NOTING THE WOLFPACK (20-2)
Ranked No. 3 in the Associated Press Top 25 for the third week in a row and been ranked in the national top five since Dec. 7
• No. 5 nationally in defensive rebounds per game (31.3)
• No. 13 in scoring margin (+15.8)
• No. 15 in field-goal percentage (.466)
• No. 19 in scoring offense (77.3)
• No. 21 in assist-to-turnover ratio (1.24)
• No. 23 in rebound margin (+7.6)
• Four members of the squad with scoring averages in double digits - Elissa Cunane (16.8), Jakia Brown-Turner (13.6), Kayla Jones (12.3) and Jada Boyd (10.4)
• Shot better than 50 percent as a team in a total of seven games this season
• Raina Perez owns an assist-to-turnover ratio of 2.92, which ranks eighth in the nation this season; also 43rd nationally in assists per game with an average of 4.9
• Held five of its opponents to under 30 percent shooting and 15 opponents to under 40 percent
• Averaging 37.9 points in the paint and also a threat from distance with an average of 7.0 made three pointers per contest
• Outscored in the paint just twice and beating out its opponents in that category by an average margin of +11.9
• Put together three-point shooting percentages of 40 percent or better in eight outings, including two games with 50+ percent marks
WE WIN
NC State has been a part of three top-10 matchups and two top-five matchups this season. The Pack came away with the victory in all three of those games to remain unbeaten against ranked opponents this season and to serve as the only collegiate women's basketball team to beat three AP Top 5 teams this year.
Two of those matchups were against the nation's top-ranked teams: No. 1 Louisville (74-60) on Feb. 1 and No. 1 South Carolina (54-46) on Dec. 3.
The South Carolina win marked the Wolfpack's first over a top-ranked team since March 3, 2007 when it defeated No. 1 Duke in the ACC Tournament.
With the regular-season win over the Cardinals, NC State became just the third NCAA Division I women's basketball team in 119 tries in the last 20 seasons to play the AP No. 1 team twice in one year and come away with two wins.
Out of those three teams, the Pack is the only to earn both of those top-ranked wins during the regular season and both on the road. NC State has now defeated four top-ranked teams in a total of 21 tries in program history.
Perhaps most impressive, the Wolfpack held all three of those prolific offenses to 60 points or less. Those teams averaged just 54.0 points against NC State.
M-V-P
Junior center Elissa Cunane was named MVP of the 2021 ACC Tournament following an absolutely dominant three games. She scored 20+ points in wins against Virginia Tech (27), Georgia Tech (23) and No. 5 Louisville (20) on her way to averaging 23.3 points per game across the three outings.
Her 70 total points marked the fifth most by a player in a single ACC Tournament in the last 20 years. Cunane accopmlished that while shooting a blistering 62.5 percent (25-of-40) at the tournament, and she maintained her consistency from the charity stripe with a 83.3 percent (20-of-24) clip.
She also hauled in nine rebounds in each of the three games, just off a double-double in each.
Cunane, a native of Summerfield, N.C., which is just outside of Greensboro, has scored 20+ points in five of eight career ACC Tournament games she's played in.
PACK-OLADES
A well-balanced NC State squad was rewarded with high honors from the ACC at the conclusion of the regular season. Five players were recognized as All-ACC Team members or with a yearly award.
Elissa Cunane: Unanimous First Team All-ACC
Jakia Brown-Turner: Unanimous First Team All-ACC
Jada Boyd: ACC Co-Sixth Player of the Year
Kayla Jones: First Team All-ACC (coaches), Second Team All-ACC (BRP)
Raina Perez: Honorable Mention All-ACC (BRP)
NC State was the only program with three First Team selections by the head coaches and joined Virginia Tech as the only two schools with a pair of Consensus First Team players.
Never miss the latest news from Inside Pack Sports!
Join our free email list