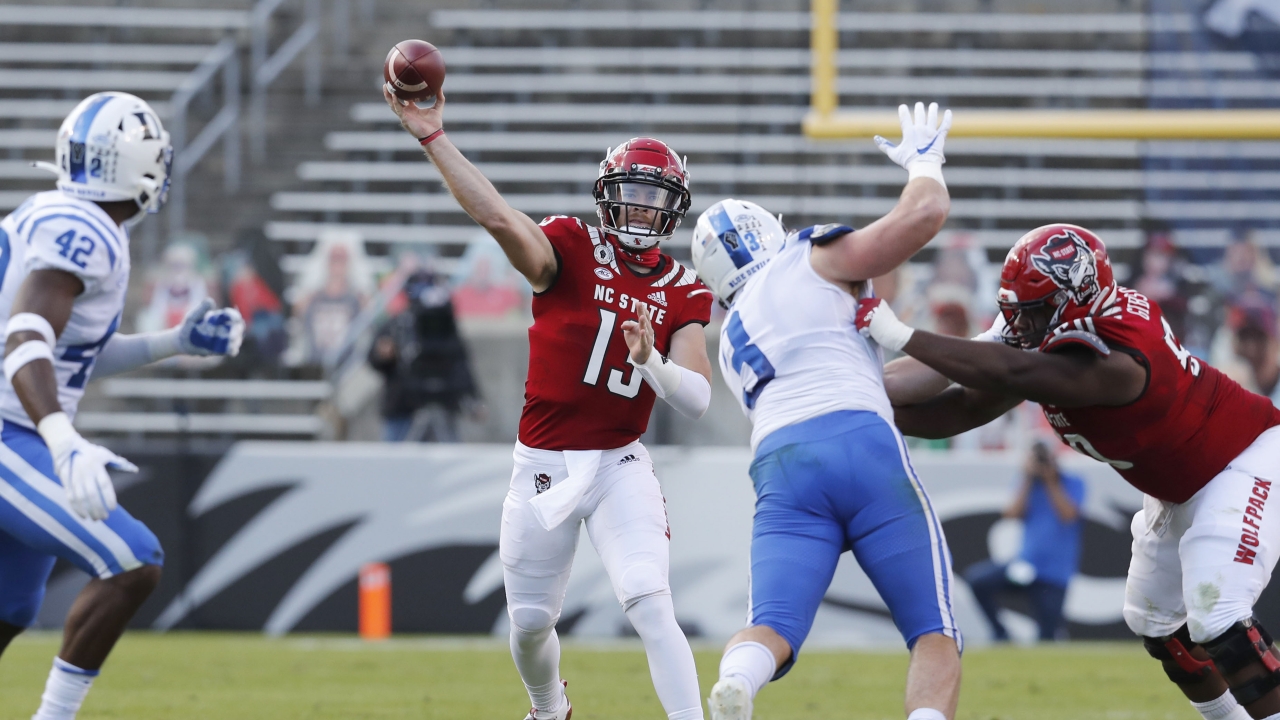 Photo by ehyman@newsobserver.com
NC State Football
Healthy Devin Leary brings leadership, confidence to Wolfpack's spring practice
---
NC State quarterback Devin Leary called jogging onto the field for the Wolfpack's first spring practice last Tuesday "a feeling I can't really describe." Of course, jogging onto the field for practice is something players probably do hundreds of thousands of times over their careers. It's probably also something most don't think twice about.
For Leary, however, it signified the end of the road back from a serious injury. Leary's breakout 2020 season ended with a broken fibula in the Wolfpack's win over Duke on Oct. 17, 2020 that required surgery. What followed was a long and, at times, difficult rehab process – so it's no wonder getting back on the field with his teammates meant so much to him.
"It was amazing," Leary said. "Being able to be out on the field and be around everyone was one of the best feelings I've had in awhile. The rehab process, I would say it took a toll, definitely mentally and physically, I think on anyone that would… Just the amount of time you have to put into rehab. Some days aren't as good as others or as you want them to be. Just now, seeing everything pay off was definitely exciting to see."
Leary, who had completed 61% of his passes for 890 yards, eight touchdowns, and just two picks at the time of his injury, called building up the muscles and mobility in his leg one of the toughest parts of his rehab.
He gave head football athletic trainer Justin Smith and his athletic training staff credit for getting him back to where he is now, but Leary also said being around his fellow teammates in the same boat helped him a lot.
"Honestly it was just being around the other long-term injured guys," Leary said. "Guys that didn't necessarily have the opportunity to play this season because of injury or they were battling previous injuries. Me entering that long-term injured group gave me a different perspective of what those guys go through every day. Guys that aren't able to play or have been hurt throughout different offseasons. I think just really being around them or being able to feed energy off of them really kept me going as well."
If Leary's time off had a bright spot, it was an improvement of his ability to break down the game from a mental standpoint.
"I think the injury just gave me a whole different perspective on the game," Leary said. "Just being able to break things down mentally not being able to physically do things out there as I wanted to, but being able to take things off the film, being able to learn different aspects of the game and being able to able to study different mechanics or techniques that I need to improve on while I was playing. So it definitely gave me an opportunity to grow and improve my game."
Now, Leary, who said he would often throw passes after practice from his scooter during his rehab, is back fully healthy and ready to help lead a veteran NC State offense to new heights in the 2021 season.
That starts with spring practice. NC State head coach Dave Doeren is certainly glad to see his starting quarterback back on the field as the team looks to build chemistry this spring, and the coach said Leary is in an "outstanding" place, mentally, right now.
"Devin believes in himself," Doeren said. "He's played well, he's very confident. He's not cocky at all, just very confident. He's very comfortable in the role that he's in. He believes in himself, and his teammates believe in him. He's done a really good job building relationships with his teammates. He's just excited. You see him walking around the building, and I think last year he was trying to win a job and prove himself.
"He had to deal with all the things you guys are aware of with contact tracing. It was hard on him. Just to be in a good space right now where he can be himself and take advantage of the time he spent here, he understands the system. He knows his talent around him. He's played in big games, and he's brought us back from behind to win games. There's just a lot of things that are different for Devin now and different in a good way. It takes time, as a player, to have experiences and grow. To his credit, he's been able to do that and push through some tough times."
Leary's teammates, particularly those on offense, are also eager to see the steps their quarterback can help them take.
Center Grant Gibson, the player responsible for snapping the ball to Leary on every offensive play, has noticed a step forward from his signal caller in terms of vocal leadership.
"I think that he's started to use his voice a lot more," Gibson said. "Devin is a guy that talks the entire time out, which is good. That's what you want. I think that' we've all seen him take a huge step forward, and I think as an offense that we're very excited to see what he can do now. We all have faith that he's going to lead this team. So I think for us, just seeing him, it's been great for us."
For Leary, being able to "use his voice" more was one of the goals he set this offseason. Part of that is simply his responsibility as the Wolfpack's quarterback.
But part of it is also his new outlook on the game following his injury.
"Every single workout, being able to be that guy that's breaking down the group, be the guy that's motivating other people whether it's someone lifting a heavy weight, just always bringing positive energy," Leary said. "And I think that was kind of one of my goals after I got injured was that I told myself that I would never take anything with football for granted. I think that also comes with my energy as well. Just being able to stay positive, being able to stay happy and encourage everyone was something that I really wanted to do heading into this spring and throughout the entire season."
Leary will be a vital piece of a Wolfpack team looking to take another step forward after a somewhat surprising 8-4 finish in 2020. With so many starters back on both sides of the ball, including a healthy Leary, this is a group that has all kinds of potential.
For the signal-caller, achieving those goals will mean keeping himself and his teammates focused on what's in front of them on a weekly basis.
"Just for myself, the expectation that I have is to just go 1-0 every day," Leary said. "It might sound a little cliche, but I think it just begins in practice. If we can win every practice, if we can accomplish what we want every practice and continue to stack good days on top of each other, I think that's a goal that I set out and that's very attainable for our team. As far as our team goals, I think that transitions right into the season. We don't necessarily worry about our opponent, moreso we just worry about what we need to do to accomplish what we have to accomplish. And that's going 1-0 every week. I truly believe that we're capable of doing that."
Never miss the latest news from Inside Pack Sports!
Join our free email list