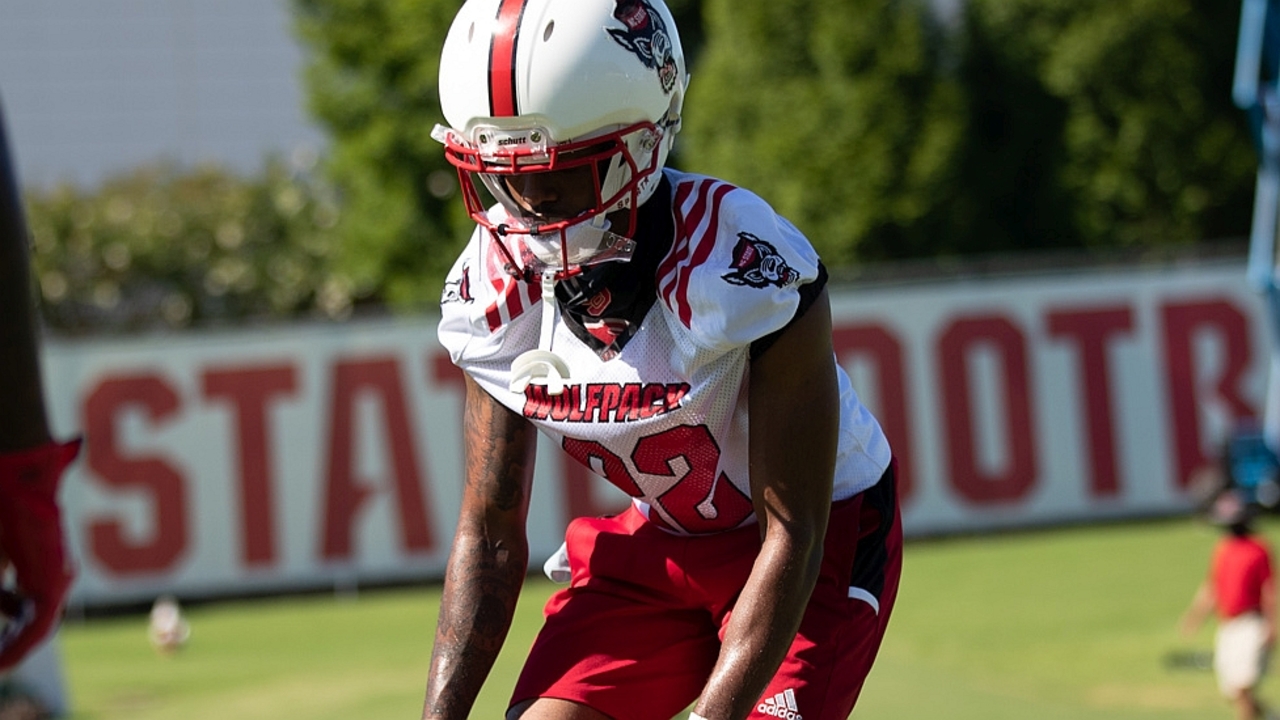 Photo by NC State Athletics
NC State Football
Teshaun Smith: "The Sky Is The Limit"
---
As NC State football begins its 2021 spring camp, cornerback Teshaun Smith, who missed all but two games following a shoulder injury last season, is back on the field (though limited to non-contact drills).
Smith figures to be an important piece in the Wolfpack's secondary this season. Smith spoke to the media via Zoom this week about his return, and here's a full breakdown of everything he had to say:
---
What's it like for you to be back at practice after missing so much time?
This time, it just feels like it's more fun being around the teammates and stuff. The energy is so positive, so it just made it easier to come back.
What has it been like for you to have to go through all of that again?
I've definitely grown a bigger appreciation for being on the field. It wasn't really that hard this time compared to last time, just due to the fact that the positivity in the [Murphy Center], my teammates, just being around those guys and those really guys really lifting me up when they felt like I was down at any point.
What were those down moments like for you trying to keep spirits up?
It had its days. Every day was a different story. But just knowing that I've already done it before on one arm, and it was successful, just keep believing every day. I just kept telling myself every day, 'It's only going to get easier, it's only going to get easier.'
How important was it for you to be around and help the younger guys?
It's funny that you say that, because that was me being out of my comfort zone. I've always been seen as a good player, but the role that I was missing is being a servant leader, serving others. This time I just took a different approach seeing how much the knowledge that I know could help my other teammates. And it showed. For instance, Aydan White, towards the end of the year, he started making more plays and getting in more. I guess me helping him every day just go through the process really showed.
Was that something that didn't happen right away? When did you start feeling comfortable in that role?
I would have to say I really don't know when it became comfortable. The first day I was out of surgery, I was at the game against Duke in less than 24 hours. I'm not sure. I feel like it was something I had to do for me to step up and become the player that I wanted to be.
How did you unwind after the season ended?
I didn't really do too much unwinding. Once the season was over, I was still doing rehab about four times a week. And then coming back, once everything was situated and we got back together, I started doing the rehab two times a day. So there was no really unwinding for me.
How good do you think this secondary can be this season?
I feel like the sky's the limit. Experience, probably three out of the starting five for the first game have all been playing with each other since we got here. So the sky's really the limit for us.
Never miss the latest news from Inside Pack Sports!
Join our free email list