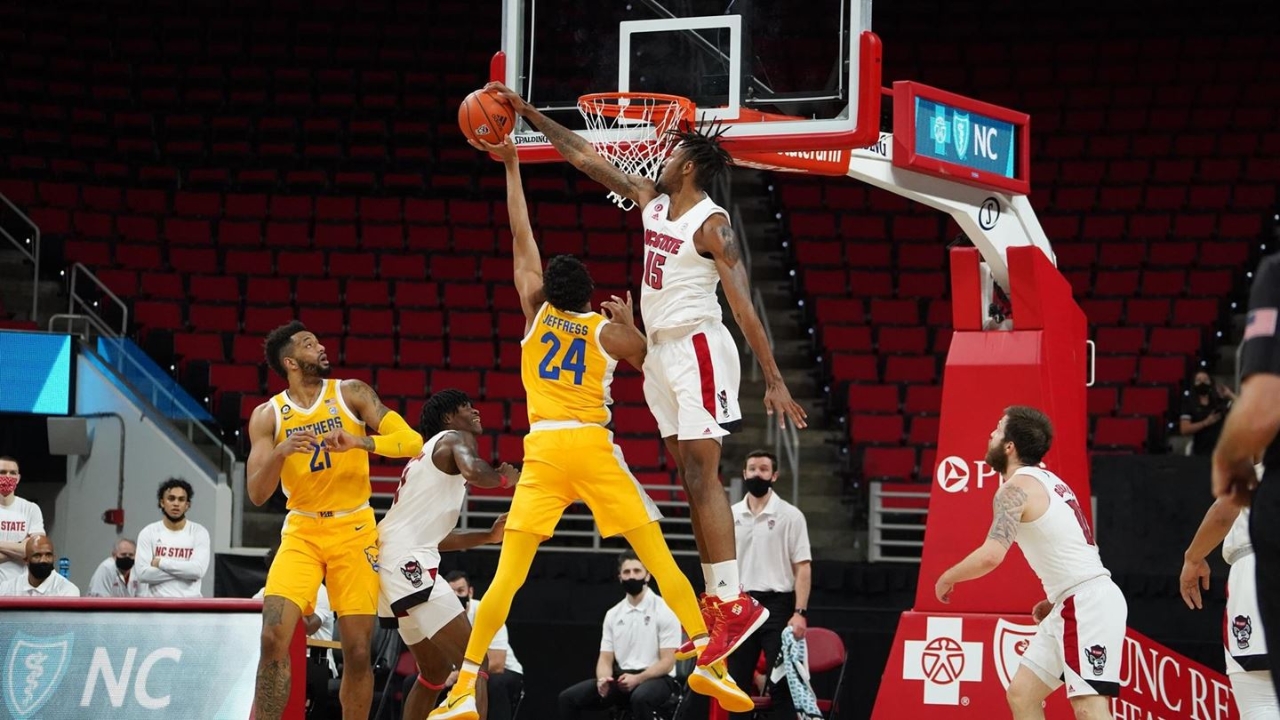 NC State Basketball
Bates, Hellems Earn All-ACC Recognition
---
RALEIGH, N.C. - NC State men's basketball player Manny Bates was named to the ACC's All-Defensive team and Jericole Hellems earned Honorable Mention All-ACC honors as the league announced the 2020-21 season awards Monday morning.

The 2020-21 All-ACC Team was determined by a 75-person selection panel consisting of the league's 15 head coaches and 60 members of the media.

Bates garnered the second-most votes to earn his place on the All-Defensive team. The redshirt sophomore is on-pace to lead the ACC in blocks for the second consecutive season. He currently leads the conference in blocks in all games with a 2.95 blocks per game average. He led the conference in league-only games with a 2.75 blocks per game average.

In 21 games this season, the Fayetteville, N.C., native has had multiple blocks in 14 games and has had three or more blocks in 11 games.

He set his career-high with eight blocks in the Pack's game at Saint Louis on Dec. 17. The eight blocks are the most in a single-game by an ACC player this season.

His seven blocks in NC State's game at North Carolina on Jan. 23 are tied for the most by an ACC player in a conference game this season.

Last season, Bates became only the second-player in program history to lead the ACC in blocks (BeeJay Anya – 2014-15). If he finishes this season leading the conference in blocks, he'd be the first player since Clemson's K.J. McDaniels (2012-13 & 2013-14) to repeat as the ACC's block champion.

Bates is currently on pace to break his own record for best blocked shots per game average in a single-season in NC State history. He set the mark last season with a 2.86 blocks per game average. This season, Bates is averaging 2.95 blocks per game.

In 50 career games, Bates ranks in a tie for fifth in the NC State record book with 145 blocks. He will move into a tie for fourth place with one more block and needs just five more blocks to move into the top-three.

Jericole Hellems earned honorable mention All-ACC honors.

The junior is averaging 13.1 points and 5.4 rebounds per game this season. He has upped his scoring to 14.7 points per game since Devon Daniels was injured on Jan. 27.

The Saint Louis, Mo., native has scored in double figures in 12 of the last 13 games.

He scored a career-best 24 points and grabbed 10 rebounds at Syracuse on Jan. 31. He added 23 points in the next game against Virginia.

Hellems has upped his statistical output in every category this season. In addition to averaging a career-best in points and rebounds this season, he's also putting up the best field goal percentage (46.5), three-point field goal percentage (40.0), assists (1.6) and steals (1.0) averages of his career.

NC State begins play in the New York Life ACC Tournament on Wednesday when it faces eighth-seed Syracuse. The game will begin at noon and will be televised on the ACC Network.
Never miss the latest news from Inside Pack Sports!
Join our free email list