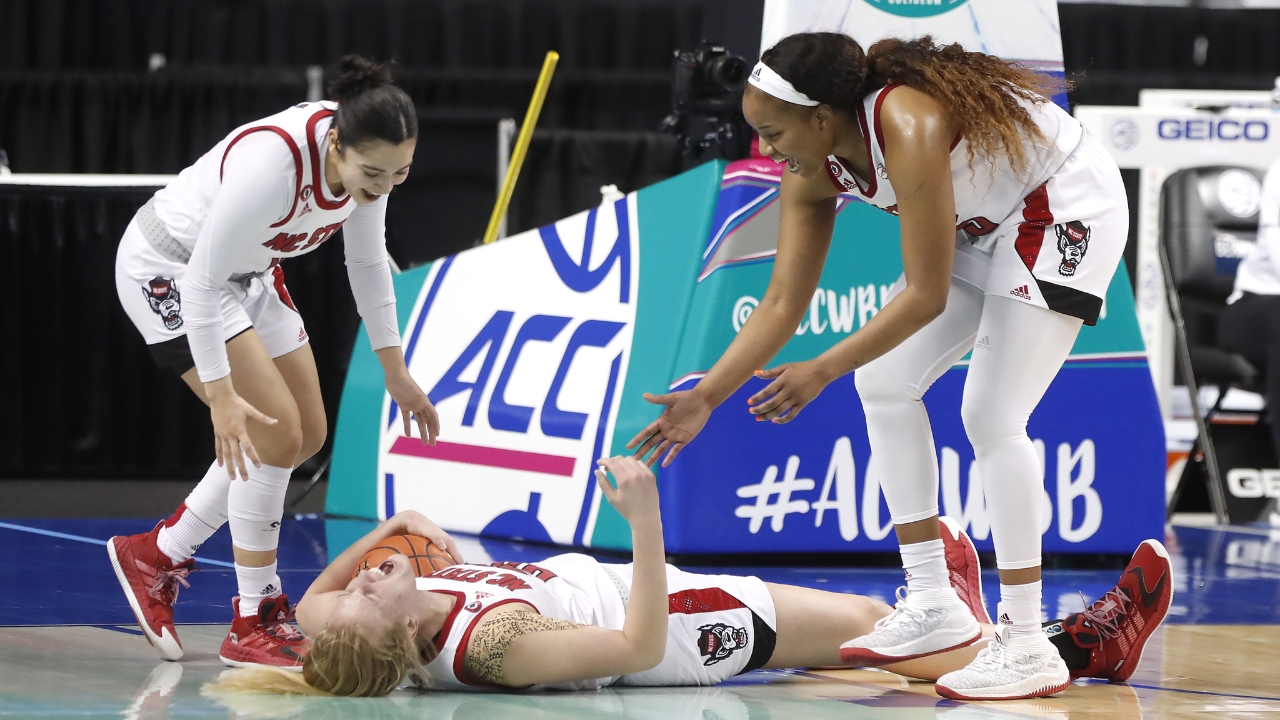 Photo by Ethan Hyman, News&Observer
NC State Women's Basketball
TAKEAWAYS: Pack roars back, returns to ACC Championship game
---
For the second year in a row, Georgia Tech gave NC State women's basketball all it could handle at the ACC Tournament, and, for the second year in a row, the Wolfpack answered the bell. Thanks to the heroics of Kai "Kai Clutchfield" Crutchfield and Elissa Cunane, the Wolfpack wiped out a fourth-quarter deficit and topped the Yellow Jackets 66-61 to advance to the ACC Championship game for the second year in a row.
"I felt like in the first half they just hit us in the mouth and took it to us, and in the second half we competed a lot better," said Wes Moore. "I think it's what champions do. They find a way to win."
The Wolfpack will face Louisville Sunday in a rematch of the team's first meeting, 74-60 NC State win in Kentucky. Here's a few key takeaways from Saturday's win:
Cunane on a mission
For the second game in a row, Cunane, NC State's best player, showed why she's one of the best in the country. She scored 21 points on 8-of-13 shooting and added nine rebounds. Cunane was consistently able to get into the paint and to the rim for layups and hard-fought points.
Despite the fact that the Yellow Jackets strived to play physical defense against Cunane, especially in the first half, she kept her composure and mostly stayed out of foul trouble (though she did have to ride the pine for a bit in the third quarter after picking up her third), once again leading NC State to victory.
"Obviously she's an important part of our offense and what we do, so it's tough on her, because if people really get physical with her, she has to maintain her composure and be under control and make sure she doesn't get in foul trouble, Moore said. "... I'm proud of the way she fought and handled it. She's just so critical to what we do, and I'm proud of her."
Cunane's been on another level in this tournament, with a combined 50 points and 18 rebounds while shooting 64.1% from the field through two games, something that's become the norm for her in her career in ACC Tournaments.
"It's tournament time, so I definitely stepped up my game," Cunane said. "I know that there's not a lot of people out there that can guard me, if my teammates are getting me the ball, and we've been shooting it really well from the outside so that leaves up the middle to be open. I'm just trying to step up my game and play as hard as I can for my team."
Kai Clutchfield
Through three quarters, it had not been a banner game for NC State's senior guard. Crutchfield had just two points on 1 for 4 shooting through the first 30 minutes. In the final 10, she would not be denied.
Crutchfield scored eight points on 3-of-3 shooting in the final frame, hitting big shot after big shot (more on the specific plays below) to help her team wipe out a 10-point deficit and will the Wolfpack to a come-from-behind victory. Stepping up in the biggest moments is something Crutchfield has had a knack for doing all season, as she also scored 10 points in the fourth quarter of NC State's comeback win over Virginia Tech at Reynolds Coliseum earlier this year. It's also something that earned her a new nickname.
"We've been calling her Kai Clutchfield all season," Cunane said. "She's a senior who wants to win every single game she steps on the court to play and she's going to give her all for it. Kai is so smart, she knows the ins and outs of the defense and she knows how to step up in big games, and she's done that repeatedly over the season."
Crutchfield's fellow senior, Kayla Jones, also enjoyed a strong day with 12 points, eight rebounds and four assists as the pair refused to let their ACC careers possibly end on Saturday.
Wolfpack roars back in fourth quarter
Early in the fourth quarter, the Yellow Jackets hit a 3 to take a 10-point lead, and NC State's hopes seemed to be on life support. That triple did ultimately spell the end for one team, but it wasn't the Wolfack.
Crutchfield responded to the three with an and-one that brought the Pack within seven, keying a complete NC State takeover that also included a couple big shots from Jakia Brown-Turner, who finished the game with 10 points after scoring just two Friday.
Crutchfield came up massive again following a media timeout with about five minutes left, making a leaping grab to stop a missed shot from going out of bounds and keep a possession alive, then finishing it with a 3 to make it a one-point game. With the Yellow Jackets up three with three minutes and change to play, Crutchfield and Cunane hit back-to-back layups to give NC State its first lead since the first quarter, one it would not relinquish.
Overall, NC State finished the game with a 23-8 run after the Jackets seemingly had them on the ropes, refusing to be denied a second-straight trip to the ACC Tournament's final game as the Pack wiped out a double-digit, fourth-quarter deficit for the third time this season.
"We just stuck with the confidence that we had in each other, we had instilled in each other," Crutchfield said. "With COVID and everything, I feel like that communication and that chemistry, team chemistry has really helped. Being down, it's really just the confidence we have in ourselves knowing we play for NC State for a reason and we're here for a reason."
First-half struggles
Despite a pretty good start in the first quarter, the Wolfpack did not have a good first half, and found itself trailing, 33-28, heading to the locker room for just the fifth time this season.
The Pack struggled offensively, shooting just 39% from the field, and NC State struggled to get good looks and get shots to fall.
On defense, NC State struggled to protect the paint, with the Yellow Jackets scoring 22 points there. Georgia Tech guard Lotta Maj-Lahtinen gave the Wolfpack all kinds of problems in the first 20 minutes, finishing with 13 points on 6-for-9 shooting.
The Jackets finished the half on a 9-2 run as the Pack made just one field goal in the final 4:19.
"I really felt like the first half Georgia Tech just played harder than us," Moore said. "I don't know any other way to put it. I mean, they out-scored us in fast-break points, they out-rebounded us, they out-scored us in second-chance points. This time of year, people are stepping up and taking it to another level, and you have to match that intensity or you're going home."
It all comes down to this
Up next for NC State is a rematch with the top-seeded Cardinals, as the Wolfpack aims to beat Louisville for the second time this season and repeat as ACC Champions. The Pack knows it's going to be in for a tall task, but has the reason in the world to be confident in its prowess on the biggest stage.
"Tomorrow we're going to have to have it all come together," Moore said. "We're going to have to match their intensity, and we're going to have to execute a little bit better offensively and hopefully shoot the ball a little bit better because Louisville is going to score points. Dana Evans and those kids, [Hailey Van Lith], they're going to score points. They've got a lot of weapons over there, obviously. It's going to be a great game. I just hope we come out and play well, and if we do that, it'll be a good day."
Never miss the latest news from Inside Pack Sports!
Join our free email list