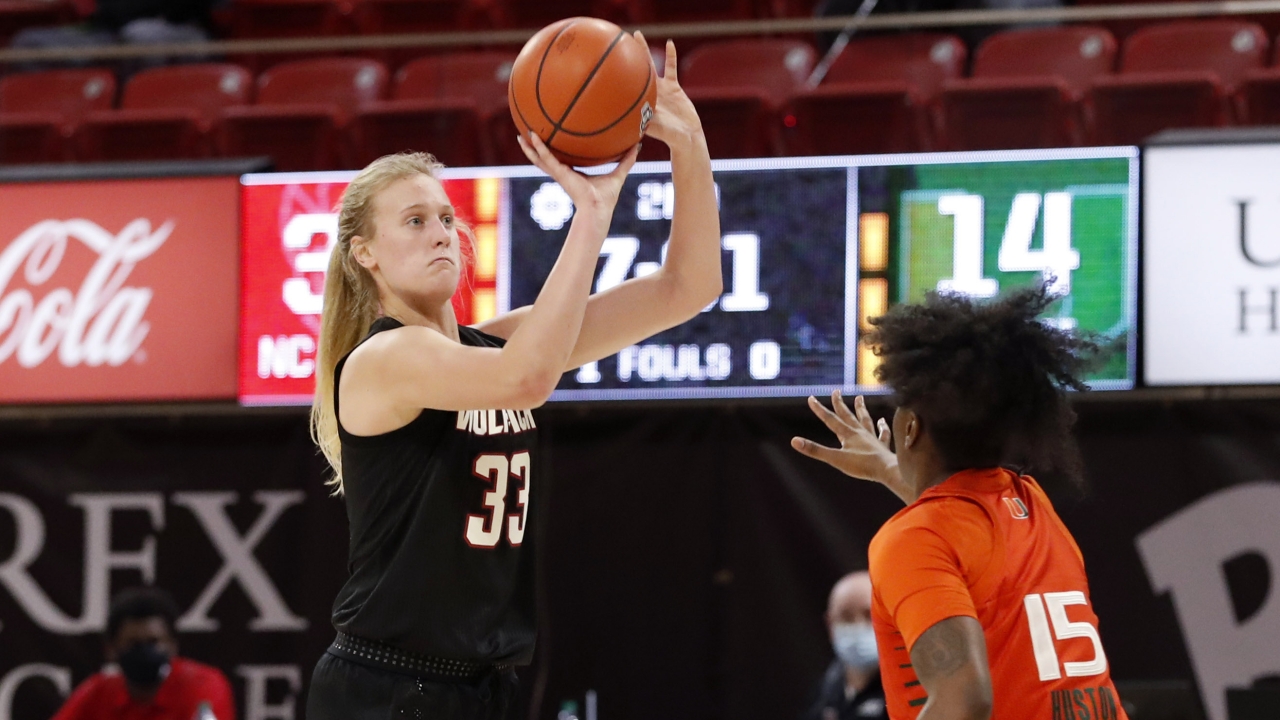 Photo by ehyman@newsobserver.com
NC State Women's Basketball
LOCKER ROOM REPORT: Elissa Cunane, Kai Crutchfield, Jakia Brown-Turner on ACC Tournament
---
NC State women's basketball will head to Greensboro this weekend looking to capture a second straight ACC Championship.
Starting with its first game Friday at 6 p.m., the Pack will need contributions from across its roster, especially from the likes of Elissa Cunane, Jakia Brown-Turner and Kai Crutchfield. Cuanne, Crutchfield and Brown-Turner spoke with the media Wednesday, here's a full breakdown of everything they had to say:
---
Elissa Cunane
Can you take me back to this time last year when you won the conference tournament, were looking at how you stacked up nationally and then it got shut down?
It all happened so quick. Going from literally a top of the world feeling to going to feeling like you have no idea what's going to happen next. We were ready to go into the NCAA Tournament after the ACC championship. We had a lot of momentum. But with that being canceled, we just had to take time back and step back. This year we had extra motivation going into the postseason.
Do you remember specifically when that became a reality?
Yeah it definitely hit, we had practice on the day that everything was canceled. We were all practice ready. We had just warmed up, and we were on the court. Everyone was like 'well guys, everything is canceled.' We were kind of just like 'What? We're here at practice. Can we at least get some shots up or something?' Coach Moore was literally like 'No, you guys have got to go home.' That day I packed up my biggest suitcases and headed to Summerfield.
Does having that taken away fuel you guys for what is ahead?
Yeah, definitely. We're definitely not taking any games for granted. We're just going day by day.
How much more comfortable and confident are you guys going into this year's tournament now that you know what it takes to win the ACC championship?
I would say that we're about the same. We definitely have a lot of experience under us now. We have the confidence knowing that we can step on the court and win every game. But honestly, that's how we approached everything last year as well. We knew we could beat any team that we step on the court with. I think we definitely won't have as many nerves this year, but we are going to be ready to go.
How much has Wes Moore grown as a coach and why he was deserving of ACC Coach of the Year?
Coach Moore, he is an amazing coach. Throughout this whole year he's definitely been on us a lot, but rightfully so. He sees our potential, so he's gonna on every little box out, every little screen in practice. I'm definitely glad that I came into this program under Coach Moore with the four out, one in, and also just his offensive mind. The way that he sets up sets to run and plays, and he picks on other people on the other team or who is hot on our team. The way he just controls this team is amazing, and you can see the success that he has had.
How satisfying is it to have four members of the team get All-ACC honors?
I think it's really just a symbol of who we are at NC State as a whole. We're a team, and we play as a team. One person can have a bad night, but you have so many other players that are amazing. I think that having a lot of players on that roster and team is just a testament to the coaches and all the teammates around us. I think that's what has made us been great this year so far, is having the versatility at every single position on the court and coming off the bench. I think that's how you're going to win basketball games in the long run; not by having one person doing everything, but by everybody being able to chip in.
Is it extra special to go home for the ACC Tournament in Greensboro?
Yeah, it definitely is very exciting to go back to Greensboro. I'm from Summerfield, but Greensboro is right there. It's kind of just my area, my city. I've been to the Coliseum so many times to see different things, even to see the ACC championship as a little kid. Although it looks different this year rather than last year, last year I was able to go to my house and see my family and see parents and family and friends after the games, it still has the hometown feeling for it. I feel like I'm getting on the bus to go home today, so I'm ready to take care of business there.
How frustrating was it to miss the two Virginia Tech games and how much would you look forward to facing Elizabeth Kitley and the Hokies in Greensboro?
It definitely was really hard to sit out and watch my team play them twice back to back within a short span of days. I think I was definitely able to learn a lot about their players watching from the sideline, as well as how our team was able to go up against them. But playing a team three times, especially in the ACC, it's gonna be a tough matchup. It'd be cool to play them. It almost seems like fate with the ACC Tournament in Greensboro as well as me missing the games earlier this season. We'll have to see what happens.
How much are you guys looking forward to getting to play in front of at least a few NC State fans?
I'm super excited to have fans there. Even having more tickets to have family members there is going to be exciting for me. I know how much Wolfpack Nation just how much we mean to them, but they mean a lot to us as well. We really missed the fanbase this year playing. I've already had tons of people reach out to me saying that they were able to snag tickets. I think being able to bring a little bit of happiness to the fans as well as them being there to cheer on us, it definitely means a whole lot being able to see them in the postseason.
Do you agree with Wes Moore's opinion that NC State has an advantage by having the confidence of knowing it can win the ACC Tournament?
Yeah, I think there's two parts to it. Obviously there is a little pressure being ACC champions last year and also having that number in front of our name. There's a little bit every single time we step on the court of pressure to perform up to that level. But I think that we as a team know that those numbers and that ACC championship last year, they don't matter. We have the confidence that this year we can step on the court and beat anyone. Although there is pressure and although from the outside it does seem like there's a lot of pressure of 'oh, how is NC State going to do,' we're really just focused internally on us performing to what we can do.
Kai Crutchfield
You guys had the experience last year of winning the tournament and knowing what that takes. Do you think that's an advantage?
I would just say take every game as a game and just to have the confidence in ourselves. Each battle is not just one game, it's every possession, every play that we really have to have that confidence on. So I think that if we do come in with the confidence that we need and the confidence that we had last year, just playing together as a team, I really think that we can win.
You guys will get to have some NC State fans in Greensboro. How much are you looking forward to that?
I think it'll be amazing. It's definitely something to look forward to. Since we've been playing with minimal fans, just to go to the Greensboro Coliseum and it basically being in our backyard at NC State, going to have some family members to look up and wave to as we're warming up, before the game and after the game, it means a lot.
Have you talked to Raina Perez about playing in the ACC Tournament?
Raina's a great player. I'm sure you all have seen it throughout the season. She's a top caliber player. She's the type of person that can take on adversity and do everything she needs to do to step in and help the team win. But I'll have a conversation with her and I'll let you know how it goes.
You and Kayla Jones had to get thrown into the fire your sophomore year with all the injuries. How did that experience two years ago playing earlier than you expected prepare you for your senior year heading into your final tournament?
I would say everything happens for a reason. With that being said, us being thrown into the fire really was an eye opener. Coach recruited us to come here for a reason, and [Kayla Jones] and I really stepped up to the plate and showed why he asked us to come here to NC State.
What does this tournament mean to you as a senior?
As a senior, it means a lot. It's been a long four years, but it's also been a great four years. I just have to take every game game by game. With the pandemic going on right now, last year the [men's ACC Tournament] got cut short. I feel like every game this season has been something where we have to play every game like it's our last. With me being a senior, I feel like that means even more.
How well deserved is Wes Moore inning ACC Coach of the Year?
It's great. He's a great coach. He has a great basketball IQ. The way he knows the game and just honestly that man probably studies the most basketball and watches the most film that I have known in my whole life. It's well deserved.
What's it like facing a team for a third time?
Playing a team for a third time is definitely a challenge. Even beating a team twice is a challenge. But, I mean, this league is great. The ACC league is great. I feel like we're going to have to be on our toes, we're going to have to execute on offense and defense regardless of who we play. Beating a team for a third time is definitely a challenge.
Jakia Brown-Turner
What does being on the All-ACC Team mean to you?
It means a lot, showing that I improved since last year. But I just have to thank my team, because they really helped me get to this point and had confidence in me.
Does winning last year's tournament give you guys confidence?
I definitely think that gives us a lot of confidence knowing that we're capable of doing it. But we've just got to take one game at a time and try to win it all.
What has Wes Moore meant to this program?
Coach Moore, he's a winner. He loves to win. I think he prepares us really good for every team that we play. He gets us mentally prepared. I just think that he's a great leader and a great coach.
How much are you guys looking forward to playing in front of fans this weekend?
I'm very happy that we're able to have our fans. It felt like a home game every game there. So I'm just happy that they can come support us. We have great fans.
How much more comfortable and confident are you after last year?
Last year, it was very nerve-wracking playing. But I just know if I go out and play hard, do the game plan, rebound, play offense and do what I need to do for the team to win, I think we'll be fine.
What does making the All-ACC Academic Team mean to you?
It means a lot. Especially last year, as a freshman, I didn't make the team. So I was kind of happy that I was able to maintain good grades while playing.
Never miss the latest news from Inside Pack Sports!
Join our free email list