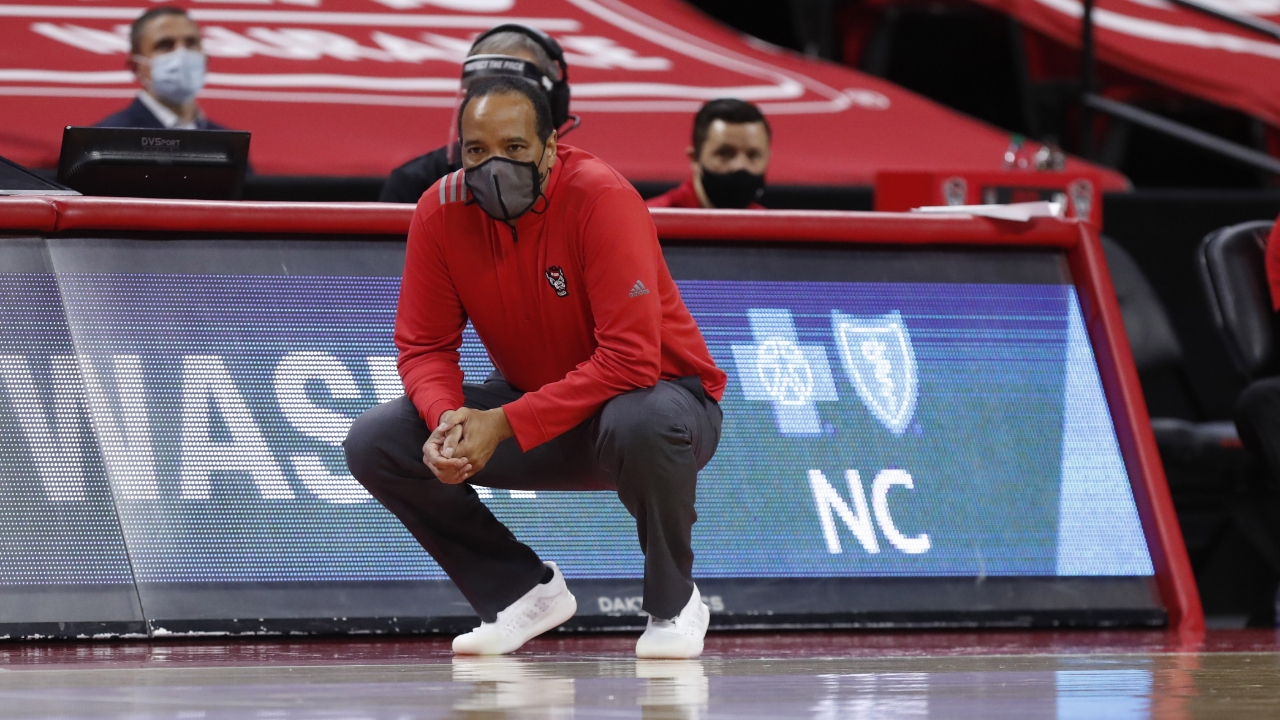 Photo by ehyman@newsobserver.com
NC State Basketball
Kevin Keatts On Notre Dame: "They're A Talented Bunch"
---
NC State head coach Kevin Keatts met with the media via Zoom for the ACC's weekly teleconference.
NOTE: Click the video in the player above to watch Keatts' press conference.
---
Have you discussed the postseason with your team yet?
"We haven't, and we hate that question. I don't have the type of bunch that I can talk about the future like that. In the four games that we've won in a row, we've asked these guys to lock in on the next opponent. Today, we just turned the page from playing Pitt. Today, we'll start talking about Notre Dame, but it won't be anything other than Notre Dame. I don't have a mature enough group of guys to be able to look ahead and say, 'If this happens or if that happens…' We've just got to stay focused on who we're playing against next."
What do you see from the Fighting Irish that could present problems for you?
"Obviously, they're a talented bunch, and they shoot the ball very well. They spread you out. They can shoot the ball one through four, and when they make a sub and take [Juwan] Durham out of the game, their ability to make shots from all five positions is a problem. They're a good team. Mike [Brey] has done a good job with his team, and they've got some guys who are veterans mixed in with some newcomers that can really play, spread you out, make shots, and roll you into the post. You're able to see multiple defenses that they play. They'll switch from some man-to-man to 2-3 zone and mix in some 1-3-1. It's a talented bunch because any time you've got a group that can shoot the ball that well, they can beat anybody on any given night."
Is there any update on Thomas Allen?
"We're hopeful. He's doing better. I think we're going to get a second MRI on him either today or tomorrow just to figure out if everything is going in the right direction. I don't know if he's available for Wednesday at this point, but as we get an update, we'll try to let you guys know."
How do you evaluate Cam Hayes' play over the past couple of weeks? Has he played a role in trying to reduce turnovers?
"He's played much older than he is over the last few games. He's taking care of the basketball. When you talk about turnovers and you're jumping on your team about turnovers, he's the one guy that's offended by it because he wants to take care of the basketball. When you look at him, he's played at least 30 or more minutes in that run. When you look at the game yesterday, I didn't want to play him 38 minutes, but I didn't think Shakeel [Moore] and [Dereon Seabron] had a really good game yesterday, so he ended up playing a lot more minutes than we would have liked. He's emerged. He's starting to play well. He's starting to be a really good point guard in this league. What you like about him is his ability to make shots. You've got great size, and I think his biggest improvement is he's starting to defend the basketball. Early on in the season, he would take breaks on the defensive end. He's starting to get better in those areas. Our team feels comfortable with him running the point. It's helped Braxton Beverly become a better player for us by the way that Cam has emerged as a point guard."
How do you balance your point guard trying to make plays and limiting turnovers?
"With the way we play, our point guards are going to have turnovers because we get up and down, we let them play a little bit fast, and we don't necessarily run a bunch of sets with stagger screens and everything. They have the ball in their hand. I just ask them to win the battle of assists versus turnovers. You can't have a game where you have five assists but you turn the ball over six times yourself. Ball security for us is great especially when we're teaching on the other side to turn other teams over. Markell [Johnson] was unique. I don't know if I'll have another guard like him that will lead the league in assists two years playing for me. With Cam Hayes, he could do it, but he does it in a different way."
If, for any reason, the tournament gets cancelled again, how disappointed would you and your players be?
"It would be devastating. I don't think that that will happen, and here's why: we've come this far, and I think the NCAA is committed to making sure that this tournament goes on. To go back to the original question, it would be devastating. We were playing great basketball, coming off a great win against Pitt, and we were going to play against Duke which we'd split [in the regular season]. We were absolutely going to be a tournament team, and for that not to happen and we get the rug pulled out from under us by not playing the tournament would be disappointing. If that were the case, I wish we would have known before we went through this entire year playing if there's nothing at the end for us. I don't see that happening. I'm not the one that's ever going to make that decision. Hopefully, we're getting this virus more under control than it's been in a long time. I anticipate that there will be an ACC Tournament and that there will be an NCAA Tournament."
Do you recall where you were when everything got shut down last year?
"Yeah, I recall everything about that. It's so weird that we're coming up on a year on that. We were at the hotel, and we were preparing to go to our pregame brunch. I remember that morning I kept hearing rumblings that the ACC Tournament would be cancelled. I was trying to wait it out, and I was going back and forth on the phone with our athletic director and president. Finally, we got the word, and I had to walk in and tell our players that there wasn't going to be a tournament. 'Here's our options: we can stay for a few hours if you want to, or we could stay overnight and figure this out, or we can get on the bus and get back to Raleigh.' We got back to Raleigh, and I met with those guys, and shortly after we got back and I met with them, I released them. Later on in that day, it was also determined that the NCAA Tournament would be cancelled. It was the toughest thing that I had to do to guys like C.J. Bryce and Markell Johnson who were looking forward to competing to try to win an ACC Championship and also to be able to play in the NCAA Tournament. That was a hard deal. At that time, the known case to us was Rudy Gobert. I pray for all the families. We've had so many deaths since then. I give everybody credit for pulling off athletics during this tough time. I think, for most people, I know everybody says, 'Why are you playing?' We're playing because I think sports has helped people get through some of this pandemic, and our kids want to play. If there was ever a point where kids didn't want to play, I could see that. We don't know what we do to help others by being able to put our guys on the floor to be able to compete to help somebody else get through their struggles."
Never miss the latest news from Inside Pack Sports!
Join our free email list