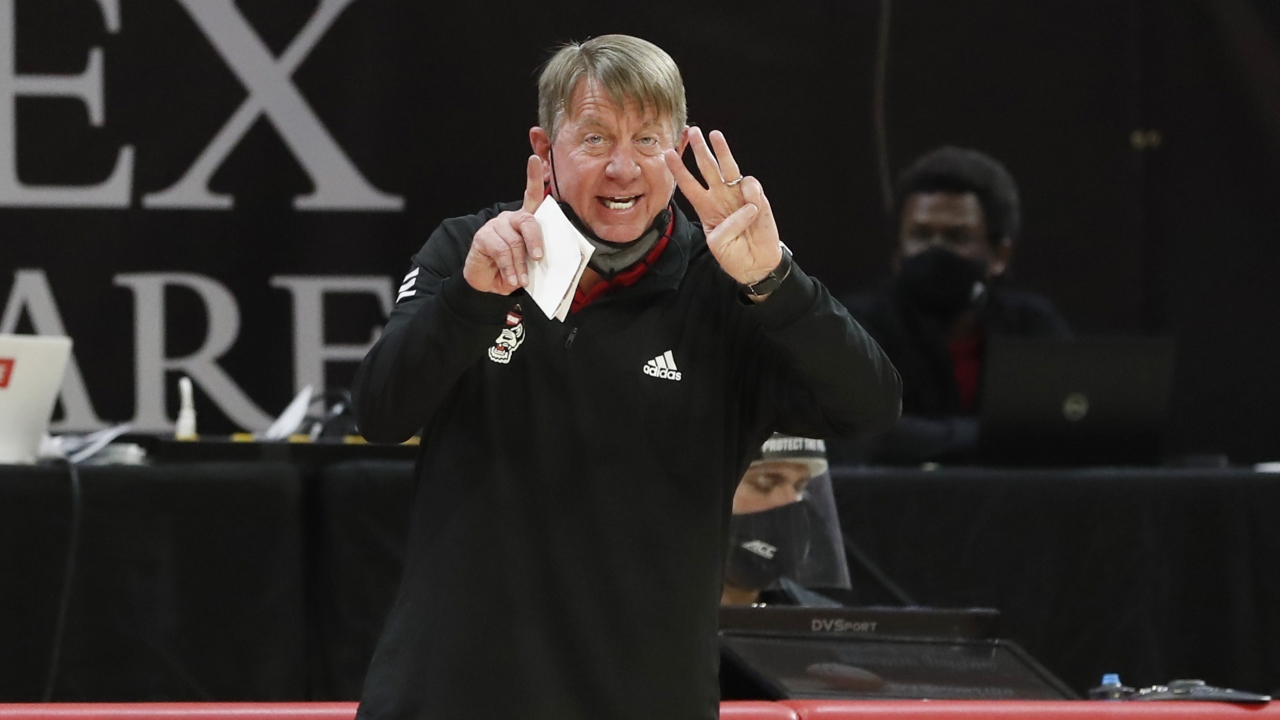 Photo by ehyman@newsobserver.com
NC State Women's Basketball
Wes Moore: "We're Going To Have A Big Challenge"
---
NC State women's basketball, following a regular season that saw the Pack finish 17-2 overall and 12-2 in ACC play, will open ACC Tournament action as the defending champions in Greensboro this Friday at 6 p.m. As the No. 2 seed, the Wolfpack will face the winner of Thursday's game between Virginia Tech and Miami.
NC State head coach Wes Moore spoke to the media about the Wolfpack's title defense, and here's a full breakdown of everything he had to say:
Opening statement
I'm really proud of our team, our players, all that they've been through this year with COVID and all that, but also to only lose two games in this league is tough to do. I see some teams that have more losses than that, and they're really good teams. I don't think the seeding mattered at all in this tournament, because in our case, if you're able to have success, you're going to have three really tough games if you're able to win those games. So it doesn't really matter who it is. You're going to be challenged. So I'm proud that our kids were able to be consistent for the most part. We had a couple of bumps in the road, but still proud of what they've been able to do.
How do you prepare not knowing your opponent leading up to the first game?
We'll have a couple of days of practice this week here at home. I think we'll look at tendencies of those two possible opponents and try to work on things that you feel like may give you trouble or things that you haven't handled well. Things that you haven't seen lately. So I think you'll do some of that, definitely. And then obviously, you'll concentrate on yourself as well and trying to clean things up here down the stretch.
Last year was the first time in a long time for you guys in terms of winning a championship. Is there a different feel going in when you've had that moment?
I don't really think so. Every year is a new year. Every team's a new team. We know every game's going to come down to a possession or two. That's what you have to focus on, being as good as you can each possession and play as hard as you can in each of those. Somebody said, 'Does that put more pressure because you won it last year?' I don't really think so.
In fact, I think it could work in reverse. At least we know we can do it. You go in with that confidence that 'Hey, we've been able. We know our routine, we know our preparation, the process we go through that week.' We know it can work. But we also know it's tough. So I think it'll be very similar, except hopefully we'll have confidence.
That's the tough part about having a double bye. Your first game's going to be a really tough game. I think the people that have already played before and got a game under their belt, I think it's definitely to their advantage in the first half to have had that game and get it out of the way, get the tournament jitters over. Obviously, the double bye helps you if you are able to win and keep playing. It can help you down the stretch of the tournament, but you've got to get there first. But we know that no matter who it is, we're going to have a big challenge.
How much of a boost will it give you guys to play in front of some fans this week?
I just had a meeting a little while ago with our administration about that. I know we've tried to pick up some extra tickets and that sort of thing. It won't be like it was last year, where I think in the championship game there were 8,000 people there and at least 7,000 were wearing red. It's not going to be like that, but it will be better than what we've had leading up to now as far as having some fans there and maybe bringing a little extra energy. But you still have to go out there as a team and make your own energy. It'll be great to have some people there, and I think our fans definitely give us an added boost.
How much of a challenge does Virginia Tech's Elizabeth Kitley present? Is that a player you guys know well?
I think she has improved tremendously. The little stepback move, stepback fadeaway is hard to defend. It's just so tough your freshman year, I think, to go from high school to this level, the ACC level. I think she's definitely benefited from that and going against better players every day in practice.
Her and [Elissa Cunane] are really tight friends. They have gone head-to-head against each other growing up in their practices. In high school they played on different teams. I think they know each other well. Obviously we tried to recruit Liz, but I think she also understood that we already had Elissa here a year ahead of her. I think they both probably knew that they might have to go their own ways. But she's a problem. She's somebody that you definitely have to prepare for and hope you can slow her down just a little bit.
Does being projected as a two seed in the NCAA Tournament add extra motivation for you guys?
We don't really talk about that stuff a whole lot, to be honest with you. We lost a couple of games, so we had our opportunities. Not having, we had the two schools that opted out and they were in our pod, so we lost four games there. That hurt us as far as the regular season opportunities and things like that. But really when you think about it in the national bracket, what's the difference between a number one and a number two seed? I don't think it'll matter a whole lot.
It just means that if you do make it all the way and beat each other then you are the one in dark uniforms. I don't think it weighs a lot. It's all about us and being the best version of NC State we can be. Let the chips fall where they may. This will be a big week if you really are concerned about the national seedings. This is going to be a big challenge coming up right here when you go to the ACC Tournament and you know you are facing great teams all week. That's what we've got to focus on, just doing the best we can over there this weekend.
Never miss the latest news from Inside Pack Sports!
Join our free email list