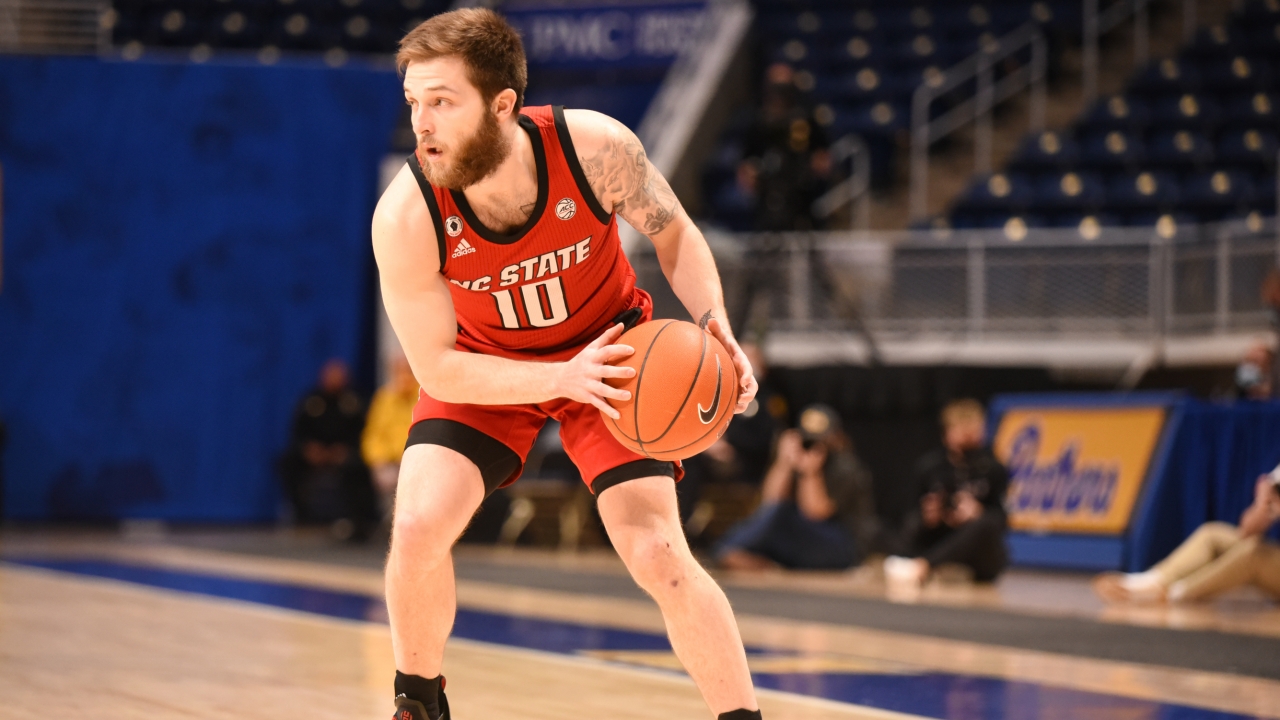 NC State Basketball
Locker room report: Hellems, Beverly on win over Pitt
---
NC State men's basketball picked up its fourth straight win Sunday, topping Pitt 65-62 at PNC Arena.
Four players finished in double figures, with Jericole Hellems posting 15 points, 10 rebounds and five assists, Braxton Beverly 14 points (and shooting 8 for 9 on free throws), D.J. Funderburk 13 points and Manny Bates 10 points, six blocks and three rebounds.
The Pack also had more fans than it's had in the building all year, with some students in the stands following the passing of relaxed COVID restrictions from North Carolina governor Roy Cooper last week.
Hellems and Beverly spoke to the media after the win, here's a full breakdown of everything they had to say:
---
Jericole Hellems
Is this team playing its best basketball right now?
Yeah, right now I think we are playing pretty good basketball. There's always some things you can fix and improve on. Right now we are together as a team, and we're just trying to get better as a team.
How important has playing inside out and leaning on the front court been?
Coach has stated that we needed to get the ball and play inside out. That's what we've been doing. But we also have the young guys that can score and get it done. As coach says all the time, we're pretty deep and everyone can be productive. At the end of the day, we've just got to keep improving and getting better.
Why do you think these games against Pitt tend to get chippy?
I'm not sure. I guess they don't like us. I'm not going to say I'm a fan of them. But hey, it's good basketball at the end of the day. We got it done.
Was the Duke loss a turning point?
After that game we just had a sick feeling. We didn't like how we felt. Like coach always tell us, we have to get better by getting a win and preparing the right way to get that win. I think it was a starter, but as a team I think we're just getting better and understanding what it takes to win and what we need to do to get a win.
Was it harder preparing for Pitt without Xavier Johnson and Au'Diese Toney?
I necessarily wouldn't say it was tough, but it's just a new look. As coach always says, we've just got to be able to go out there and do the things that we prepared and paid attention to before the game.
How nice was it to have some fans?
It felt great to have some fans in there and just to get some energy besides the bench that we've been having lately. It's always good to have fans, and we appreciate them coming out.
Braxton Beverly
How much of a lift was it to get some fans in here?
It was great. Before the game started I actually looked at one of our coaches when they started clapping after the national anthem, and I was like 'I know there's not that many people compared to what it used to be, but it felt so loud just because we haven't had anybody in there.' I'll tell you what kind of impact during the game. One of the players for Pitt looked at me because they were antsy and excited to be there, and they were heckling a little bit. One of the players asked me 'wow, that's what they're doing today?' I was like, 'Man, they've been itching to get into a game all year. They're excited to be here. They're going to go all out.' That's what kind of impact they made on the game.
Did this being your second-to-last home game spark you and D.J. Funderburk?
That could be part of it, but I think the biggest part is just the talent we have. It seems like one game you may have the upperclassmen where we are not hitting our shots and maybe moving a little slow at first and the freshmen pick us up. Today, it was more the upperclassmen taking the lead role. I think that just shows what kind of versatility we have. Any night it could be any group of guys on the court. Also I think with it being the last two home games of the year, and now that we have fans here too, I think that gave us an edge. The freshmen didn't really know what that was like, only the upperclassmen do. I think we were a little more adjusted to it than they were.
Do you like coming off the bench?
I'm still playing. I'm still part of the team. I'm still part of the program. It's great. I've been trying to do more of a little coaching and teaching on the side. I'm trying to embrace that role more. Any former player would tell you that sometimes they don't always want to hear from the coaches.
Of course they're going to tell you what is right and what you need to hear, but sometimes it just won't sit in as well from the coaches. Any former player will tell you that. It's good that I get that chance to see what the young guards are doing on the court to start off the game or when I'm on the bench. When they come out or it's a timeout or dead ball, I go up and talk to them. I try to give them a little guidance. So, I've really enjoyed that.
Do you feel the team is playing its best basketball right now?
Yeah, we're definitely playing really confident basketball. It's really coming from practice. All of the days leading up to the game is where it's clicking at. We're getting in the gym. We're working. We're encouraging each other. We're going hard every day. It's starting to show. People are more acclimated now, especially the freshmen. They got their feet wet, and they're in the pool now. They've had really good games lately. They've been playing really well. With them coming along and us upperclassmen bringing them along and doing what we've got to do to encourage them and all. I think it's all coming together at a good time.
How was Pitt able to get so many offensive rebounds?
They were scrappy. They wanted it. Obviously they've had a lot of adversity in the last week or so. When that hits you can do one of two things; you can let it knock you down, or you can run through it. You can tell right now that they're trying to run through it. More guys are getting opportunities to be on the court for extended amounts of time, or even be on the court with them missing their two plays. I think they're really excited to play right now. They're trying to find their way. They were scrappy today, and they really played hard. That's something that we've definitely got to clean up. It's something we talked about. We know we weren't great there, so we've got to clean that up going into Wednesday.
Did you expect to get that type of effort from Pitt?
Yeah. That's something we talked about. Even when we played them at Pitt a week and a half ago, they were still scrappy. They still played hard. They were still physical, even with the two guys that had been there that had had a lot of success over the last two or three years. We knew it wasn't going to change from them. That's what coach Capel gets out of them. He gets them playing hard and what not. We were expecting a dog fight, and we got it.
Is it important to find different ways to win?
It's extremely important. That's one of the main things coach talks about after any game, before any game. We've got to be able to be flexible and win any type of game, especially going into the tournament. It's not like you're playing in the NBA Playoffs. You don't play a team up to seven times. You get one game. That one game, both teams could be off. It could be a Virginia game, 35-38 at the end of the game. Or both teams could be hot and both score in the 90s or 100s. It's important that we understand that it doesn't always have to be pretty, it doesn't always have to be easy. No matter what, we've got to figure out a way to get it done. That's what the good teams do, and that's what we are striving to be.
Never miss the latest news from Inside Pack Sports!
Join our free email list