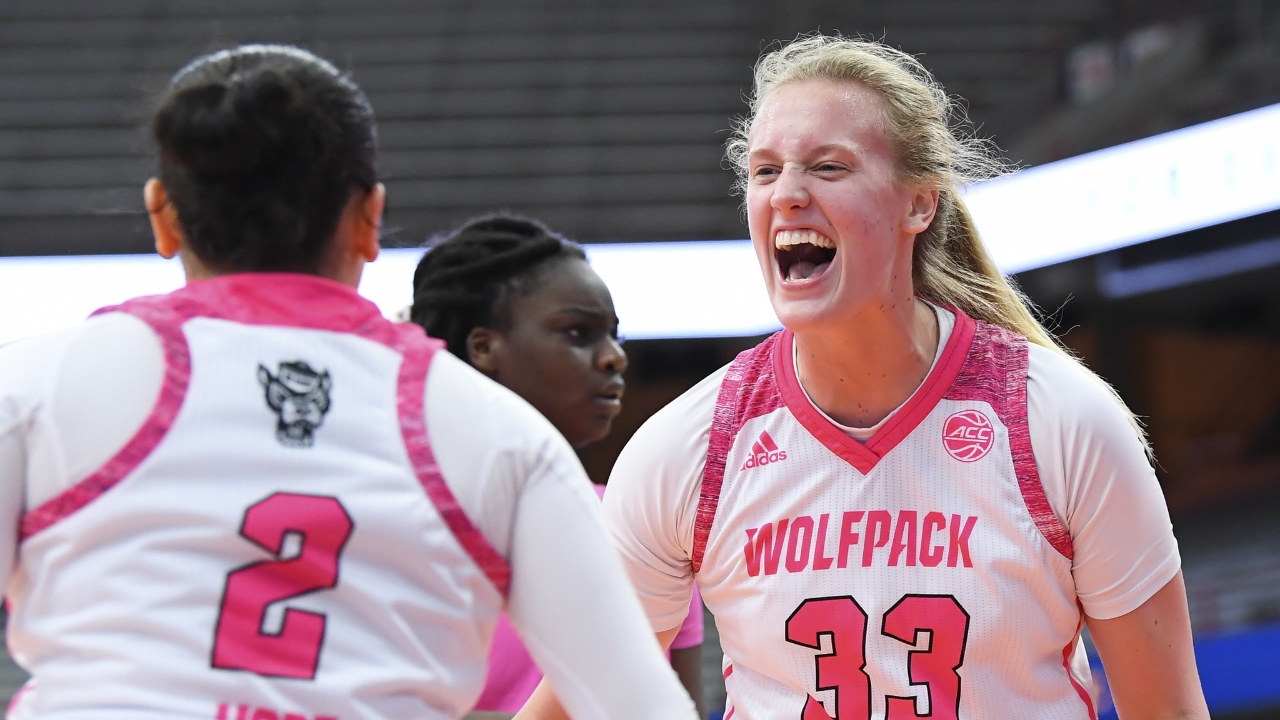 Photo by Rich Barnes
NC State Women's Basketball
TAKEAWAYS: Wolfpack women end regular season with victory
---
It wasn't always pretty, but No. 2 NC State women's basketball survived a fight to the finish with a good Syracuse team in its regular season finale, topping the Orange 68-61.
NC State (17-2, 12-2) handed Syracuse its first home loss of the season thanks to strong defense and a good finish to a tumultuous fourth quarter. Here's some key takeaways from the win.
Good defense
NC State had an uncharacteristically poor offensive day against the Orange, shooting just 40% from the field and 1 for 9 from 3. It made up for it on defense, holding Syracuse to 37% shooting from the floor and 4 for 24 from 3.
The Pack was also able to turn its defense to offense, forcing 14 turnovers and scoring 17 fastbreak points.
"You have good days and you have bad days shooting the ball," said Wes Moore. "But again, what we talk about all the time is on a bad day, we were able to win the rebound battle. We were able to handle the press pretty well considering how good they are at it. We actually had fewer turnovers than they did. So we did the little things and found a way to win."
Boyd, Perez, Cunane lead the charge
With some of NC State's usual suspects in Jakia Brown-Turner and Kayla Jones struggling offensively in this one, the Wolfpack needed others to step up.
Chief among them was Jada Boyd, who was able to help NC State attack the point and break out of a mini slump, as she scored in double figures for the first time since Feb. 7 and notched her third double-double of the season with 16 points and 10 rebounds.
"The star of the game has to be Jada Boyd," Moore said. "Double-double, did an unbelievable job on the boards and made some big plays down the stretch there too when she stole a rebound back and was able to put it back in. I thought that was really the play of the game."
Raina Perez had another stellar game running the point, helping the Wolfpack beat Syracuse's press with six assists and no turnovers. Perez also finished the game with 11 points and went 7 for 7 from the free-throw line, hitting several clutch shots down the stretch.
"She's been huge all season adjusting into this program and just taking it as her own," Cunane said. "She set the tone offensively, defensively, just pushing the ball. It really just showed today how clutch she was especially with Syracuse's press. She did an amazing job."
Cunane finished a rebound shy of a double-double, with 17 points and nine rebounds, and joined Boyd in helping NC State make a living in the paint against the Orange's zone.
Pack takes control in third quarter
Following a first-half battle that saw Syracuse take a one-point lead to the locker room, the Pack played its best basketball of the day in the third. Coming out of the half, the Wolfpack finally got to its offensive game, attacking inside out and pushing the pace in transition with some sharp passing from Perez. After Syracuse tied the game at 36 with about six minutes left in the quarter, the Wolfpack ripped off a 13-0 run over the next 3:56 to take a commanding 49-36 lead.
The Pack ended up outscoring Syracuse 21-7 in the third frame to take a 51-38 lead into the final 10 minutes. NC State shot 57% from the field and held Syracuse to 13% in the third, and the Pack also scored nine fastbreak points on five Syracuse turnovers.
Syracuse answers back in fourth quarter, but Pack finishes strong
The Orange was not done yet following NC State's strong third quarter, however, as Syracuse roared back with an early 13-0 run to take a 54-53 lead with 5:22 to play. After NC State restored its lead with a pair of free throws from Cunane, the Orange hit back-to-back buckets to push its own lead to three.
The Pack had another answer, though, as a layup by Boyd and three-point play by Cunane put the Wolfpack up 60-58 with 2:06 left to play. The Wolfpack ended up finishing the game on a 13-3 run, finishing strong in a battle with a good team.
"We're determined," Cunane said. "We're not at the end of March or April, so we're not where we want to be yet. We still have games left to be played. We can't settle with whatever our ranking is. We have to go out there day in, day out and play every team. Every team is going to give us their best. We have to be ready to battle. We can be happy afterwards, but during the game we've really got to be focused and determined."
Tournament up next
Following a highly-successful regular season, the Wolfpack will begin its postseason run starting next weekend in Greensboro. The Wolfpack will likely be the No. 2 seed and begin its ACC title defense Friday at 6 p.m. NC State enters the tournament knowing it will have a target on its back but also knowing its players have the experience needed and knowledge they can do what it takes to win.
"It's great that we all have our feet wet from last year," Boyd said. "We all have a little bit of experience. We have such a veteran team. So going into the tournament, I think we're really prepared."
Never miss the latest news from Inside Pack Sports!
Join our free email list