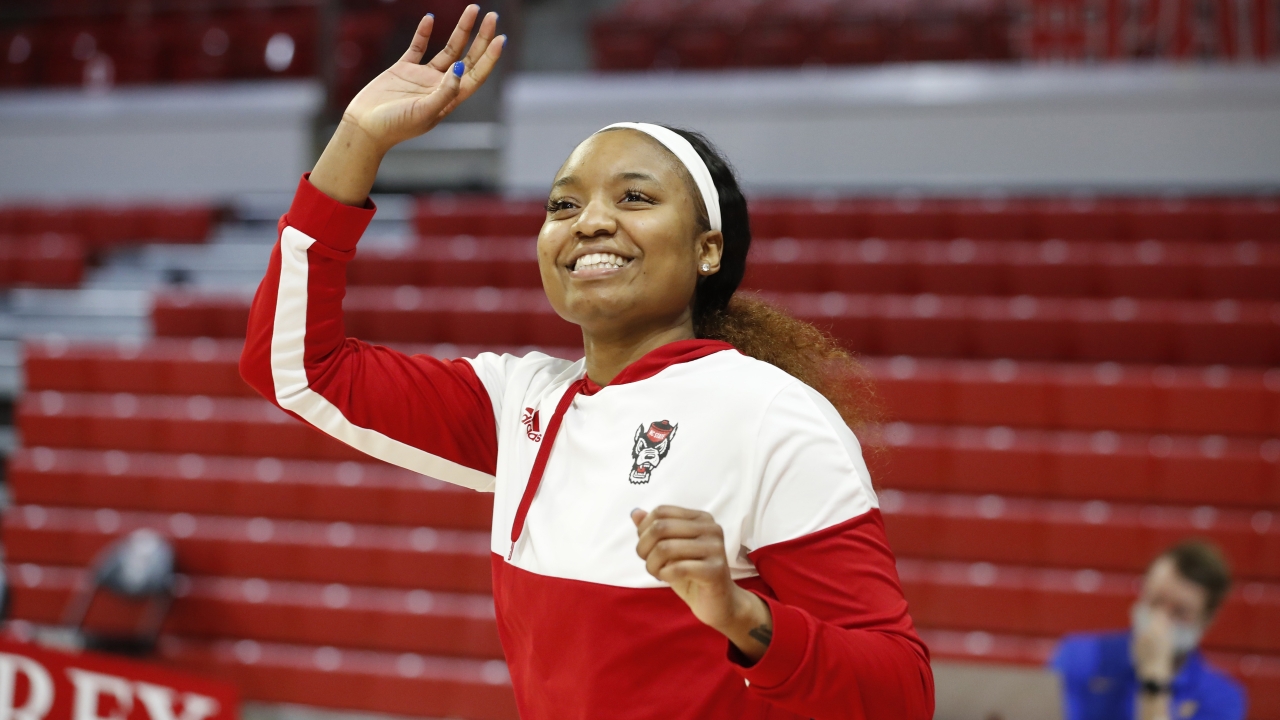 Wes Moore
Kayla Jones
Kai Crutchfield
NC State Women's Basketball
LOCKER ROOM REPORT: Second-Ranked Wolfpack Pummels Panthers On Senior Day
---
No. 2 NC State head coach Wes Moore and seniors Kayla Jones and Kai Crutchfield met with the media via Zoom following the Wolfpack's 83-53 win versus Pitt Thursday afternoon.
NOTE: Click on each thumbnail to watch each press conference in the player above.
Moore's comments are transcribed below.
---
Opening Statement
"It was a really good day and a nice team win. Obviously, for Kai Crutchfield and Kayla Jones on Senior Day, I thought that they both did extremely well. Kai's been suffering a hand injury on her shooting hand. She was able to finally take the tape off, and I think she had gotten a shot in it earlier to help with some of it. It was good to see her get on track. We shot the ball [well]. Sixteen out of 26 from three is pretty amazing, and it seems like when you're shooting the ball well, you have energy on the other end of the floor as well. I know Kayla Jones had seven assists and two turnovers which is awesome there. We were able to play a lot of people, and the young players that went in did a nice job. Pitt was a little shorthanded. They had two of their best players out today with injuries. Lance White is rebuilding, and I think he's going to do a great job there. They were a little shorthanded today, and we were clicking and hitting shots. It's a good win."
Can you speak to what Jones and Crutchfield have meant to this program in their time here?
"They're high-character kids, always doing the right thing and setting a good example for your team. They were two of our first commitments. When you're coming into a program and trying to build something, you have to start in-state because initially you don't have the brand or recognition to attract recruits from all over the country. You have to take care of it at home. With Kai and KJ, I think they may have committed the summer before their junior year, so they were young. They helped build this thing. They made a great impact on this program in taking it from being a good team, average team maybe, and helped us build really special. I love both of them. I don't know what they're going to do. We'll see at the end of the season. We wanted to make sure we had a senior day for them just in case. They may both come back. Maybe one will come back. If they both come back, we'll give them another jersey. We'll give them a red jersey. Again, I'm proud of them, and I'm excited to see where we go from here."
Were you aware during the game that, by the end, you tied the school record for most made three-pointers?
"I had no clue, and that's usually the state I'm in. Everybody, it seemed like, was able to knock down threes. It was great to see Raina Perez hit down four out of five. That's pretty awesome. Kayla Jones was 3-for-3 on Senior Day, and Kai was 3-for-4. Even the people that came in with Rebecca Demeke and Dontavia Waggoner being able to knock down some as well was great. It was a great day for everybody to contribute and play a part. Those things are nice, and we try to recruit people that can shoot the ball. They did a great job of that today."
Is today's game a sign that you're playing in a way that you want to be playing offensively at the end of the year?
"I hope so. I haven't seen this film yet. At times, it seemed like, at times, we were just knocking them down. I have liked the way, the last couple of games, we've worked inside-out. Elissa Cunane today only got six shots. That's not going to be what we want normally. We'd like for her to get about 15 shots and work through her. Again, we'll look at the film, but we definitely want to get Elissa Cunane touches, get her shots, and then when people try to help on her, which they're going to do, that's going to open everything up on the outside."
Do you feel like the team is trending in the right direction with one game left in the regular season?
"I was definitely excited about last week. When I walked into film Tuesday, I said, 'I'm excited.' First of all, three of them passed out, and then the rest of them stood up and clapped. They hadn't heard those words come out of my mouth very often. I'm very excited about the way we played last week in those games. We got back to transition basketball and got post touches. Elissa had 13 shots at Wake and had 15 shots in Sunday's game. That's the way we want to play. I hope we're trending up. When you shoot 16 out of 26 from three, everything's fine. I'm worried about the day we're 6-for-26. Are we going to defend well enough and rebound well enough to survive and advance when we get in the postseason? That'll be the real trick. I have liked what we've seen the last few games, and that's definitely what we keep talking about. I told them at halftime, 'We've got 1-1/2 dress rehearsals left.' We've got to use this time to get better. Syracuse hasn't lost a game at home this year. It's going to be a great challenge for us on the road. We like the way we're trending, and hopefully we can keep that going into March."
You finish the season 11-0 at home even with limited capacity. It seems every year Reynolds becomes a tougher and tougher place for other teams to play. What does this say for how far this program has come over the last four or five years that this is a place where you don't lose often?
"We talked about that after the game also. That's a pretty great accomplishment to go undefeated at home. I know we played a little bit smaller sample size this year, but I'm still proud of them for protecting the home court and playing well. I think the fans give us a bigger advantage, so it was probably a little tougher this year. Hopefully, we get all the fans back. I know the last two years, we sold out three of our last four home games. Last year, we were top three in the ACC in attendance. When we get those people in here, I think it makes it that much tougher on our opponents. For them to do that with really no atmosphere to help here at home is something to be proud of. I'm excited about how they've shown up and taken care of business night in and night out."
What has Perez meant to this team? How excited are you that you get another season with her?
"It's pretty amazing what she's done. As great a player Kai Crutchfield is, it would be tough to run the point and do all that we do without Raina Perez. I always say she's a blessing. We're fortunate to get her to come all the way across the country. She had a lot of outstanding offers out there. We're very blessed to have her here. The plan is for her to go ahead and complete her master's degree. For her to be here another year, we're excited about that. I'm not sure what Kai and KJ are doing. We've talked some, but those are decisions you make when the season is over. We'll see where it goes from there. We had a veteran team with most of the pieces back, and then you drop Raina in here, and it's like she's been here for four years. It's a pretty amazing accomplishment. Some of it has to do with her basketball, her work ethic, her IQ, her talent, and then some of it has to do with the person. Raina is such a great kid with a great personality, and everybody's attracted to her. She's definitely a big plus for us."
How are you handling all the variables that involve you getting the No. 1 seed in the ACC Tournament?
"We lost a couple of games, and this is where the teams that'd opted out made us lose four games because of that. If you're not in our pod, you lost two games, but since we're in the pod with those two teams, we lost four games because of it. There's no guarantee what would have happened in those games, but we would have liked to have the opportunity. As it stands, we did have the opportunity [in the games we played], and we lost a couple of games on the road, and so now we don't control our own destiny. We have our hands full at Syracuse. Like I said, they're undefeated at home, and [Quentin Hillsman] does a great job up there. We know it's a great challenge. If we were to have success up there, then we'd need some help. Notre Dame is playing Louisville Sunday. We need some help if we want to be the No. 1 seed. If not, hey, we start a new season at the ACC Tournament and go from there. We had opportunities, but I'm proud of this team and the way they've handled everything, and I'm proud of Kayla Jones and Kai Crutchfield and what they meant this year leading this team. We had all those injuries a couple of years ago, and that's when these kids had to step in and grow up in a hurry. They did an amazing job, and they continue to do that. I'm proud and happy for them."
Never miss the latest news from Inside Pack Sports!
Join our free email list