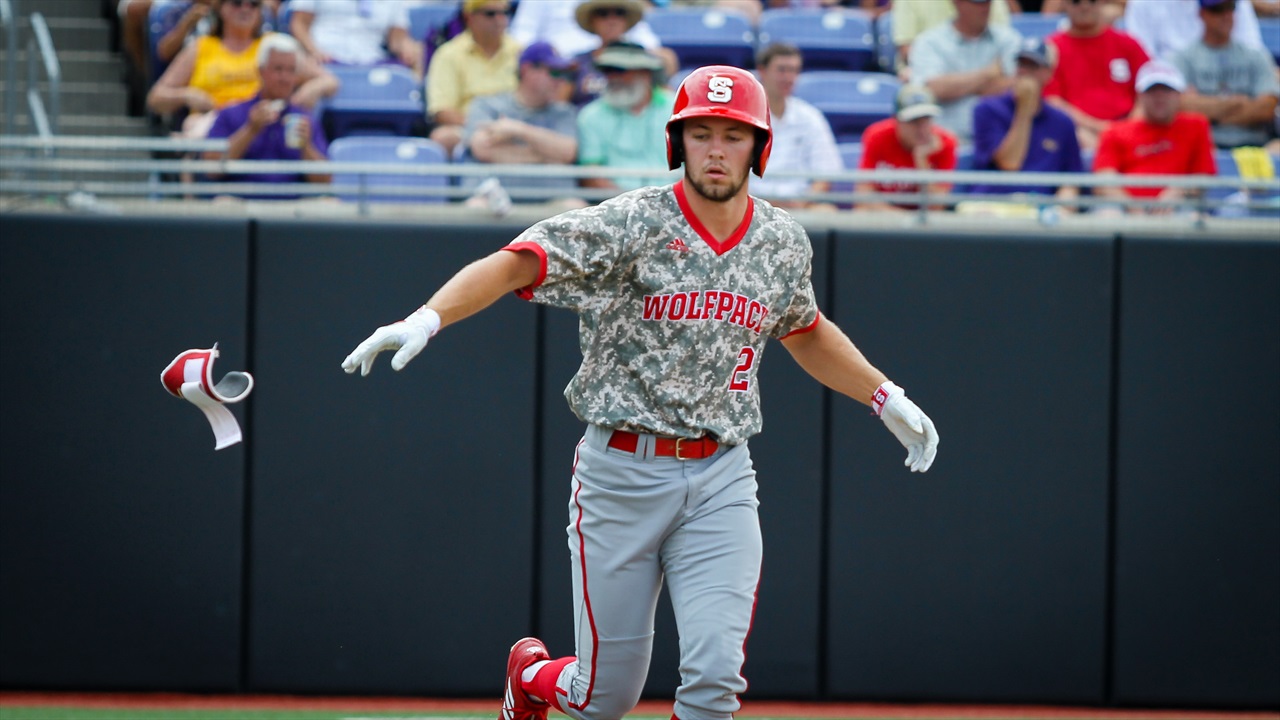 Photo by Steve Murphy/IPS
NC State Baseball
Takeaways: Offense stays hot, but bullpen melts down in Pack's loss to Spartans
---
NC State baseball continued to display its offensive firepower Tuesday at Doak Field, but the bullpen completely melted down in a 16-13 loss to UNC-Greensboro.
The loss drops NC State to 2-1 on the season, and next up for the Wolfpack will be this weekend's opening series of ACC play against Georgia Tech.
Offense stays scorching
While there is plenty to improve after NC State's game Thursday, the Pack's prolific offense isn't part of that. The team scored 13 runs on 18 hits Tuesday and has averaged 10.7 runs and 15 hits per game in three outings.
Obviously those numbers won't continue against ACC competition, but coming into the year the Pack looked like a dangerous lineup one through nine. So far there's no reason to dispute that, even with shortstop Jose Torres missing the team's first three games with an oblique injury.
"I thought we swung the bats extremely well," said head coach Elliott Avent. "We saw a lot of different arms. They threw a lot of different pitchers and a lot of different arms, so you saw a lot of different looks from the guys they threw. I thought we responded offensively, really well. … I think we got 18 hits and only punched out five times. So to see that many arms and get that many hits in such a wild scoring affair with only punching out five times, I think we probably did a great job of staying in the zone today."
The Pack got contributions from across the lineup, including homers from Jonny Butler, Luca Tresh, and Terrell Tatum.
The top of the order did a great deal of damage, with Austin Murr finishing 5 for 6 with three runs scored and an RBI, Tresh 4 for 5 with four RBIs, two runs, and the homer, and Butler 2 for 3 with four RBIs, three runs, and his second homer of the season.
"I think we're definitely a confident group," Murr said. "Obviously it stings right now, and we'll take tonight to think about what we did and get back to work tomorrow. I think we have a great opportunity opening up conference play in the fourth game of the year. I think we're certainly excited for that, but we need to have two good days of practice before then."
The Pack picked up timely hits, taking a 4-0 lead in a top of the first that included Butler's homer, and responded to take a 9-7 lead (that would eventually become 12-7) on Tatum's blast to dead center in the bottom of the fourth after the Spartans scored seven unanswered to wipe out a 7-0 NC State lead.
"One of the things we talk about is answering back," Avent said. "It's not something you practice, it's more of a mental toughness thing. I think we've got a lot of mentally tough players in that locker room and on this ball club. … They do battle and they know one of the things is when the other team scores you try to answer back. I thought we did a great job with that."
Villaman deals
With last weekend's series against VMI canceled, the Pack needed to get Chris Villaman, a likely starter in the upcoming three-game set against Georgia Tech, some limited action.
He impressed with it. In three innings Villaman performed well. With his fastball working great, he allowed just one hit while striking out five (three looking) and walking none over three scoreless innings. Villaman pounded the strike zone in his first action of the year, throwing 38 of his 54 pitches for strikes.
Villaman is likely to be a mainstay in the Wolfpack's weekend rotation this year and gave the team no reason to doubt his prowess Tuesday.
Bullpen implodes
Outside of Villaman, NC State's pitchers struggled mightily in this one, as an unmitigated disaster in the bullpen was the reason for a team scoring 13 runs but still losing by three.
"We've just got to figure this pitching thing out, or there's going to be some tough days," Avent said. "We obviously have to pitch a lot better than this."
The Wolfpack's Matt Willadsen, Andrew Tillery, Canaan Silver, Dalton Feeney, David Harrison, Kent Klyman, and Baker Nelson combined to allow 13 earned runs on 13 hits with eight walks and just seven strikeouts.
The Pack blew 7-0 and 12-7 leads in this one, as NC State allowed seven runs in the top of the fifth and six runs in the top of the seventh. That top of the seventh included two bases-loaded walks from Feeney.
"I don't think we pitched with enough confidence, and we've got to find the guys that are going to do that," Avent said. "Double header on Sunday, long day, we knew we were going to be a little thin today, but there were some guys out there that we were hoping we were going to be able to count on, and they didn't look like they were ready. So we're going to have to rethink where we're at with our pitching staff."
After the Spartans took the 13-12 lead with that seventh inning outburst, NC State tied the game in the bottom with a sac fly from Butler, but the Spartans eventually took the lead for good with a two-out rally and three runs off Klyman and Nelson in the top of the ninth (though one of those came on an error).
The third game of the season is nothing to panic over. However, with ACC play starting so early, the Wolfpack's relief corps will have to round into form quickly and show it's capable of performing exponentially better than Tuesday's debacle.
"What we've got to figure out as a staff is who we can count on pitching and who's ready to go now," Avent said. "This should not have happened."

Never miss the latest news from Inside Pack Sports!
Join our free email list