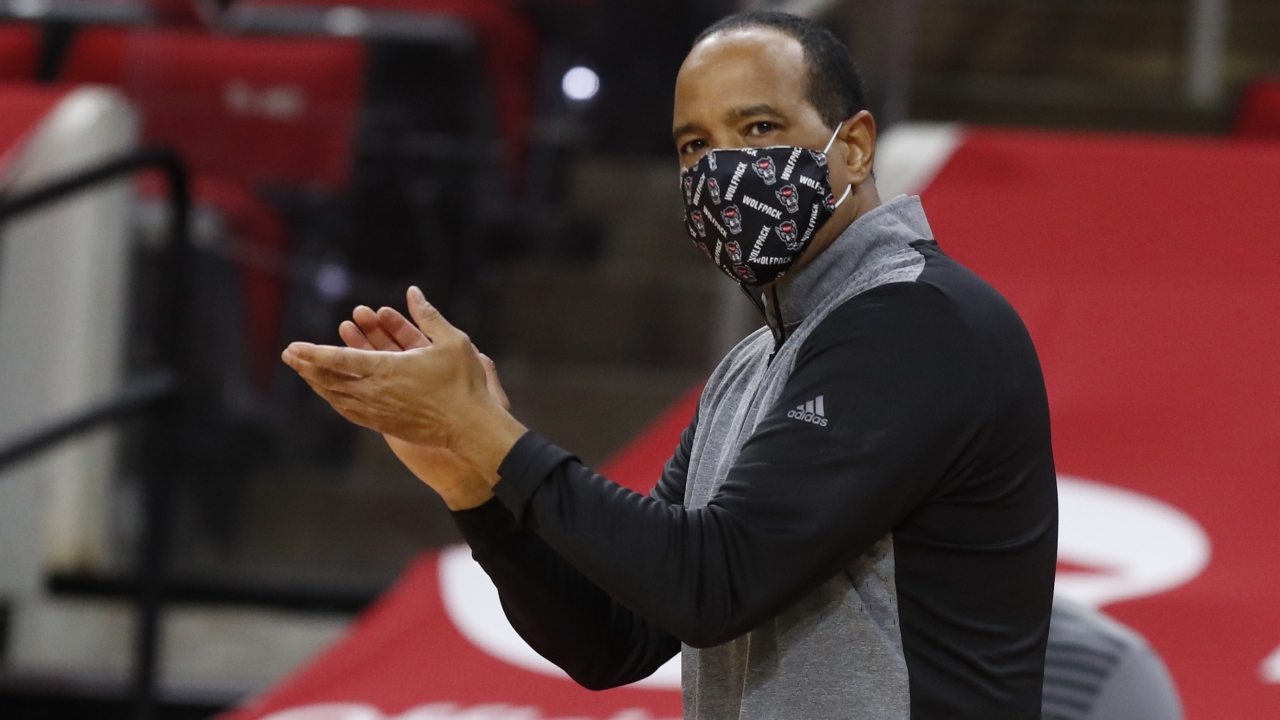 Photo by ehyman@newsobserver.com
NC State Basketball
Kevin Keatts on Virginia rematch, Thomas Allen's status, more
---
NC State men's basketball will look to keep its momentum from two straight wins last week rolling with this week's road matchup at Virginia.
Head coach Kevin Keatts spoke to the media about that matchup and more on the ACC Coaches Teleconference Monday, here's a full breakdown of everything he had to say:
---
Is there any update on Thomas Allen and his time table for returning?
I just left the training room and he was down there. He's doing better, but I have no idea when he will be available. I joked with him and asked him if he was going to be available for Wednesday and he said 'I hope so,' but I don't have a time table at all. I haven't spoken to the trainer. The trainer was running around; we had to get COVID tested this morning, so I've only talked to Thomas. He's in a better place, but he hasn't done anything on the floor, any type of shooting or any type of cutting at this moment.
You shot over 50% from the field in both games. Watching those back, was there anything you noticed about those shooting percentages that carried over from one game to the next?
I thought our ball movement was great. I thought we played inside out. For the first time, I thought we got out in transition, which obviously if you can get some easy baskets in transition, then you're going to shoot a better percentage from the field. But I just thought the ball didn't stick. I thought everybody played very unselfish basketball. We moved the ball, we got some good action. Some of it is contributing to, when you look at the Wake Forest game, we were able to get 28 points off just our defense and turnovers. So a lot of it had something to do with that 50%.
Your freshmen guards have really shown some growth over the past two games. When it comes to their development, how much of it is gaining confidence and how much is learning tangible things about playing at the ACC level?
I think it's both. In order to advance as a freshman, because they're coming in playing high school and AAU basketball, you have to be able to get out on the floor and get some actual playing time in some actual really tough games. So I think that's part of the reason.
The other part of it is in practice, we drill with them the things that we need them to get better on, obviously taking care of the basketball, being consistent. A lot of times, when I go back and watch tape, the freshmen will just stand around instead of on all-dribble penetration, instead of sprinting to spots. They don't know what they don't know, so they don't know how to play hard for 40 minutes. A lot of times, they think they're playing hard, but when you have to show them, then they understand that.
So I think it's a combination of a lot of things. Their ability to get in more games, play and make some mistakes. But we've also used practice as a, I've went to get a few segments of three or four minute scrimmage like deals, so they can make some of those mistakes in practice and kind of see how it feels like when they get into a game.
How have you seen Jericole Hellems grow this year?
He's the type of kid you want in your program. You want to make sure your program is going in the right direction. When you take him and the jump he made from freshman year to sophomore year and then sophomore year to junior year, he's been effective. He's the one guy that I think took some responsibility and 'Hey, this team needs me to a little bit more aggressive, I need to rebound more.'
He's taking up some slack from Devon, and also being able to score the basketball. So the maturity that he's shown over the last few weeks or month or so has been incredible for us because he's done it both in the locker room, on the court and his play in ACC play. That's what you want. You want guys that continue to get better. He and I were joking about his freshman year, he couldn't guard anybody. And now he's one of our better on-ball defenders. So I think it's a product of a young man who's put a lot of work in, and the system has done a good job of helping him get there.
Does Dereon Seabron give you guys a different element when he's in the lineup?
In the past, we've always had bigger wings. When I say bigger, I'm saying 6-4, 6-5. When we had C.J. Bryce and Devon Daniels and those guys. When Devon went down this year, we didn't have that guy. Those guys have always been our, even going back to Torin Dorn who was kind of a three-four, those guys are the guys that have kind of always led us in rebounding. Those are the guys who have always been great in transition. They would guard the best players on the floor. What we need from him is to play not exactly like those guys, but we need him to play with some toughness and athletic ability and his size.
It has helped us because we've been able to put a bigger guard on the floor than we would normally have without Devon Daniels. It has made a difference a little bit more on the defensive end. When you look at the Pitt game at the end of the game, instead of having three guys where the tallest guy is 6-2 or 6-3, we were able to sub him in on the defensive end to make a difference because he was a bigger guard.
What challenges does Sam Hauser present?
He's a tough matchup. Anytime you've got a guy that shoots the ball as effectively as he does, and his ability to score around the basket. He moves well without the basketball. If it's a smaller guy, he has the ability to shoot over him. If it's a taller guy, he has the ability to put the ball on the floor. When you look at them, their guards are very capable of making shots, but the strength of their outside shooting right now this year is coming from their three, four and five. Hauser, he makes tough shots. Some shots that people say might be bad shots, they're not bad shots for him. They're good shots. He makes them. That's the biggest problem; who do you put on him? For us, we switch a lot of screens, so we give them a lot of different looks. But, he's able to expose a lot of people.
What challenges does Jay Huff present?
Well, very seldom do you play against pick-and-pop fives. When they get you on the naked pick-and-roll and cut guys through, he's able to step out and make 3s. You are almost at his mercy hoping that he is not having a great night shooting the basketball. But, he's so much more than a 3-point shooter.
That's a weapon of his game. He's long. He's athletic. He's great around the rim, good touch. He gives you some problems with your post guys because you've got to be able to shoot over top of him, and he's got great size. Those guys are tough matchups. There's a few guys in our league when you talk about Huff, and you talk about Matthew Hurt, those type of guys because they can pick-and-pop. They can score inside and out. That's always a tough matchup for anybody.
Never miss the latest news from Inside Pack Sports!
Join our free email list