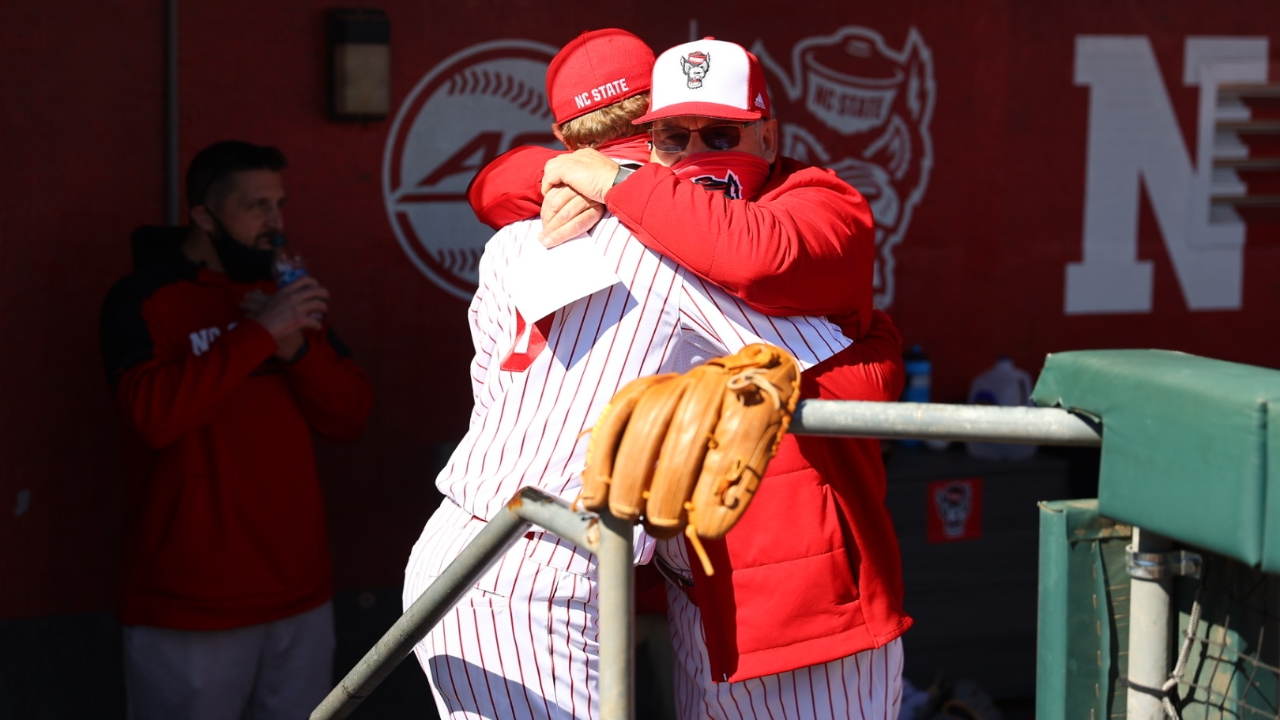 Elliott Avent
Sam Highfill
J.T. Jarrett
NC State Baseball
DUGOUT REPORT: Pack Topples Wildcats In Season-Opening Doubleheader
---
NC State head coach Elliott Avent, freshman right-handed pitcher Sam Highfill, and junior second baseman J.T. Jarrett met with the media via Zoom following the Wolfpack's doubleheader sweep over Davidson Sunday afternoon.
NOTE: Click on each thumbnail to watch each interview in the player above.
A transcript of Avent's comments is posted below.
---
How good is it to see the production of the batting order from top to bottom?
"I think it was 17 hits in the first game in 40-degree weather against what I thought was a decent pitching staff for Davidson. Davidson's always pitched well. That's their M.O. Dick Cook was there forever and was a great pitching coach, and now he's in administration. I can see it's followed. They have guys that command the strike zone and try to throw three pitches for strikes, and I thought our guys did a good job. We only had the one extra base hit. If they're going against you, you call them 'seeing-eye singles,' and if they're not going against you, that's a great job of putting the ball in play. We had 16 singles and a home run in that first game. I thought everybody came ready to play. I didn't think our strike-zone discipline was as good. Sometimes we looked like we wanted to swing too early, but maybe that's attributed to the way they hit spots and didn't put the ball over the plate for them, but I think we were maybe a little too anxious."
What did you see from Sam Highfill in his start in the second game?
"I thought he was outstanding. He does not put the ball in the middle of the plate, and that's the key to being successful as a pitcher. He and Kent Klyman, even though they're totally different, are similar in the fact that they try to keep the ball out of the middle of the plate. If you can do that, you have a chance to keep it in the ballpark. Sam got a bunch of strikeouts there, but I think he's a guy that doesn't try to get strikeouts. I think he just tries to put the ball in his spots, and he just tries to miss barrels. Today, he got some strikeouts early. It was a good job by him."
How big was Luca Tresh's home run in the second game to get the team going?
"It's nice to pitch with the lead, and scoring first is always one of our objectives that we try to do offensively. That was big that Luca was able to get the ball out of center field. He actually hit it really, really good. That was kind of a laser shot line drive that went out."
Was Evan Justice pulled in the first game due to circumstance or because of pitch count? How did you think Reid Johnston responded to being brought in with the bases loaded?
"Evan was on a pitch count. He was going to pitch Friday, but now he's pitching two days later. That was tough for Evan. He works all year to get in the rotation to pitch on Friday and sets that up two to three weeks ago. Now, he has to throw a different bullpen. He's only going to be at 45 pitches. Everything changes for him so he can get ready for Georgia Tech next weekend. That was tough for Evan, but he was on a pitch count. And I thought that Reid does what Reid does. He did what he does. He's very effective. He's very calm. Nothing seems to phase him. He has a very low blood pressure, and he went in and did what Reid has done so many times here for us."
Can you speak to the joy of being able to play after so long away from the diamond?
"This is the game that I've played since I was five years old. It's the only game that I truly love and the only game that I enjoy being around. These guys have become so much a part of who I am and what I believe in. They were so disappointed on Friday, which I understood, and they responded great, as they respond to most things, on Saturday with practice, and they were upbeat again. I thought they came out and played under tough circumstances with the weather and playing a doubleheader on opening day. I thought they responded tremendously, and I was very, very happy for them. They're a group of guys who love playing this game, and they love one another a lot, and they missed each other. As J.T. Jarrett said the other day, 'As much as I miss the game, I may have missed the players even more.' It was neat to see them get back out there together."
What is Jose Torres' status?
"Hopefully, we'll see him back soon. He has an injury. He pulled an oblique muscle. He's been dealing with that for a while. He's been making great progress. He's actually allowed to play defense if we need him right now, but swinging the bat is a concern. When he'll be back at full speed, I don't know, but when he'll be back in the lineup, it's a week-to-week thing. Hopefully, we'll get him back soon."
Never miss the latest news from Inside Pack Sports!
Join our free email list