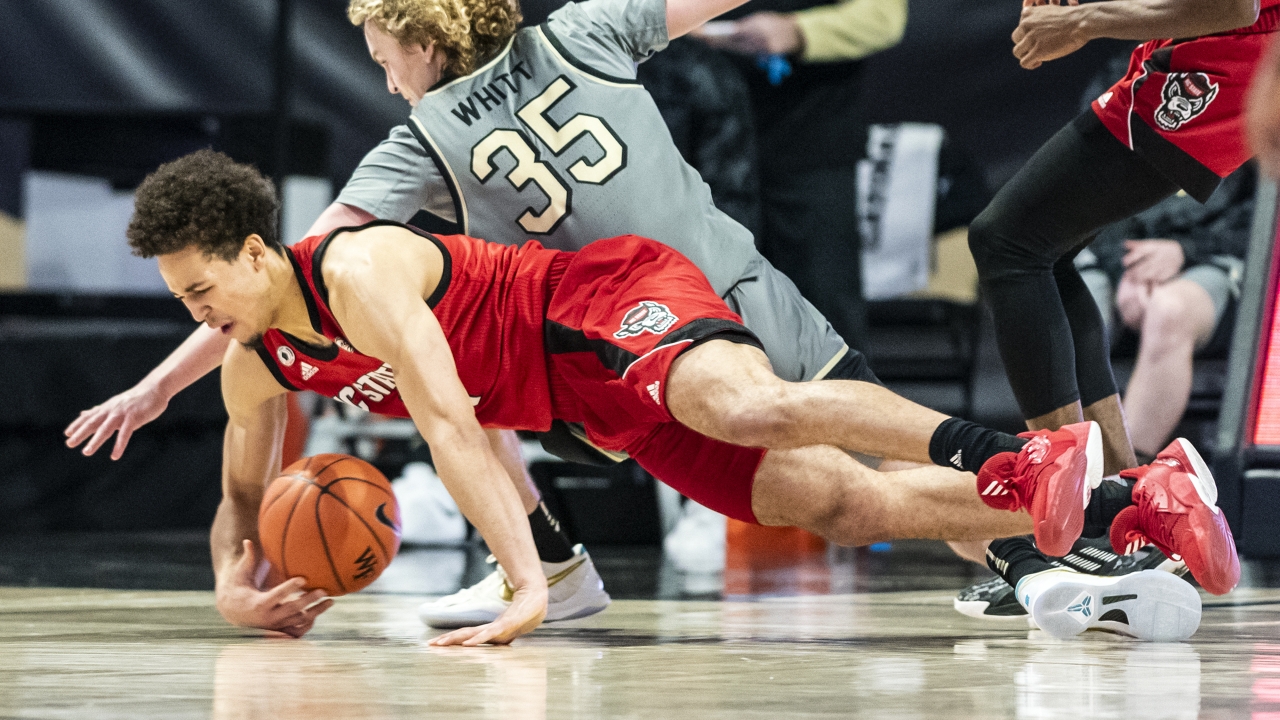 Dereon Seabron
Jericole Hellems
NC State Basketball
LOCKER ROOM REPORT: Wolfpack Players
---
Redshirt freshman guard Dereon Seabron and junior forward Jericole Hellems met with the media via Zoom following the Wolfpack's 80-62 win over Wake Forest Saturday afternoon.
NOTE: Click on each player's thumbnail to watch each interview in the player above.
---
Dereon Seabron
What did it mean for you to be able to step up for your team?
"It was good for us to get the win. You know I just go out there and play my hardest and do anything I can to help us get the W."
Was it a matter of you having more confidence that led to you being more aggressive from the start?
"Yeah, that's one of the main things and the pick-and-roll coverage, the big men, they were set low so I know I can get all the way to the rack when I come off the screen."
What do you think has been your biggest strength as you've continued to grow this season?
"One thing I did to grow was make sure I was in the gym, keep working on my game, keep getting better and getting more reps up. And yeah I think it was a big confidence thing like me being out there, getting more playing time, I just got in the flow of the game more and I just got comfortable."
Do you feel like you've gotten more aggressive in half-court situations?
"Yeah, I just think sometimes in the game I just make dumb plays if I'm tired or a little winded. So he just wanted me to keep playing aggressive and when I get tired, just put a hand up and he'll get me a sub so I can get a breather."
What are some of the biggest things that only the in-game experience could prepare you for?
"The main thing is the game speed, like I know I was there last year, I got to practice with the team, but I didn't get to play in any of their games. So this year, me getting to play, I've noticed that the game speed is a lot faster than it was in practice."
Jericole Hellems
Would you agree with Kevin Keatts' assessment that this was the best team performance this season? What led to this balanced attack today?
"I just think we played together on the defensive end and stayed rolling with the punches that Wake Forest gave throughout the game and just tried to stay together the whole game."
What have you seen from Dereon Seabron and Cam Hayes this season?
"They're just getting better every day, willing to listen and improve on the things they need to improve on. And they try not to allow outside things to affect their game. They're young guys, but they're still getting better."
How contagious was the shot-making today?
"Yeah, I think it started on the defensive end though. Everybody was confident. We were getting shots up. So everybody's gonna feel confident when you see the ball go in, but I think it started on the defensive end."
How did it feel to help lead the team to the victory?
"It feels good to win a game, always. We love the game of basketball so at the end of the day if you get a win, it always feels good, especially when we're playing good basketball. So hopefully we can continue to work hard and prepare."
Never miss the latest news from Inside Pack Sports!
Join our free email list