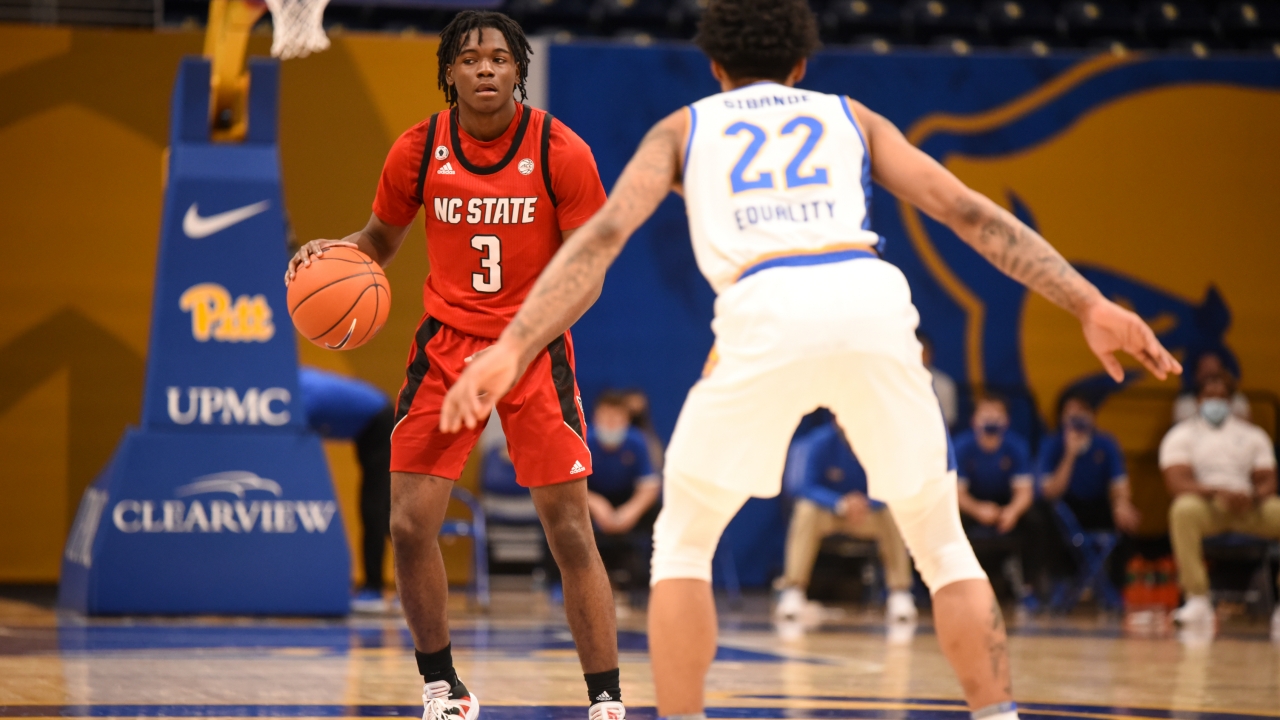 Cam Hayes
D.J. Funderburk
Braxton Beverly
NC State Basketball
LOCKER ROOM REPORT: Wolfpack Players
---
Several NC State players met with the media via Zoom following the Wolfpack's 74-73 road win over Pitt Wednesday evening.
NOTE: Click on each player's respective thumbnail to watch each interview.
---
Cam Hayes
Coach Keatts said that he felt like the freshmen grew up in this game. Do you feel that you, Shakeel Moore, and Dereon Seabron took steps in the right direction?
"Yes, I feel like we have. We're just trying to stay consistent, but it started in practice. We had a two-day span of really good basketball in practice, and I feel like it translated toward the game today. I feel like we're taking the necessary steps every day in practice to lead us to the game to be better."
Do you feel like you needed a game like this to build up some more confidence?
"Yeah, I've been kind of hard on myself lately, going into quarantine and battling some nagging injuries. This game brought me back, and I'm trying to build on this and stay consistent. That's mainly what I've been trying to do. Everybody on the team wants me to get back, be more consistent, and be more confident. I feel like today made my confidence way better."
What were your emotions like once you saw that you were able to come back after that last turnover and get the win?
"It meant a lot. I remember when I hit those two free throws to put us up by three. I went to the sideline and said, 'We're coming out of here with a win.' I felt like we had to get the win, and we got the win. Everybody on the team was energetic and being really positive. I felt like it helped us out a lot."
What's your perspective when you start the game as the point guard rather than coming off the bench?
"I don't feel like there's any difference, but I feel like I've got to set the tone when I start. When I'm coming off the bench, I get to see the game, see what I have to improve on, and what I have to go in and do. When you start the game, you've got to try and start really hard, be aggressive, and make sure that, whenever you go out, the people on the bench can lead with your energy."
Both you and Moore had career highs in assists today. Do you think it's a preview of what's to come from this Wolfpack backcourt for the next few years?
"Yes. Making sure that we can get everybody involved is what me and Shak are trying to do lately because we've been in a slump offensively scoring-wise. Being able to get everybody like Manny [Bates], D.J., and Cole [Hellems], who's been carrying us, points and getting Braxton open threes, it's one of the biggest emphases for us to get assists."
D.J. Funderburk
As we get closer to the ACC Tournament, how big of a sense of urgency do you think the team had today in terms of trying to get the ship back on track?
"First off, this win was extremely important for us because both teams had the same record, and we're both coming off of two-game losing streaks. One of us had to come out with the win. Like our coaches said before the game started, it was just a matter of who wanted it the most, and we had to do whatever it took to win the game. This game, we definitely put a big emphasis on personnel and making sure we didn't beat ourselves going down the stretch."
What was the process on defending Justin Champagnie and how you felt you did?
"I felt like we did our job. Everybody that participated in guarding him definitely did our job. He was 3-for-11 from the field, and the rest of his points came from the free-throw line. As players, we don't necessarily agree with every foul call there was, but as a team, we just kept trying to tell each other to stay silent even though he went to the line and got back to the line every time. We tried to make sure we stayed silent and kept an eye on him on the three-point line to make him feel uncomfortable. We did a good job on that."
Do you think Champagnie tries to initiate contact so he can get to the free-throw line as often as he did tonight? Where does that come from?
"Some of it comes from just catching a defender in a bad spot. He's good at getting his body into you and making you react off of what he's doing. Once he does that a couple of times, the refs start to get on his side a little bit, and he was getting to the line and hitting his free throws."
Hayes and Moore both had good games distributing the ball today. Do you feel their performance is a good indicator of what they're capable of moving forward?
"To be honest, they've always been capable of that. It comes with being comfortable, and it comes with experience. Down the line, you'll see that more consistently. I'm appreciative and happy with their performance today."
Braxton Beverly
How are you able to get into a rhythm with limited practice time and not being 100 percent healthy coming into this game?
"It's not easy. I've been doing what I can the past two or three days since the Duke game to keep my legs under me, trying to keep my conditioning, and doing some rehab. It helps that I have my teammates staying positive for me. That plays a bigger role than you might think. They tell me to give it all I got. They know that I'm going to, and they believe in me. That helps a whole lot."
It seemed they were trying to get you in the paint early on, and you hit a circus shot early on. Did that get you going a little bit?
"Yeah, that definitely helped, seeing that first one go in the basket. I got a chance to widen the rim a couple inches at least once I saw that first one fall in. Even the one I missed, I think I missed a three right after that, it felt good for it to rattle in and out. I knew I should keep being aggressive and continue looking because it felt good."
Hayes and Moore had career highs in assists today. What did you see on the floor from them? Do you see this as a sign of their growth they've had to go through with ACC play?
"I've seen what their potential is and what they're capable of doing any time we step on the court. It's been a crazy year, especially for freshmen around the country, especially at this level. It's hard to jump right into conference play in these top conferences and play against this talent every night and not expect to have a rough games or hit walls. In the past, freshmen usually do that early on in the non-conference schedule. I'm really proud of both of them tonight. They stepped up and played really well. The work they're putting in is starting to show."
Keatts said that he hopes to build off this win. As a veteran, how do you take this win, bottle it up, and use it to go the rest of the way?
"The biggest thing is that tomorrow's a new day. Enjoy this win tonight. Any win in this conference is good. Enjoy it tonight, but when we come into the gym tomorrow, it's a new day. We've got another chance when we play Wake Saturday. We've got another game two or three days away that we've got to get ready for. We've got to keep the same energy we had going into the gym tomorrow, but don't keep living through this win. We've got to move on, correct our mistakes, and keep getting better."
Never miss the latest news from Inside Pack Sports!
Join our free email list