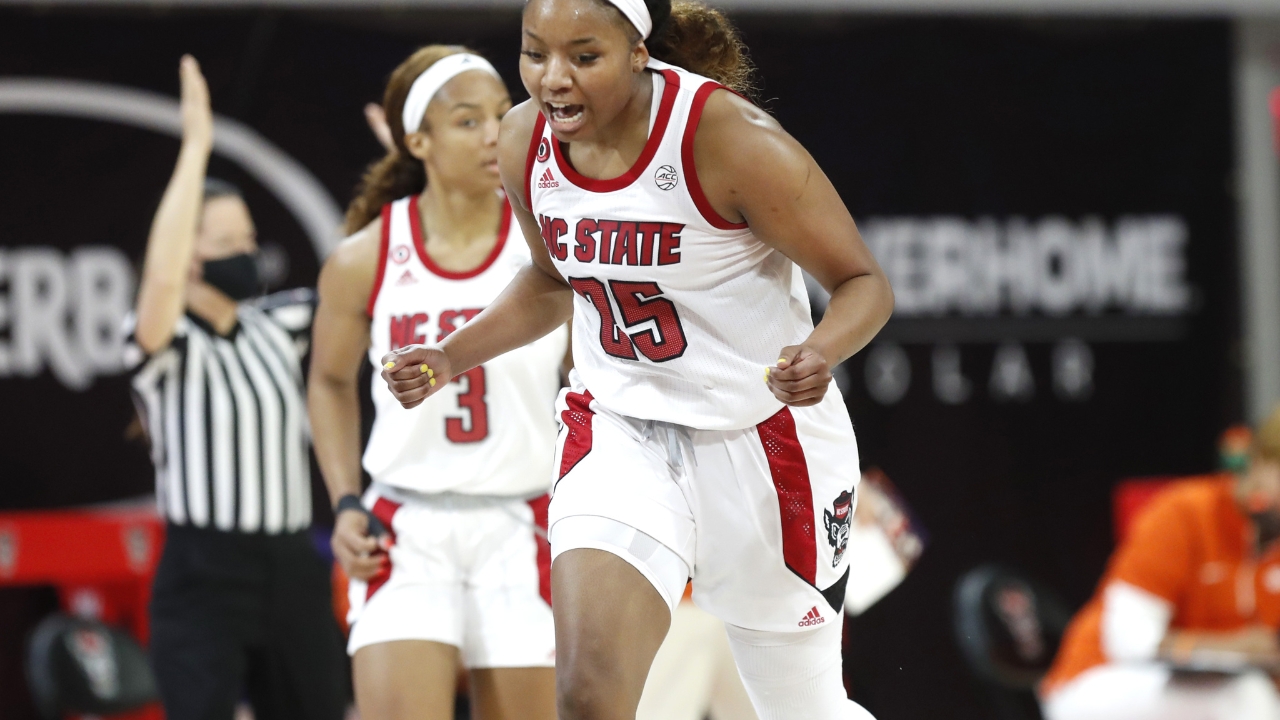 Photo by Ethan Hyman, News&Observer
NC State Women's Basketball
Takeaways: Jones' monster day helps Wolfpack tame Tigers
---
Coming off a disappointing loss at UNC Sunday, No. 4 NC State women's basketball needed a bounce-back performance. It got one, overwhelming Clemson in an 86-65 win at Reynolds Coliseum.
The Wolfpack (13-2, 8-2 ACC) saw four players score in double figures, and the team shot 52% from the field compared to just 41% for the Tigers.
"I'm just really pleased with the way we came out to start the game," said head coach Wes Moore. "... I'm really pleased with the way we got off to a good start, set the tone and were able to get a little momentum going."
Let's take a look at a few key takeaways from the victory:
---
Jones leads the charge
Coming off a below-average three-game stretch for her offensively, senior Kayla Jones was the star of the show for NC State on Thursday. Jones finished the day with 21 points on 80% shooting. She scored from all over, finishing in the paint, from mid-range, and also knocking down 3-of-4 attempts from beyond the arc.
"It was just a lot of soul searching, just knowing what I could do," Jones said. "Just letting the game come to me. It has been frustrating, but my offensive game has not been there to what I would like it to be to help my team. So it was just a lot of time to myself, getting in the gym and just trying to figure things out."
Jones made an impact in all phases Thursday, finishing with five rebounds, seven assists, a steal, and a block. She turned in another stellar performance in what's been a season full of them for the 6-foot-1 forward.
Balanced effort
Jones was far from alone, however, with three more players finishing in double figures: Jakia-Brown Turner, Elissa Cunane, and Camille Hobby.
Sunday's loss was the first game of the season that Brown-Turner did not eclipse double figures, and she got back on track there Thursday with 13 points against the Tigers. She was particularly effective for the Wolfpack in a third quarter that saw NC State remove any doubt about the game's outcome, with seven points on 3-of-4 shooting.
Despite playing limited minutes, Cunane had another strong game with 11 points and eight rebounds and used both her patented post moves and a 3-pointer from the top of the key to score.
Raina Perez did not score in double figures, but she continues to be the do-everything point guard NC State was hoping for, chipping in eight points and four rebounds to go with another strong game making plays for her teammates, with seven assists to just one turnover. Perez has 20 assists over the Pack's last two games.
Hobby continues to establish herself as a weapon off the bench for Moore, finishing with 12 points on 6-of-11 shooting in just 18 minutes. Hobby's production and efficiency in limited minutes continues to allow Moore to spell Cunane as the latter works her way back from the COVID pause, especially in a game like this that was already in hand.
"We want to get the ball inside," Moore said. "To have two people that are scoring the ball that well, is really a luxury. It does a little bit of the pounding off of Elissa. I've always had confidence in Camille, and I know she's always had confidence in herself. … I'm happy for her, too, because she works as hard as anybody on this team and puts the time in. So it's good to see somebody like that rewarded as well."
Red-hot start sets the tone
The Wolfpack roared out of the gate in this one, scoring the game's first 12 points unanswered by running its high-powered offense and stymieing the Tigers on the other end of the floor, as Clemson missed its first six shots of the game.
The Pack went on to dominate the opening 10 minutes as it looked to put Sunday's loss in the rear view, building a 28-9 lead. NC State shot 55% from the field in the opening quarter compared to just 27% for Clemson, attacking inside-out with its usual offense (and also putting up eight assists to no turnovers) and locking things down on the other end by forcing the Tigers to settle for contested shots while grabbing nine defensive boards.
"I thought it was very important that we shut them down in the beginning," Brown-Turner said. "We didn't play like ourselves against UNC, so it was very important for us to get back to playing the way we play and just shutting teams down."
The Wolfpack saw a little bit of a lull in the second quarter as Clemson started to find its footing, but closed with a 6-2 run to take a 17-point lead to the locker room.
"We've got unbelievable young people on this team," Moore said. "The downside of that is they sometimes can't have that Dr. Jekyll Mr. Hyde type mentality when you step between the lines. You have to have a little bit of a mean side, whatever, to compete. We're going to get everybody's A-game and they're going to come at us. We can't be on our heels. We've got to be ready to fight, battle. So that's the biggest thing. We need some people to get mad and make sure everybody on the team is focused and on edge, has urgency. That's the biggest thing."
Jones was incredible in the first half, scoring 16 of her points, shooting 6 for 7 from the field, hitting all three 3-pointers she attempted, and adding four rebounds, three assists, a block, and a steal.
That blistering start allowed the Wolfpack to control the entirety of the game, as the Wolfpack did not lead by fewer than 17 in the second half and cruised to its 13th victory of the season, with Moore even able to get his freshmen and depth players some action down the stretch as Genesis Bryant and Kendal Moore both found the score sheet.
"I think in the third or the beginning of the fourth, I was telling the girls, 'Alright, let's keep the lead going so we can get the freshmen in,'" Jones said. "So it's exciting when we get going, and we allow the others to play, it's fun."
NC State will be back in action against Notre Dame at Reynolds Monday.
Never miss the latest news from Inside Pack Sports!
Join our free email list