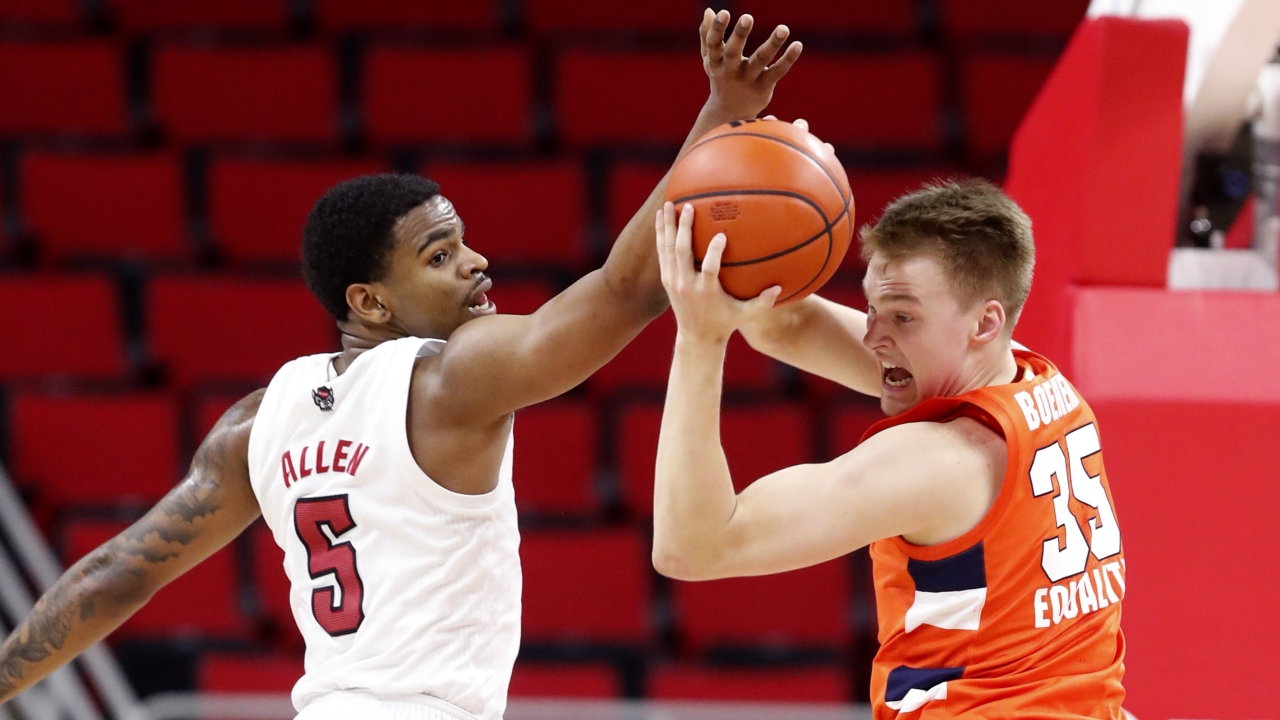 Thomas Allen
D.J. Funderburk
NC State Basketball
LOCKER ROOM REPORT: Wolfpack Players
---
NC State redshirt junior guard Thomas Allen and redshirt senior forward D.J. Funderburk met with the media via Zoom following the Wolfpack's 77-68 loss to Syracuse Tuesday evening.
NOTE: Click on each player's thumbnail to watch each interview.
---
Thomas Allen
What was different in the second half?
"They got more rebounds than us in the second half. As far as at the end, we didn't come up with it."
Is there a recurring problem in the second half in terms of scoring margin?
"I wouldn't say that. I would just say we have to figure it out down the stretch, and that's pretty much it."
With the Pack committing 13 turnovers in the first half and only being down by one, do you feel like that was a missed opportunity where, had you taken care of the ball better, it could have led to better play in the second half?
"Yes. I think they scored 21 points off of our turnovers in the game, so they had a better way to hang with us."
With the turnovers, did you notice anything different about how Syracuse played defensively compared to the first matchup?
"No, it was the same way. We were just careless with the ball tonight."
What changed for you in the second half?
"I wouldn't say anything changed. As a shooter, you're going to have your slumps. You have to stay confident and keep shooting."
Does this performance give you more confidence despite the loss?
"I wouldn't say I lost confidence. I still have all my confidence, so it's still going to be the same."
Can you pinpoint what the difference was where Syracuse began to pull away?
"I can't remember right now, but I'll watch film tomorrow and Friday. We'll figure it out in the end."
D.J. Funderburk
Was there anything in particular that resulted in all of those turnovers tonight?
"To be honest with you, I honestly think we second-guessed every decision we made. Those second guesses left extra opportunities for them to get steals. They just gave us fits with their zone."
What specifically changed in the second half today? What has been the problem with second halves all season?
"The best answer I can give you is that we keep shooting ourselves in the foot. Either we have the lead and we shoot ourselves in the foot in the second half, or from the get-go they punch us in the mouth and we're always in a dogfight throughout the game. We never seem to come out on top when it comes down to those possession games and those key possessions in the game that let them get their lead."
Is there anything that can change that moving forward?
"We've just got to play tougher. We've got to be more locked in. There's nothing [wrong] with our skill. We can guard. We can score. We just have too many mental breakdowns, and it hurts us every time."
Were the Syracuse players just really active around the rim?
"In the short corner, they were trapping. That right wing was trapped off to the closest guard that was next to us. It's hard to make that skip court pass. After a while when they kept throwing it there and there wasn't anything there, the defense started to recognize where that open lane would be at, and I feel like how they got some of those steals coming out of the second half. I think it was just the traps, and like I said earlier, we kept second-guessing every decision that we made, and those quick second guesses led to extra seconds for them to think and make rotations."
In the first half, you had 13 turnovers as a team but were only down since you shot 53 percent from the field. Do you feel like that was a wasted opportunity where maybe, if you handled the ball better, you could have the lead, and it would have helped in the second half?
"Definitely. I thought we could have had the lead in the first half. Like you said, we had 13 turnovers in the first half, and there were points in the game where I'd watch us get a key stop then give the ball right back. We've got to slow down on that. When they give it to me, Cole [Hellems], or Manny [Bates], we've also got to do our part and not turn the ball over. That's a big portion of that, too."
What did you see from Allen that changed from a confidence standpoint?
"We just kept talking to him and telling him, 'Shoot the ball.' That's what he does the most. Sometimes, he can drive and create for others, but his strong suit is shooting that basketball. When he wasn't shooting, we just kept trying to give him his confidence like, 'Shoot the ball. We'll try and get the rebound, or we'll get back, make a stop, and get it back to you.'"
Never miss the latest news from Inside Pack Sports!
Join our free email list