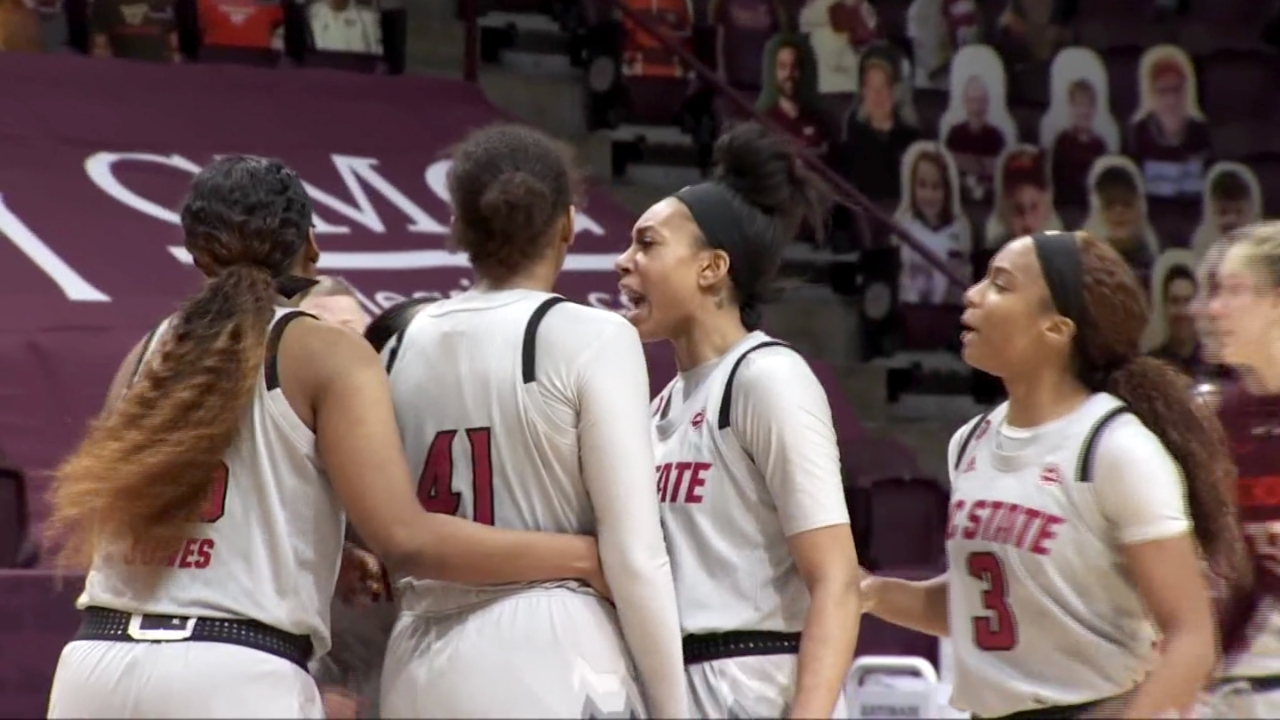 NC State Women's Basketball
LOCKER ROOM REPORT: Pack Loses Overtime Thriller Versus Hokies
---
No. 2 NC State head coach Wes Moore and sophomore center Camille Hobby met with the media via Zoom to discuss the Wolfpack's 83-71 overtime loss to Virginia Tech Thursday afternoon.
NOTE: Click on each respective thumbnail to watch each interview.
---
Wes Moore
Opening statement
"Give Virginia Tech a lot of credit. Obviously, they were ready to play. I thought they did a great job defensively on us. We struggled all day offensively. We just seemed to stand around a lot. We wanted to run and get some transition going, and we just couldn't do it. For whatever reason, that didn't happen. We're fortunate to get it into overtime and have another chance. They came out, hit a three, got an offensive rebound, and got a put-back for an and-one. Now you're down six, and you're looking at having to start fouling because I think right after that they hit another three to go up nine. Now we're having to foul, and obviously we would to have loved to have kept it out of [Aisha] Sheppard's hands, but we weren't able to do that; she knocked them down. What can you say? Sheppard had zero [points] at halftime, 28 in the second half. [Elizabeth] had two at halftime, 15 in the second half. Offensively, they really stepped up in the second half, but I thought they played great defense the whole game. We just didn't get it done. I've got to figure out a way to help our players get better looks and stress a little bit more about how important rebounding and having urgency is."
What did you see from Camille Hobby today?
"We probably should have gotten her the ball more. We like to go one-in-four-out some, but it just seemed today like, when we tried, we stood around. Virginia Tech did a great job of guarding us, and we couldn't take them off the bounce. Looking back, we should have gotten her more touches in there because that was working pretty well. Again, it was a frustrating day offensively for sure."
How important is it for Hobby to have more confidence going forward coming from this game, especially in the future when Elissa Cunane returns?
"Definitely. I think Camille's got a lot of confidence. She's very skilled. That's why, when the play broke down at the end of regulation, I was screaming for Raina [Perez] to get it to Camille because I've got a lot of confidence in her ability to knock down the three. She hit a big shot for us, and then we let them come out and go up pretty quickly, and we were playing from behind again."
Can you talk about Hobby's defensive effort playing against a player like Kitley?
"We obviously had to give attention to Kitley. She scored 30 against us a few days ago. We did some different things to try to get it out of her hands. Camille did a nice job as well. They had some other people. Obviously, Sheppard really stepped up in the second half."
Have you discussed defending without fouling?
"Part of that is urgency and getting into position quickly, not having to try and recover after getting beaten to the ball. Then obviously, we were fouling in overtime trying to put them on the foul line quickly if we couldn't get a steal or a good trap. Some of those fouls came off of that. That hasn't been a trend or anything. We played people a lot of minutes. I need to look at that. Do we need to rotate a little bit more? When you lose, you second-guess everything. We'll try to figure that out."
What's going to be the focus over the next couple of days as you prepare for the road game versus No. 1 Louisville?
"Yeah, it's another big challenge. We've got three in a row on the road. It's a tough stretch. First of all, we'll take tomorrow off because we've got to get fresh. Then, we'll have two days to prepare for Louisville. It's a great challenge. We're going to have to play unbelievably well to have a chance to win, especially at their place. I don't know. I thought, in the first half, we had better urgency and energy on defense. I thought we did a better job on the boards. They had 26 points at halftime, and I liked all of that. Then in the second half, we just didn't get it done. Like I said, I maybe should have subbed more. In the first half, I rotated everybody. I probably should have done that in the second half, too, and tried to keep them a little fresher. It was a frustrating day. Obviously, we didn't shoot the ball extremely well. That was tough. We hit 14 out of 29 threes when we played them a few days ago, and you knew you're not going to do that every day. It's going to be about defense, rebounding, and keeping the score manageable where you have a chance to win the game.
Do you expect to have Cunane for that game?
"Yeah, I think so. I think there's a real good chance. Unless she has a setback, yes. The tough part is that she's probably been out 23 days. She was home 10 days, having to quarantine and stay away from everybody. We'll see, but I'd rather have whatever we can get from Elissa than not have her for sure."
What was your message to the team after the game?
"It stinks. It's the first loss of the year, so you can't sugarcoat that or make that feel very good. That's the disappointing aspect of it. I just reminded them of last year. After our first loss, we were having to go on the road in a similar situation, and we went out, played a really good game, and bounced back. That's what we have to try and do this year."
Camille Hobby
Can you walk us through what was going through your mind during the last shot of the fourth quarter?
"I don't really know what was going through my mind. I just knew we needed a bucket, and I was pretty open. I just felt like I could make it."
Was a game like tonight bittersweet with you having a career-high in points and rebounds while still falling to Virginia Tech?
"Not really. It doesn't matter how many points you score when you lose."
What do you feel went well for you out there tonight?
"I just think that, the first part of the game, we just did a good job of moving the ball around, getting the ball inside, and making shots down there."
What went wrong for you all out there? What needs to be fixed between now and the next game versus Louisville?
"It just comes down to possessions. They had more. They made more. They just did better than us down the stretch. That's what it comes down to. The coaches are going to watch the film and get everything together. We'll be ready when we play Louisville."
Never miss the latest news from Inside Pack Sports!
Join our free email list