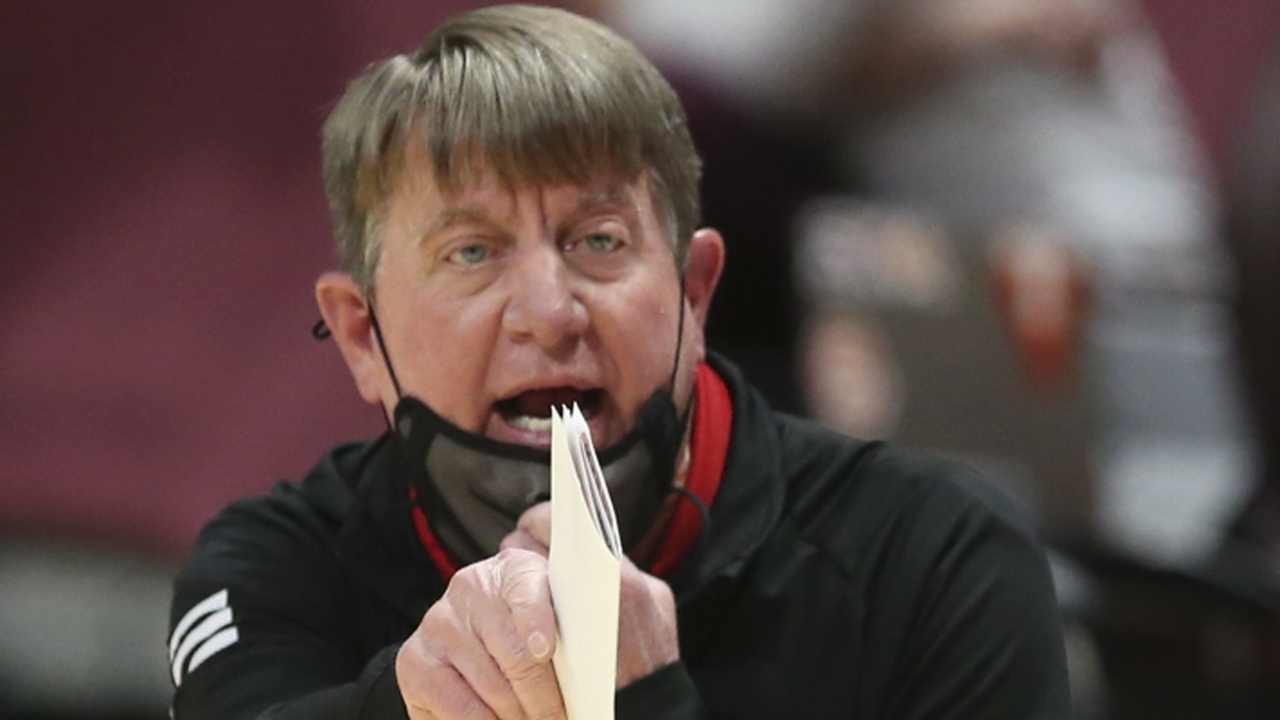 Photo by (AP Photo / MATT GENRTY, The Roanoke Times, Pool)
NC State Women's Basketball
Takeaways: Hobby shines in Wolfpack women's first loss
---
Despite a career day from sophomore Camille Hobby that included a buzzer beater to extend the game, No. 2 NC State women's basketball suffered its first loss of the season Thursday, falling 83-71in overtime at Virginia Tech. The Pack simply did not have enough offense in this one and clearly missed junior center Elissa Cunane in what was her second consecutive absence.
Here are some key takeaways as NC State dropped to 11-1 on the season and saw its 16-game winning streak come to an end.
Offense struggles; defense a bright spot
The biggest culprit for NC State in this game was its offensive struggles. The Wolfpack shot just 42% from the field and a paltry five for 19 from 3-point range en route to its lowest output of the season.
The team also turned it over 16 times and struggled to find a rhythm on offense. There's no reason to panic with the Wolfpack playing just its second game coming off the COVID pause and missing its best player in Cunane, but NC State will need a much better offensive performance on Monday against Louisville.
"We struggled all day offensively," said head coach Wes Moore. "We just seemed to stand around a lot and we wanted to run, get some transition going. We just couldn't do it for whatever reason. It didn't happen. We were fortunate to get it into overtime and have another chance."
On the bright side, NC State came up with a much better defensive performance than Monday, limiting Virginia Tech to shooting just 39% from the field, forcing 11 turnovers, and out-rebounding the Hokies 39-36 – including grabbing 30 defensive boards. Kayla Jones led NC State with 12 rebounds, 10 of which came on the defensive glass.
Chaos in the final two minutes of regulation; Hokies dominate overtime
With two minutes to go, the Wolfpack looked to be sitting pretty. The Pack led 54-50 and had kept the Hokies scoreless for nearly four minutes. But Virginia Tech then awakened and took a 57-54 lead with a 7-0 run.
The Wolfpack got the ball back with 18 seconds remaining and then was set to run its last play with 11 seconds left following multiple timeouts. The Pack appeared headed for defeat as it scrambled on a broken play with the clock ticking down, but Hobby had other ideas.
She took a pass from Raina Perez at the top of the key and drilled a three as time expired, giving the Pack a chance to extend its winning streak with free basketball.
Unfortunately for NC State, it did not take that momentum into the overtime, as Virginia Tech outscored the Wolfpack 26-14 over the extra period. The Pack managed to cut the deficit to five with 43 seconds left, but a technical against Moore for taking too long to make a substitution pretty much put the game to bed.
"It just comes down to possessions," Hobby said. "They had more. They made more. They did better than us down the stretch."
Career day for Hobby
Without Elissa Cunane in each of its past two games, the Wolfpack has needed different players to step up. On Thursday, that was sophomore center Camille Hobby.
Making the first start of her career, Hobby turned in a stellar performance, putting up a career-high nine points on 9-of-14 shooting to go with nine rebounds. Hobby showed off some versatility in the five spot, finishing in the paint and also hitting a couple jumpers.
Hobby scored NC State's last seven points of regulation, including the game-tying, buzzer-beating 3-pointer.
While the Wolfpack will be happy to get Cunane back, the confidence Hobby has gained in her last two games should make her an even more productive player off the bench and continue to add depth to this Wolfpack lineup.
"I think Camille's got a lot of confidence," Moore said. "She's very, very skilled. That's why, when the play broke down at the end of regulation, I was screaming for Raina to get it to Camille because I've got a lot of confidence in her ability to knock down the three. So she hit a big shot for us."
Perez, Brown-Turner with strong games
Perez continues to look like a fantastic addition for Moore and the Wolfpack.
She once again showed off her ability to score, run the offense, and affect the game on both ends against Virginia Tech, finishing the game with 16 points, seven assists, three rebounds, and two steals.
Jakia Brown-Turner also had another solid game with 15 points, three rebounds, and three assists.
The big one is next
Next up for NC State is Monday's road tilt with No. 1 Louisville, a game that takes on added importance for ACC seeding now that NC State has a loss on its record.
Moore said he thinks there's a "really good chance" Cunane plays in that game.
"It's obviously another big challenge," Moore said. "We've got three in a row on the road here; it's a tough stretch. … We'll have two days to prepare for Louisville, obviously a great challenge. You're going to have to play unbelievably well to have a chance to win, especially at their place."
Never miss the latest news from Inside Pack Sports!
Join our free email list