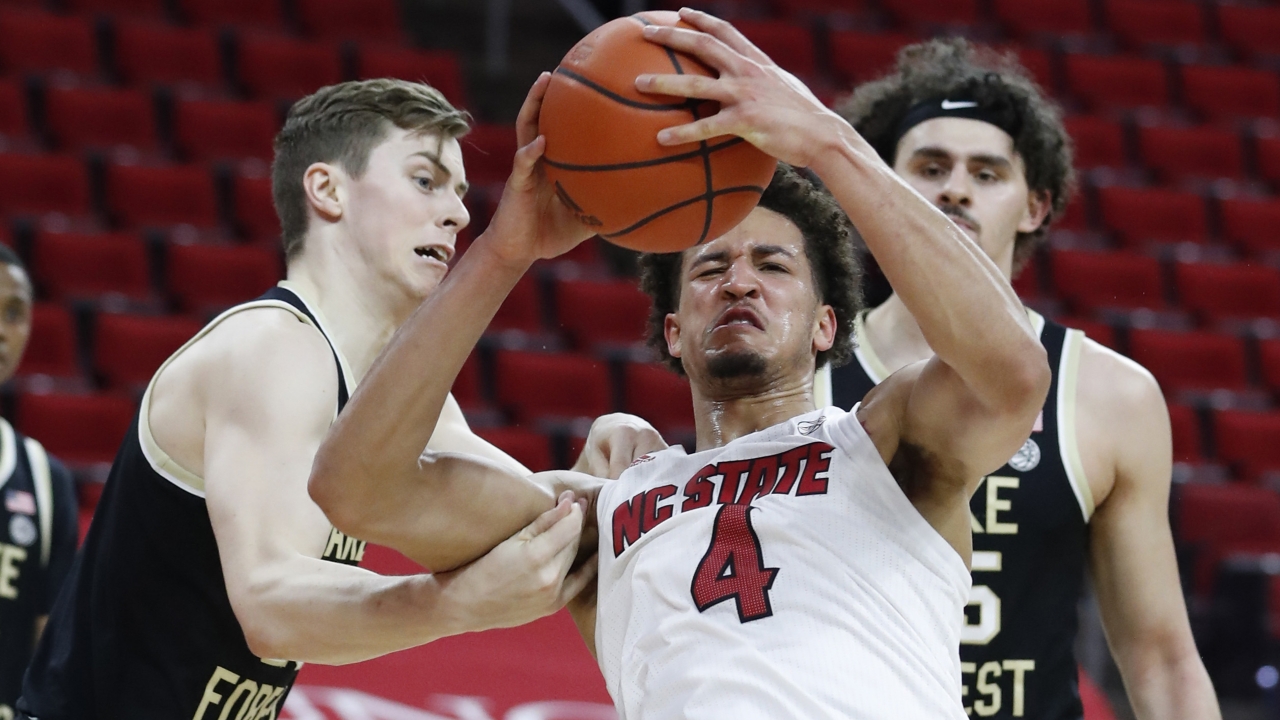 Jericole Hellems
D.J. Funderburk
NC State Basketball
LOCKER ROOM REPORT: Wolfpack Players
---
Junior forward Jericole Hellems and redshirt senior forward D.J. Funderburk met with the media via Zoom to discuss the Wolfpack's 72-67 win over Wake Forest Wednesday evening.
NOTE: Click on each player's respective thumbnail to watch each interview in the player above.
---
Jericole Hellems
How big of a shock was it when Devon Daniels went down?
"We're always worried about our brother when we have somebody go down, especially with a knee or whatever the case was. It's scary. You don't want to see your brother down. We got a little worried, but we came back and finished the game like we're supposed to."
How tough was it to eliminate Wake Forest's three-point shooting? How would you evaluate the team's performance?
"They've got great shooters. If you've watched their games and watch them play, they've got good shooters and good players. I think we did a good job taking care of that today, and we made it tough for them."
What headspace are you guys in with the win but also Daniels' injury?
"A win's a win at the end of the day. We're praying for our brother for a quick recovery, but at the end of the day, it's a win, and it's a blessing to have a win."
Was the strategy focused on penetration and dishing to open shooters, or was that just something that presented itself?
"Coach always tells us to be aggressive and look for our shot, but when you see you have a defender helping and sagging in, you've got to be able to look for a teammate and believe that he'll knock the shot down."
How good was it to see the ball go in the basket again?
"It's always good to see the ball go in, and like I said, at the end of the day we got the win. It's good news."
D.J. Funderburk
How much did Devon Daniels' injury affect the team?
"As far as on the court, it affected us because he's part of our scoring, but we've got a lot of guys on our team. When I saw him go down, as far as for me and the rest of our team, it gave us a little extra motivation to win the game for him. It didn't look good when he was holding his knee. We don't know anything yet, but it just didn't look good, so I just wanted to get that win for him."
Was it a distraction when it first happened to where it took focus off the court?
"No, I didn't think it was a distraction."
Was it tough after winning this game with Daniels' injury on top of everything that's transpired?
"No, we went in the locker room and celebrated as a team. We just try not to get too high or too low. We just try to keep going. We were definitely happy about the win though."
How hard is it to balance transitioning off turnovers and securing the ball yourselves? How much is that something you need to work on in practice?
"As far as defense, twenty-one turnovers is great for us. In practice, we constantly work on taking care of the ball, making sure we get in our place, and get where we want to execute our plays right. We want to continue to work on taking care of the ball."
How big of a focus was scoring off of turnovers in this game?
"To be honest, I felt like we looked at film, and we watched how easy we could get into transition. Off of their misses and some of those close threes that they almost made, we just tried to capitalize and come down on the other end."
Never miss the latest news from Inside Pack Sports!
Join our free email list