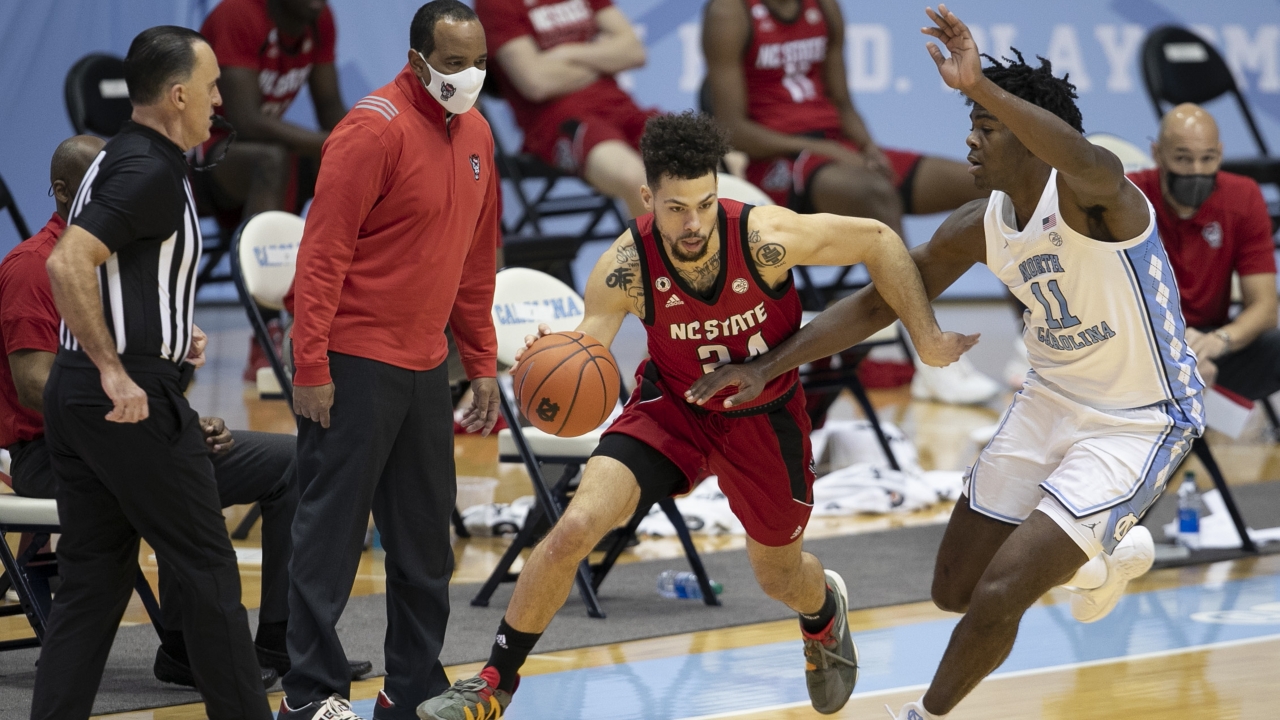 Braxton Beverly
Manny Bates
Devon Daniels
NC State Basketball
LOCKER ROOM REPORT: Wolfpack Players
---
Several NC State players met with the media via Zoom following the Wolfpack's 86-76 road loss to North Carolina Saturday afternoon.
NOTE: Click on each player's respective thumbnail to watch each interview.
---
Braxton Beverly
How did the pause affect you in terms of trying to get your rhythm back?
"It's a challenge, but of course every team in the country is going through it. I've never been a part of a season where it could just shut down for 8-14 days and just pick right back like normal. It's weird, and it's something we've got to learn to deal with better."
What helped you have such a good game today?
"I'm feeling better. I'm getting healthier. The last week and a half off or however long we've been off was a good time for me to heal, go through some rehab, and get back as healthy as I can. I felt much better."
How important is it to get those reps in practice leading into a game?
"Very important. I had to sit out, and I didn't practice before any of the last three games. I didn't want to, but I just needed my leg to get right. It was obvious to see; I didn't have my legs with me, and I was out of rhythm. We're not pros getting paid 80 million a year. You can't just sit out and just show up. It's hard to do, so those reps in practice are needed."
As a senior on this team, what do you tell the younger guys on the team about how much basketball is left and where you go from here?
"I just keep telling them to stick to the process and that it's going to be a tough season. This isn't the best conference in the country for no reason. Every game is going to be a challenge, and we feel we're right there with anybody when we come to play. We've had COVID layoffs. We've had injuries. This is new for us seniors, me, Devon [Daniels], and D.J. [Funderburk], since we've been here, but especially for freshmen. Their first year of playing in the ACC, and they're playing in an empty gym like you're playing pickup on a Saturday morning. It's different. It's tough, and it's aggravating and frustrating, but the best thing we can tell them is just stay the course. Come in everyday, put the work in, and let that show with each game we take the floor."
Manny Bates
How did you feel out there coming back from injury?
"Honestly, I started out feeling a little off, but as the game progressed, I got back into the rhythm of things. About half the time, I was feeling good."
How frustrating has this four-game losing stretch been?
"It's extremely frustrating, especially with everything going on. We just have to work with what we have whenever we can and just get better from there."
When did you know you'd be playing?
"I had a pretty good practice yesterday, so that's when I pretty much I knew I would be playing today. With a sprained ankle, I still had to be cautious with it. Coach was just checking on me with every rep I did, seeing how I was doing. I felt pretty good after practice."
Have there been any instances where the team's layoff affected the team's performance?
"It's hard to pinpoint one specific moment. It's just moments where we have breakdowns where we know we're supposed to do one thing, but something else happens. We just have to fix the little stuff in practice."
What did you feel like the difference was for D.J. Funderburk in the second half?
"D.J.'s energy is contagious. Once he gets going, that's when everybody gets going. He's a great rebounder and a great scorer. We just talked to him and said that we need him in the second half, and he showed out."
Devon Daniels
How do you balance shot selection when it comes to shooting threes? Is that something you talk about with the guys?
"Definitely. We definitely hit on that point. When we have an open shot, no matter if it's a three or a two, that's the best shot we're going to get, so you have to take it. There's no reason to hesitate. All the guys have been in there working. I think it just goes with the rhythm of the game. Some guys might not have been feeling it at that point, but either way, some of those shots have got to go up. That's the easiest shot we're going to get."
How do you pull the guys out of this losing streak?
"What we really made a factor and a main point after this loss today was that this is the point of the season where we have to really focus in the now. We can't just keep saying, 'Okay, next game we're going to do this and do that.' No, we've got to start making a change now. We don't want to be a team that gets used to losing like, 'We're going to go out there, play hard, play basketball, but if we lose, it's whatever.' No, we're a better team than that, and we've got to start doing the little things. We've got to start running hard. If we lose a game in practice, we have to run it out. We've got to run those sprints hard. We've got to lift hard. We've got to do everything with more enthusiasm and with more passion. We've got to bring it together as a group, and I feel like we can."
What is it about playing North Carolina that brings out the best in you?
"I don't know. I don't really connect the games or correlate them. They're brand new games. The ball was moving well in the first half. We were getting up and down in transition. We were moving the ball side to side which opens up the lanes for easy shots. In the second half, they started switching, and we started giving up a little more ball movement. In the first half, we got kind of stagnant toward the end. I just read the game."
Do you feel like the team is meshing well on defense? If not, how much does not being able to practice together over the past two weeks weigh into that?
"I don't think we can really blame it on that. At the end of the day, we've got to come out here and play basketball no matter if we've practiced for two weeks straight, a week straight, or if we haven't had everybody in two weeks. At the end of the day, we've got to play as hard as we can out here. I think finding our rhythm as a team could help with some practice, but defense is just about playing hard and having each other's backs. We've got to get a little bit more passionate and get a little bit more stingy on defense. People have been scoring too easily on us."
Do you think it's an effort issue on defense, or is it about miscommunication?
"I don't think it's an effort issue. We've just got to stick to our principles. At the beginning of the game before the game started, we hit our key points. We can't allow them to get offensive rebounds. We can't allow them to get post-ups. We've got to communicate on screen switches and stuff like that. We're doing it, but we're not doing it every single time down on the floor. We're taking plays off. We've got to get back to doing it, if not 100 percent of the time, 99 percent. Those little things are very, very important to winning the game."
Never miss the latest news from Inside Pack Sports!
Join our free email list