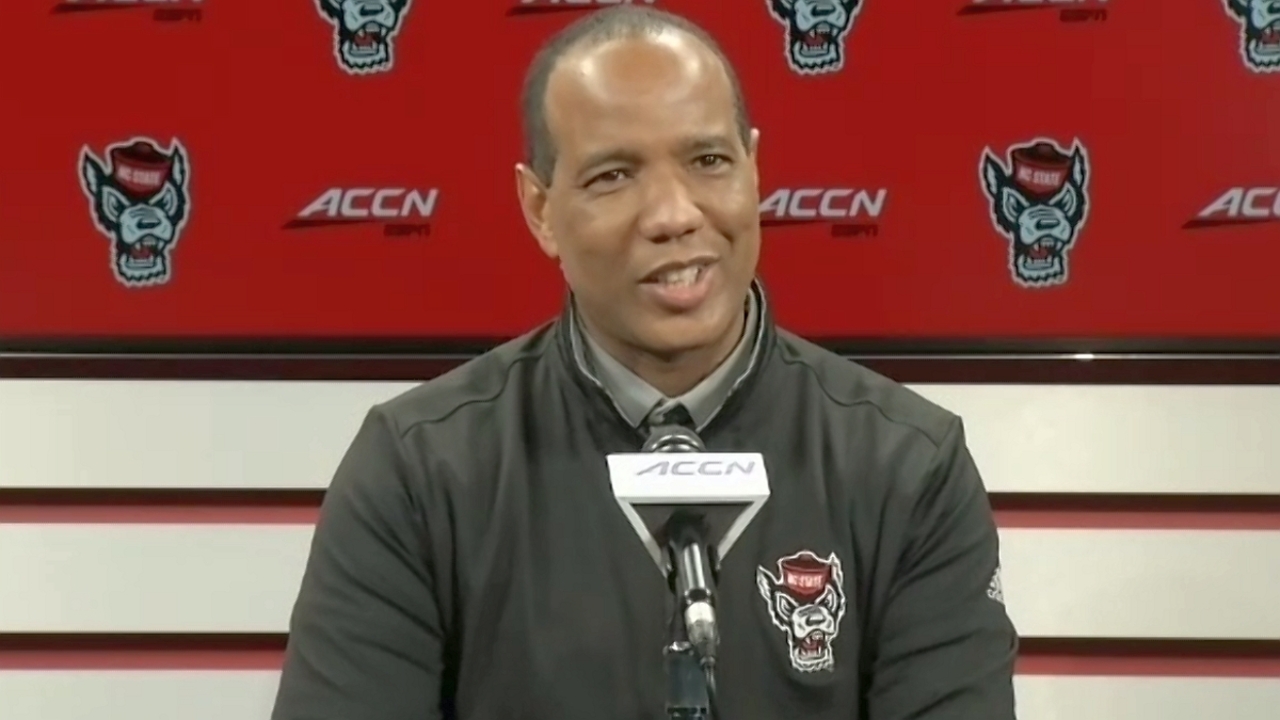 NC State Basketball
KEATTS: "Our Guys Are Excited About Getting Back on the Court"
---
NC State head coach Kevin Keatts met with the media via Zoom ahead of the Wolfpack's upcoming road game versus North Carolina.
NOTE: Click on the video in the player above to watch Keatts' press conference.
---
Opening Statement...
"I hope everybody's well. Obviously, we've been off for 10 days, and I hope we don't play like we've been off for 10 days. I know I'll get a bunch of questions about Manny Bates. He was able to go through some individual workouts the last couple of days. I'm going to throw him into some live action today and see how he does. A lot of that will determine whether he plays in the game tomorrow or not. He had a grade-two ankle sprain that was pretty good, and one of the biggest things that we battle with with him is trying to keep the swelling down, but it's doing well. We're rusty. We haven't had a full group of guys to be able to practice every day. We have been able to get back into the gym with a good bulk of them, but we're coming off a layoff. I will tell you this: we will have more guys than we had when we traveled to Saint Louis, so that's a positive thing."
What similarities and differences have you noticed compared to the pause you had in December? How much have you been able to do in practice?
"These pauses are weird because when you have somebody who tests positive, the first thing you have to do is pause. You pause for a couple of days just to figure out who's caught up in contract tracing. At that point, you're not able to have anybody on the court because you want to be careful and make sure that nobody who may have had contact could pass along to anybody else. It takes a couple of days after that, and then obviously during those couple of days, we're testing. We're finding out, and I'm not [Secretary of North Carolina's Department of Health and Human Services] Mandy Cohen, so I don't know this, but we're finding out that anywhere from three to five days after you have a positive, there's a chance of anybody who's affected typically turns around at that point. That's just NC State, so I'm not saying that across the country. I don't know any of that stuff. It's weird. I don't know the difference meaning how many days compared to how many days we had before. What I can tell you now, I would say it's probably been half that time, maybe a little over, maybe six days or so. I think by the time we play, it would have been 12 days before we could get on the court."
How's Braxton Beverly doing?
"I think he's fine. The hardest thing about him is that you don't know he's injured unless you identify it yourself. He will not tell the trainer. He will not come to me, so we have to really watch him because he's the type of guy that will play through any type of injury. He seems to be doing well. My biggest thing for him is to get his mojo back. With him, I told someone yesterday: right now, we're playing two freshmen a lot of minutes. In this league, it's tough to win with freshmen. You have a freshman point guard and a freshman shooting guard which both of those guys can play two positions. Because Braxton hasn't had a great start to the year and then the other guy we were counting on as a redshirt freshman in [Dereon] Seabron which we looked at as a sophomore similar to Manny because he was an academic redshirt, you would hope those two guys would be playing really good basketball right now, and then you could bring the freshmen along a little bit slower. They've been thrown in the fire, and they've had to play big-time minutes. When you look at most programs that are playing freshman point guards or freshman guards, they typically struggle. I think that's part of our issue right now."
Your half-court offense has been really good from an efficiency standpoint, but your transition has struggled. Why is that the case?
"I know a lot of people will write, 'Man, the offense always struggles.' If you look at us over the last three to four years, we've always been one of the highest scoring teams in our league, which is mind-boggling. One of the things is that I don't think we've created as many turnovers, especially in league play, off of our defense, so we're not getting out in transition well. When you look at our numbers on defensive rebounding, they've gotten better, but initially early on, it wasn't as good. In order to get out, run, and get some easier baskets, you've got to rebound defensively, and we hadn't done that, and it's hurt us a little bit more with Manny being out."
Can you elaborate on what you were dealing with in terms of the number of positive tests and quarantines?
"It's tough because i find myself waiting for test results pretty much everyday. When we got back from Florida State, we had our first positive with a tier-one. Honestly, we couldn't figure out where it came from. We had to stop, then we tested, and then a couple days later we ended up with another one. In total, I think we had three of them. It's tough because every time you get one more, you have to go back and figure out how that person was involved with somebody else. There's no training for this, as you know. We're blessed and fortunate in athletics that you can test a little more frequently than most people, but it's one of the hardest things you can do. We're wearing a connected tracing device, and that sometimes helps you, but at the end of the day, it doesn't give you the full picture. You have to think about this now when you travel; you're talking about the airplane, and when you land, you're talking about the buses that you have to ride from the airport to the hotels. You think about the meeting rooms. You think about anytime that you eat for meals. At any point, all of those could be contacts, so it just affects your whole program. It's the right thing to do, and we have to do it, but you can't get any consistency, and you can't get a flow in your team because on any given day, you may release one or two guys this day, and the next day you can release another guy. It's tough. I've had more Zoom calls with our players saying, 'Hey guys, I just wanted to give you an update. This is what's going on. This game's going to be cancelled. Here's what's happening right now.' We've done that more than what I've ever had to do in the past."
Carolina Hurricanes' head coach Rod Brind'amour said, 'We followed all the protocols, and it still got in our locker room.' In your situation, does it make you say, 'Is there anything else we can do further beyond the protocol?'
"When this thing first started happening and I'd get a positive, it would bother me. Then I'd start thinking, 'How can I be bothered with what's going on around the world?' Nobody can figure it out. The smartest scientists in the world don't know how you contact it, and you don't really know where you're getting it from. We're doing everything we can do from our standpoint. Now that being said, I'm not with our kids from five to one in the morning. I hope they're not out that long. Then you add the fact that you have more students coming back to campus, not that that's a bad thing, but it also gives you an opportunity for those guys to be able to mingle with more people. I think we're doing everything that we can. When you look at some programs, I think I get this debate all the time: 'Why don't you do what so-and-so's doing? They don't have any breakouts.' That's not necessarily true. It just depends. Maybe some teams had a bunch of guys affected in the summertime. For example, our women's team was rolling, and Wes [Moore] and I were talking everyday and comparing notes, and all of a sudden, it happens. It's going to happen to everybody unfortunately. In our situation, I feel bad for our kids because it's happened to us, and it just happened to happen when we had some injuries too, so with Manny Bates being out, it changed us a little bit. You can do everything that you plan to do. We have a group that meets on every Thursday with sports medicine. We talk about the things we can do that we're doing well and that we can do better, and at the same time, there's no way to ever tell how you can get affected by the virus right now. That's what makes this virus so dangerous."
In the preseason, you were worried about stuff like this happening. Has it been worse than you've imagined at this point?
"I won't say worse, and here's why I won't say worse: Worse means that we're not playing basketball. When we shut down last year, that was worse. Even though our country is a lot worse off than it's been ever, we are having the opportunity to play, and I don't take that for granted. Our players don't take it for granted. I heard one of our upperclassmen yesterday tell our guys, 'We don't know if this thing's going to end tomorrow, so we've got to practice and play like it's our last opportunity.' I don't think it's worse than I thought. It is worse because the virus has spread so much, and we can't control it, but from our standpoint, getting the opportunity to play has been a positive thing for us."
What are your thoughts on the problems North Carolina presents? What kind of growth have you seen from the Tar Heels since you last played them?
"They've gotten a lot better. They're one of the few programs that haven't had to pause in a while. They've gotten a lot better. [Caleb] Love and R.J. Davis are playing really good basketball. It seems like they're becoming a little bit more comfortable. I think Love was the rookie of the week, and he did a tremendous job. He's playing with confidence, and he's starting to shoot the ball a lot better. With R.J., I think they've settled him down a little bit by bringing him off the bench to be able to see the flow of the game. Any time you're going to play Carolina, one of the things that they hang their hat on is their tremendous rebounding. They get out in transition, as you know. [Armando] Bacot has become a really tremendous low-post scorer. He's done a really good job. They're playing with a lot of confidence. They're shooting the ball a lot better than when we played them, and they're taking care of the basketball."
Do you think playing a rival gives the team a little more juice than you would have had coming in cold after an extended pause?
"I don't know what we have. I only have one thing to go by: We played Saint Louis, and we had a great first half. The reason why we didn't have a great second half is because we just didn't have enough bodies. When I leave and head to the game tomorrow, I'm going to feel confident in my group, but I don't know how my team will react with 10-12 days off of not having everybody on the floor at the same time. I hope we have learned, but this will be a tough game to judge anything from because I know the last time we played was at Florida State, and Florida State played like they could have beaten the Lakers that night. I wish I didn't have a layoff where I could see my team a little bit more. We're going to come out and play. Our guys are excited about getting back on the court, but as far as how we play or how much rust we have on us, I couldn't answer that."
How have you tried to help your team learn to adapt to the everyday challenges of this season?
"It's tough. I try to be there for my guys in so many ways. The mental part of this thing and the stress of having to quarantine has been tough on these kids. I don't know how anybody can judge a young man about how he plays in these unusual circumstances. I get it because you play as a part of a team and part of a college, and you're supposed to represent your school the best way, but it's so unusual. When you think about getting recruited into a place like NC State, you typically play in front of 21,000 people, especially during conference. We've been one of the top 10 in attendance since 1999, but you walk out to play a game, and there's nobody there. Nobody thinks about that part of it. The other part of it is having to navigate not having a relationship with anybody as a freshman. When you come in, you don't even have a relationship with anybody that's part of your classmates that may not play basketball. You don't get a chance to see anybody unless it's online. It's so difficult that basketball players and basketball coaches are creatures of habit, and when you take that away, it makes for a stressful year and stressful situation for most of them. Some people are doing well in it, but most are struggling. I try to make sure we have great sports psychiatrists that if our guys need to have a chance to sit down and talk with someone. The coaching staff, we've been more, 'Hey, reach out to these guys. Talk to them at night. Try to FaceTime, and try to do as many Zooms as you can,' because it's so bigger when you get them outside of basketball than that two hours that you may have them."
Never miss the latest news from Inside Pack Sports!
Join our free email list