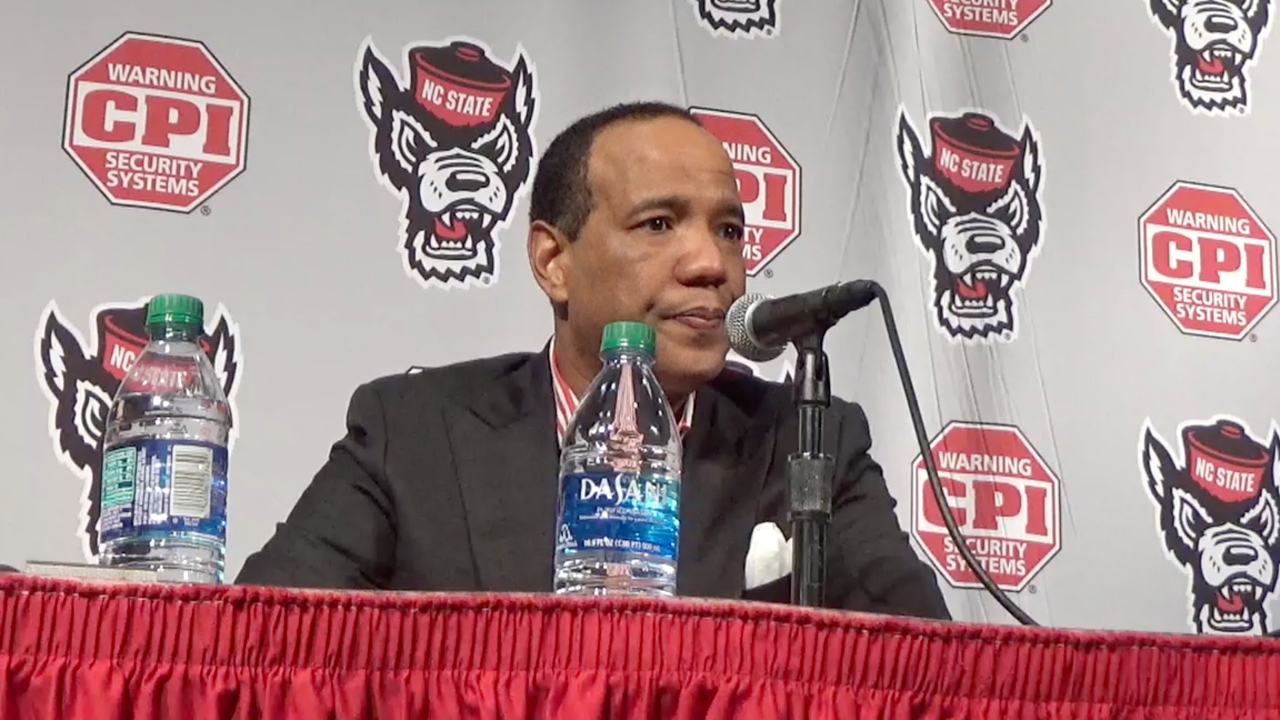 NC State Basketball
Kevin Keatts: "We've got to get better at those situations"
---
When NC State men's basketball takes on Florida State this week, it'll be looking to snap a two-game skid against a tough opponent on the road.
Head coach Kevin Keatts spoke with the media as part of the ACC basketball coaches teleconference Monday, and here's a full breakdown of everything he had to say:
---
You've got the game against Florida State Wednesday. How do you think they match up against your team?
They're good. I think they're one of, if not the most talented team in the league. Being able to switch one through five, with a talented freshman at 6-9 running the point, they do a good job. M.J. Walker's playing well. They've got a really good basketball team. When you look at the way they play, they're starting to pick you up full court, they make it tough on you defensively. You've just got to figure out a way to score against those guys. They have great size as one of the teams in our league where they're big at every position.
Now that you've had a couple days off and watched some film, have you pinpointed one thing that's caused the turnovers and missed shots the last couple games?
A lot of it is that there's so much parity in this league. I think a lot of people don't realize when you look at our league that on any given night, you can win a game or you can lose a game. As a guy who loves to force turnovers, I'm certainly not happy with the way that we're turning the ball over. I wish I could go to one or two guys and say, "Hey man, you've got to protect the ball". But it's been a collection of a bunch of guys who have turned it over. When you look at the last game, I think we had 16 turnovers, but it was two from one guy, three from another, add one from this guy. We just have to protect the ball a lot better.
That's expected when you're basically playing three guys that are freshmen at the guard position when you talk about Dereon Seabron, Cam Hayes, and Shakeel Moore. But I need our veteran guys to do a better job of taking care of the basketball. When you look at the two games, what a great game we played against Clemson, who I would guess is going to be inside the top 15 when the polls came out today. We led and could have won the game.
Against Miami, we played against a good Miami team, and I say good team because they had an opportunity to beat Clemson, an opportunity to beat Virginia Tech, and they showed up and played well. That game, we just didn't have it offensively. We just didn't score the basketball offensively and I thought that affected us. It's such a thin line in this league this year with turnovers, mistakes, and missed free throws that it can go one other way, and we've got to get better at those situations.
Have you gone to your older guys and told them 'Hey, I need you guys to be better and settle guys down late in the game?'
Yeah, we took off yesterday and I had individual meetings this morning with all of our players, just as something I normally would do anyway. But one of the things that we talked about is what we need from you and how I feel like you're playing at this moment, and giving them an opportunity to see what they thought their play looked like. A lot of times guys see something differently than you do, and we typically come together as an understanding of what we do moving forward.
You've got two games coming up this week against teams that won't have played for two weeks. I know every game this year has been uncertain, but because of the situations with COVID, does that change how you guys prepare for games?
The toughest things that I've had to deal with as a coach is dealing with situations where you guys may not realize that we don't have several guys practicing ourselves. Even though you might not have COVID, we've got this thing set up where if pretty much any of our guys have some type of symptom, we will hold them out of practice just to make sure we take care of everybody else. For example, Braxton Beverly did not practice one day heading into the Miami game because he had an injury. Thomas Allen, who had some symptoms and turned out to be negative, he got 45 minutes of practice in in two days because we were waiting for his results.
So what we don't take into consideration, even though it's COVID, we don't think about the natural things that would happen if it wasn't COVID. Sometimes there's flu. Sometimes there's illness. Sometimes there's other stuff. COVID has even kind of changed the way we enter practice. So just because our team may not report that we have a COVID positive doesn't necessarily always equal that we have everybody in practice.
So to go to your question, we have to, a lot of times, try to work on ourselves and sprinkle in enough stuff to talk about each team. But I could get a call today from our doctors or from Florida State or even Georgia Tech that say 'Hey, the game's not on.' And so you've got to have a good balance of trying to make sure that you clean up the things you need to clean up, and then obviously be competitive against that team you're supposed to face on Wednesday.
I know your ACC opener against Louisville was postponed. Has there been any conversation about rescheduling that game and when it could take place?
What happens is there's a lot of conversation between the ACC and our sports administrators, and there will be dates that will be thrown out and see if any of the games that we miss, if they can be replaced or it just so happens that there's a team that you're supposed to play one week that certainly can play and you've got an opening in your schedule. There are conversations. I know a lot of people are saying, 'I know we're saying postponed, but are those games going to be cancelled?' That's not the way any coach or the ACC looks at it. We're all trying to find a good time if those games can be made up. And we all want to make them up. We all want to play the games.
D.J. Funderburk leads you guys in field goal percentage and free-throw shooting, but the last game he only got seven shot attempts. In general, is it tougher to get big men the basketball than it it is if you've got a go-to guard?
I don't know about tougher. Sometimes that just depends on the flow of the game. A lot of times it depends on how a team is defending any of our players, especially post guys. Sometimes there's a double where their guys have to pass it out. In our situation, with D.J., I think we've done a good job of getting him the ball in certain spots, but we've had a couple games where we have turned the ball over and not been able to get him the basketball. So when you look at us, if you just take the small sample size of just the Miami game, and we turned the ball over 16 times, maybe we get him four more shots out of those 16 turnovers that we had and it makes a big difference. He's playing really good basketball, and certainly our guys have made an effort to throw the ball inside to [Manny Bates] and also D.J. this year opposed to what we've done in the past.
I was looking at the NET rankings this morning, and because you missed the Michigan game, your nonconference schedule isn't what it would have been or maybe what you would want it to be. Do you wonder how the selection committee come March is going to put it all this together?
I have no idea. I think everybody on this call, if you could figure that out for us, you would help us out. It's a tough job. Do you take the eye test. Nonconference is not nonconference. Typically, we would have 11 nonconference games to have a sample size of who we get a chance to play. How much do you weigh the conference games. How much do you weigh your conference games.
Here's a different thing that nobody's looked at: Do you put the same amount of emphasis on away games where in many places there aren't fans? I'm sure when the NET was created, one of the things they considered about a road game is having to go into hostile environments. Is that the same? What do you think about a neutral court game. Is a neutral court game rated the same as a home or away game? They've got a tough job at the end of the day, trying to figure it out. I don't know if the NET will be used as much.
I would hope that as we get closer to decision time, they'll make it clear to most of the teams what they're basing some of their decisions off of. Everybody may be upset. I will say this, if it's not cleared up on how you're selecting teams, it could be a big-time unbalance of what happens on selection Sunday.
Your team plays with supreme confidence for stretches of a lot of game and then there are a lot of stretches where they look like they're holding on for dear life. Can you coach mental toughness into a team?
We can certainly give them confidence. Any time as a coach, I certainly pride myself on making sure my guys have the most confidence that you have. But this is the first year since I've been here that I think I've had to play at least two or three freshmen at the guard spot. So when you look at that, you're playing Shakeel and Cam starting minutes. And they certainly deserve it because they're really good basketball players. But when you've got so many guys handling the basketball as opposed to in the past, Markell Johnson led the league in assists. So a majority of the years that I've been here, he's had the ball in his hands more than anybody else. Now I've got Shakeel with it, I've got Cam with it, I also have [Devon Daniels] that will handle the basketball.
So to go back to your original question, we've just got to play well. I don't think those guys are nervous. We just haven't had great ball security, and it's weird, because this is how we typically play against other teams and teams typically turn it over against us. We've got to get better in those situations. We're not turning it over full court, we're turning it over half court, and that's one of the things we've got to get better at.
Never miss the latest news from Inside Pack Sports!
Join our free email list