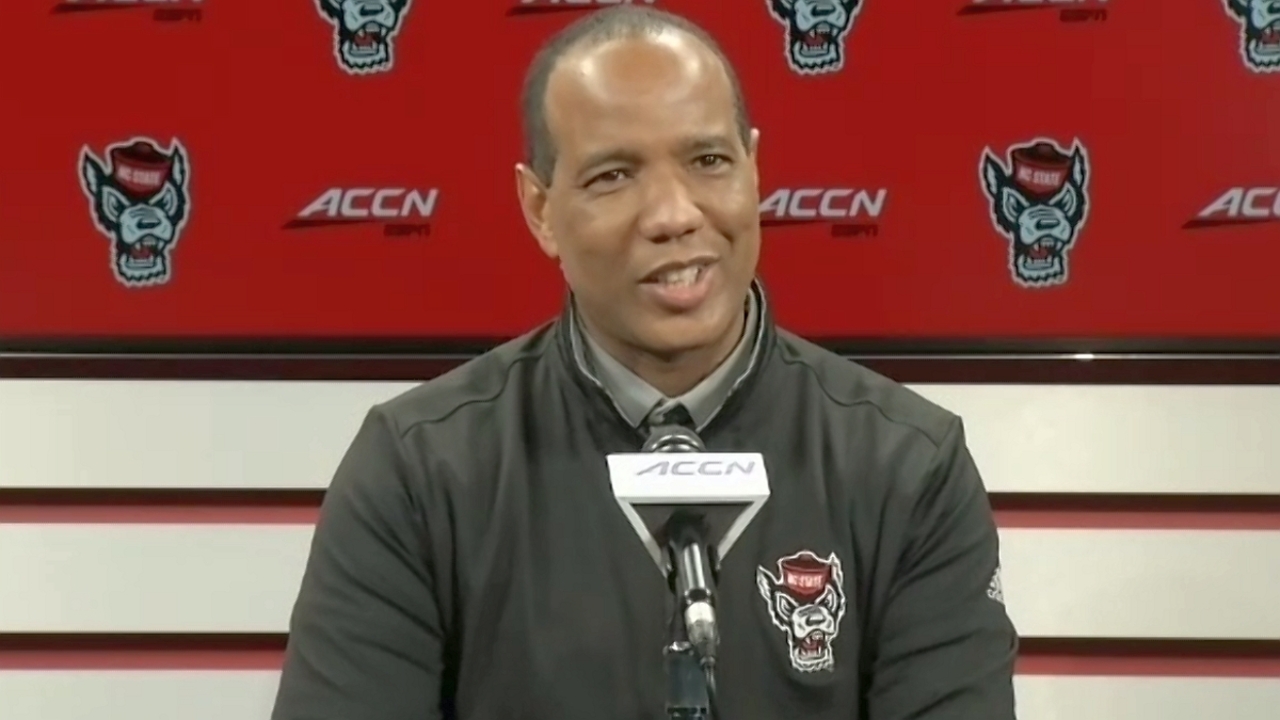 NC State Basketball
Locker room report: Kevin Keatts, DJ Funderburk on loss to Miami
---
NC State men's basketball suffered its second straight loss Saturday, falling 64-59 against Miami at PNC Arena. The Wolfpack was way too sloppy against the Hurricanes, shooting just 37.9% from the field and turning the ball over 16 times.
Head coach Kevin Keatts and senior forward D.J. Funderburk spoke to the media following the loss, here's a full breakdown of everything they had to say:
---

Kevin Keatts
Opening statement
I didn't think we played well. The obvious thing is offensively it's not a good formula for my teams when you don't score 60 points and have a chance to win the game. For whatever reason, I didn't think we were clicking offensively. Give Miami's defense some credit for the way we didn't play on the offensive end. We've got to get better. This is one of those games where usually we play a little bit better on the offensive end, but we just couldn't get going. Very seldom does it happen with us in two different halves. Typically we can find it in the second half, but we did not have it today.
This is your first game since November that you had your rotation of nine guys. Are you still trying to work on getting everybody back healthy and involved?
It's not so much a rotation, we just have them all physically ready to play, meaning that they're cleared to play, but everybody is not ready to play. As you know, [Braxton Beverly] is still dealing with his ankle. We still have some guys who haven't gotten back in great shape. That being said, I like where we can go once we get everybody healthy and everybody back playing good basketball. We just did not have it today. I can't explain it. We've got to figure it out, we've got to flush it out of our system, we've got to take a day off and try to get better, and figure out how to play our next game."
You guys held them scoreless for 7.5 minutes and scored 11 straight points, then turned things around on the defensive end. Then they outscored you 14-5 to finish the game. What changed after that run?
The crazy thing about it is we scored 11 points straight and we still didn't reach 60. I know I'll sound like a broken record, but this one of those games where offensively, we could not get going at all, even though we had some runs and some stretches. But we couldn't sustain it for the entire period of time. The way we played on the offensive end is a little disappointing. I think a lot of times with teams, a lot of other areas will suffer when you're not scoring the basketball, and I thought our energy level was really low.
Was it a matter of settling for perimeter shots?
I don't think any of our main guys played good basketball today. I thought they were all just OK. We didn't have that guy that played well. When you look at the stat sheet, of course Thomas Allen had 14 and D.J. had 12, and it looks like Devon had 11, but I don't think any of those guys played great.
D.J. said the similarities between this game and the Clemson game late in the game were some mental lapses. You said you hoped the guys would learn from the Clemson game. Is it kind of frustrating to see those same mistakes pop up for the second straight game?
I don't compare this one quite like the Clemson game. I think they were totally different games. In the Clemson game, I thought both teams were really scoring the basketball. Obviously we made some turnovers. My biggest thing for us today is that we couldn't get going. I couldn't get a hot hand. Thomas made a couple 3s, but it's a tough game when [Manny Bates] isn't playing well, [Devon Daniels] isn't playing well, D.J. was just OK. So we didn't get any of our seniors who played well to lead our younger guys. When that happens, it's not a great formula to win the game.
Would you agree with Funderburk's assessment that Miami was tougher today?
I am not going to say that they were tougher. I thought they made tougher plays down the stretch. When you look at it, we get a good stop on a jump shot. We give up a block out for a tip in. Those types of things. The stuff that we need to do to win the game. And once again, if my team scores the basketball it is probably a different outcome and certainly we didn't do that.
Do you think the turnover situation on offence recently has been mental or something else?
That is something we have to figure out. We have lost the turnover battle which is tough because we typically don't lose that. When you look at us tonight, we had 11 assists and 16 turnovers. We have got to get in practice and really work on ball security. That was something that we concentrated on the last couple of days. That is what we talked about going into the game. It is so many guys doing it, that we all have to do a better job in that area.
Do you share Funderburk's view that Maimi "punched in the clock" right at noon and NC State did not? Did you see a lack of urgency?
I don't think it is a lack of urgency. What we talked about is, 12 noon games are tough games. The team that walks in and is really ready to play, I think every team is prepared to play, but whoever can find the energy at the beginning of the game is typically the team that is going to win the game. Not that we did not have energy, we just could not find the rim offensively. I do not know what it was. I will go back and say this: Miami won the game, give them a lot of credit. They are a team who have lost several games at the buzzer. Could very well have a winning record in our league. They found a way to win today and we found a way to lose today. We have to correct that and get back to winning the turnover battle. That is the thing that we have to get better at.
Is Thomas Allen someone you want to shoot more?
He and I have had a long conversation and he has a green light. At times he won't take a shot and that is just the personality that he has. He is getting the opportunity. We need him to score the basketball especially when he gets great looks and we talked about going into this game. Obviously, I want him to look for his shot. He is a weapon that we want him to explore. I want him to take more shots behind the 3-point line.
D.J. Funderburk
Why did you guys struggle to get the ball inside?
To be honest, we weren't patient enough. It wasn't, we just didn't react to the defense the right way.
Why was that the case?
I'm honestly not sure right now. I'm going to look into it when and try to figure out what went wrong. Right now, I just feel like it was a disappointment losing that game. I feel like we're better than that.
Did you guys have similar problems down the stretch to the Clemson game?
Yeah. Down the stretch we just missed important, important stops. We just couldn't convert on offense sometimes. They came down and they were tougher than us. They got to the line 20 times. Isaiah Wong did a great job of making great plays for his team. It just didn't come out positive for us in the end.
Did you guys really think Miami was tougher?
It is what it is. Sometimes teams come in and they are a little more aggressive than you. They came to punch the clock at 12 o'clock today, we didn't. It's just as simple as that. It doesn't mean that they're tougher than us, but in this game yeah, that's what happened.
What's the difference between starting and coming off the bench?
To me personally, it's not a challenge or anything. I'm used to coming off the bench. I'm used to starting. I can adapt. That's never a problem for me. I just try to focus on the game and contribute when I get in.
Was it easy to overlook Miami without two of its best players?
No. I'm very well aware of what [Chris Lykes] can do. I've been playing against him since high school. And then seeing Kam McGusty play last year, I remember him playing. We didn't overlook anybody. We knew what [Isaiah Wong] could do. He came in last year and had some great minutes against this team when they had injuries. We went over film a lot, coming into this game. Like I said, I've got to look over what went wrong, and I might have some answers later.
Have there been similar factors to NC State's second-half struggles?
To be honest with you, the best answer I can give you is just mental lapses. Sometimes, even me, I forget plays. We may go too fast or not have the right patience or miss an assignment. I missed an assignment in the corner and [Matt] Cross hit an important 3 for their team. It was just stuff like that. It's a game of possessions. If you mess up on one possession, it may hurt you in the end when you don't have that extra possession to make it up.
Never miss the latest news from Inside Pack Sports!
Join our free email list