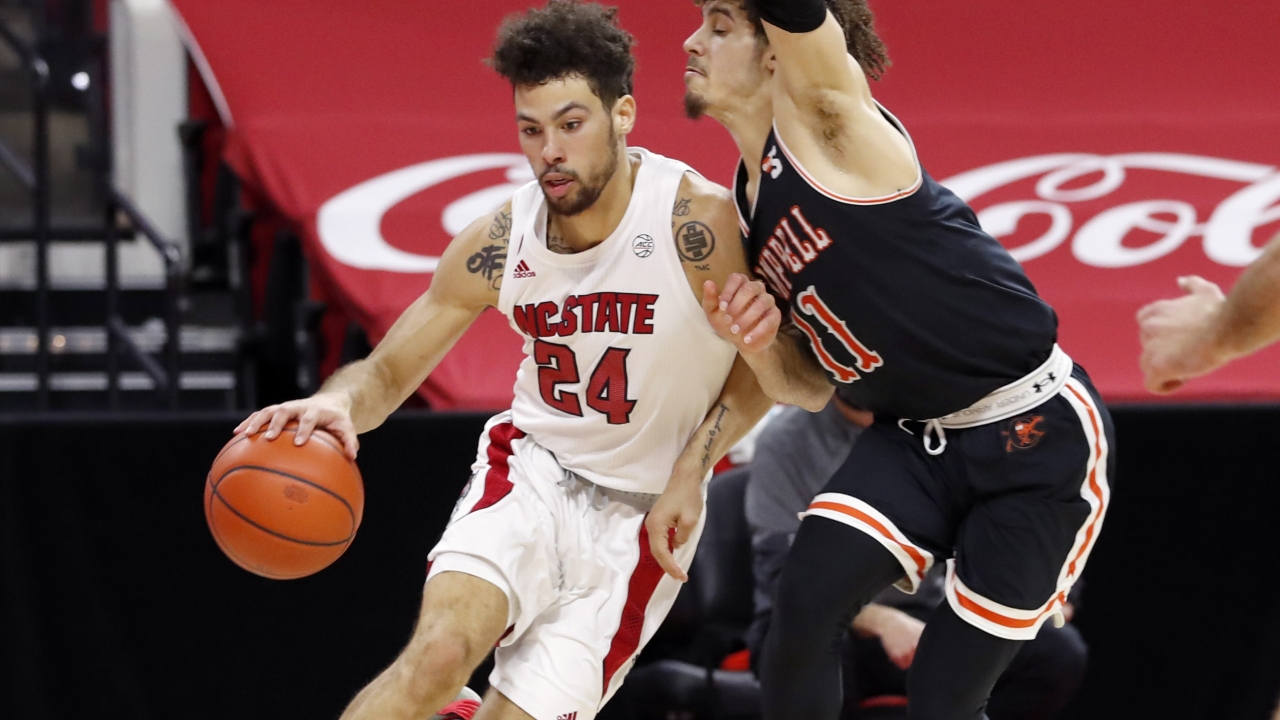 Photo by ehyman@newsobserver.com
NC State Basketball
Locker room report: DJ Funderburk, Devon Daniels on Clemson loss
---
NC State seniors both D.J. Funderburk and Devon Daniels both had strong statistical nights against Clemson Tuesday, with Funderburk posting 20 points and seven rebounds and Daniels 18 points and 10 rebounds.
Daniels played a key factor in Clemson's late comeback, however, with three turnovers down the stretch. Both players spoke to the media following a 74-70 overtime loss, here's a full breakdown of everything they had to say:
---
D.J. Funderburk
What does Shakeel Moore's play do for you guys?
Personally, I think having a freshman guard up there, he just brought a little bit more intensity, a little bit more nervousness added with it too. Just not trying to lose that last possession, as opposed to a vet guy knowing what to do and playing it a little bit more cool. It's great having him. He reminds me of Blake Harris on the defensive side. He's always trying to get a steal and convert big on the other side of the floor.
You didn't take many shots early, was that a result of Clemson's defense or you trying to open things up for other guys?
I think it was a little bit of both. I've been trying, this summer, I've just worked on my mental game and tried to make myself a little bit more aggressive with helping my team out. Some things I see in the game that everybody else on my team might not see. Say if it's on the rebound and they want me to get a certain amount of rebounds, two people might come hit me. So I might go tell my teammate 'hey, I'm getting banged by two people, so one of y'all can go get that board for me.' It just frees somebody else up. I was just trying to think about the game within the game for a little bit, but then I started to feel like I was thinking too much instead of acting.
How big was your performance down the stretch?
We've got a different guy every game. That's the greatness about our team. Just seeing how fatigued we were and how fatigued they were, it was just mental at that point. Like, you look down on the other side and you feel like it's winning time. You see that they're tired. You see that you're tired. That's what you sweat and work for everyday in practice. On top of that, one of our big guys, [Jericole Hellems], fouled out. I told him as soon as he fouled out like 'I got you, bro. I got you.' It was just kind of like me not trying to disappoint my team and not let them down and not let myself down. In my heart, I just told myself that I needed to step up.
How much has Manny Bates grown over the last couple years?
Tremendously. When he was first coming in he was a little bit shy. That's regular for freshmen. But on the court, he was skinnier than me when he first came in. Honestly, you can ask him yourself. He was getting bullied. We were talking to him a lot, talking a lot of trash and trying to build his composure, build his ego up.
He took that first summer and worked on his body a lot. He worked on his body with [strength and conditioning coach Pat Murphy]. He would run every suicide regardless of whether he won or lost that segment. He took the extra mile to get his body right, get his conditioning right. That next summer when we came back again, I just noticed that he was a little bit more aggressive. He wanted to go hunt his shot a little bit more as far as jump hooks, and under the rim getting dunks. He was a little bit more vocal with the team about when he was open or what to do. You could just see the maturity in him.
How big was limiting Aamir Simms early?
He's a vet. You can just watch how he plays. He's got great composure. He's really selfless. He tries to get his teammates open more than score, from my point of view. That was just one of the main focal points throughout the couple of practices that we had before the game. We just tried to come in and lock him down. He had a very loud eight points at the end of the game. He did what he needed to do to get his team the win. You can't do nothing but respect that.
Devon Daniels
What can you tell the younger guys after losing a game like that?
That one hurt. I feel like we definitely let that one slip. We've all got to learn, learn from the mistakes that we made at the end of the game. The offense got stagnant. I threw the ball away like three times. I've definitely got to start making free throws. It's a learning process.
How fatigued were you down the stretch having to play all 45 minutes?
That's a blessing. I can't complain that I'm playing the whole game of basketball. I can't complain. So, I've got to freaking take it on the chin, learn from my mistakes, not get stagnant in the place I'm in, so I'm not trying to force a play or anything like that. Just learn from it.
Where are you guys on cleaning up the turnovers?
It all comes just from learning. They are a tough team. They're older. They stuck together the whole game. We've got to learn how to keep our momentum going. Even when they make their runs, we've got to take it and then bounce back with our own. I think there were a few points in the game, even towards the later points in the game, where we could have really distanced ourselves and distanced the score. And they made more of a run. We've just got to focus in on those key points, focus in on runs. At the end of the game, like I said, we've got to clean up the turnovers, especially me being the older guy. We're gonna learn from it.
Are you optimistic about where the team is?
I mean, like you just said, it's been seven games. So yeah, I'm optimistic.
How big is Shakeel Moore's energy?
I love it, man. He's a bulldog. He's a freshman, but he's got so much poise. I love his mindset. All our freshmen, really. Some don't get the chance, but him and Cam [Hayes], they come in and give us everything we need off the bench. They're very poised. They're just gonna keep on growing. There is no limit on their game. They're just going to keep on taking it in, growing and helping us win games.
Is the guards getting rebounds a recipe for success for NC State?
Definitely. It's going to have to be a team effort. Coach said it earlier, but we just don't have that one big guy that's grabbing 10 boards a game, at this moment. Manny [Bates] and D.J., I feel like they can definitely do that because they're tough guys, but to start winning this rebound war we're going to have to do that as a whole group. It's not just going to be one person stepping up, it's gonna have to be all of us taking it on the chin, learning from it and start getting tougher down there.
Never miss the latest news from Inside Pack Sports!
Join our free email list