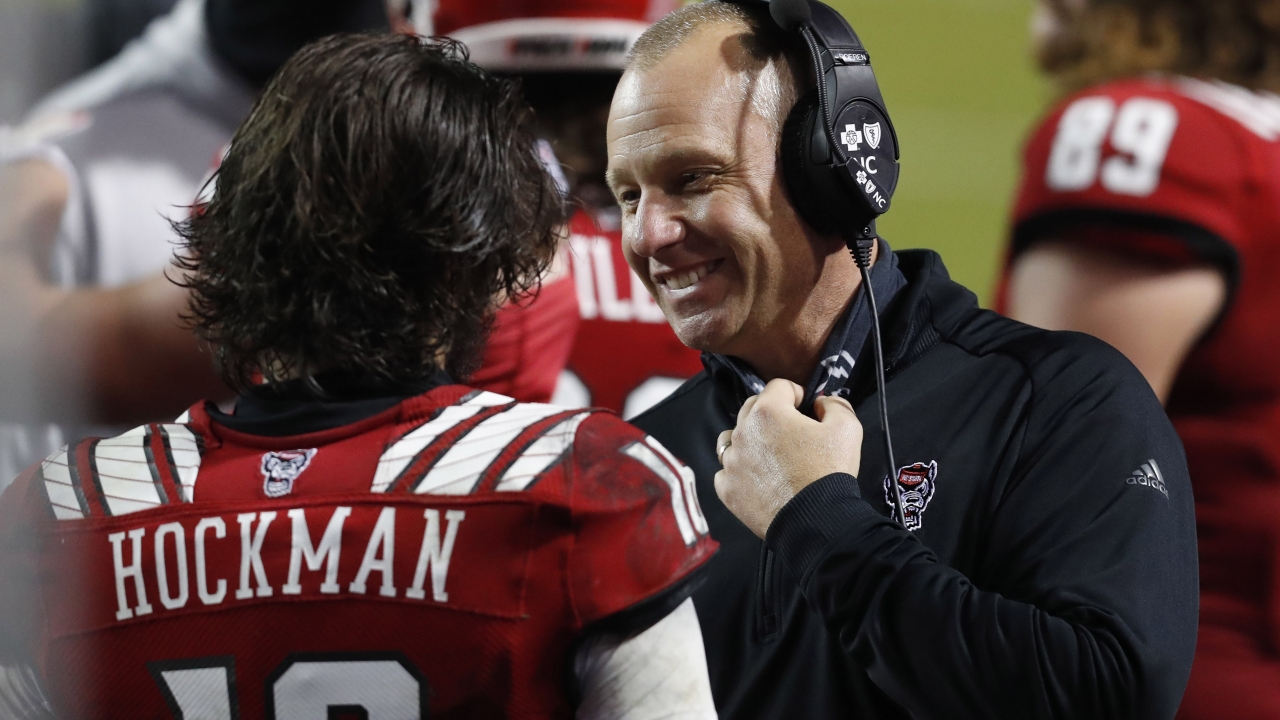 Photo by ehyman@newsobserver.com
NC State Football
MCLAMB: Bailey Hockman's Legacy
---
A quarterback, relegated to the scrapheap more than once, has a wonderful resurgence that culminates in a bowl game matchup against an SEC school where his family has a football background.
It was all set up for a glorious finish -- the kind that is too good to be true but also too ideal not to happen. The story practically writes itself.
Life is not a fairy tale.
The college journey of Bailey Hockman could have its own novel one day. A ballyhooed signal-caller commits to a massive program, struggles, and then leaves. He finds his way at a division rival -- via community college -- and then is thrown to the wolves by the Wolves as a program with consecutive nine-win seasons promptly falls into being one of the worst teams in the ACC.
After arriving at NC State in 2019, Hockman was not ready to succeed as an ACC quarterback. He was only marginally better equipped when he was handed the keys once Devin Leary could not answer the bell to start the 2020 campaign. It is a hard truth, although there should not be much shame in that. People grow at different paces.
His revival was plodding but delightful to witness. After being pulled in a rivalry loss, Hockman started to figure it out. NC State then benefited greatly.
To hear him tell it, Hockman thinks the second half at North Carolina was where he gained the confidence. He probably began to grasp things at a P5 level against Miami. Either way, he most certainly turned a corner and NC State -- a 4-3 team on November 6th -- closed out the regular season with four straight victories.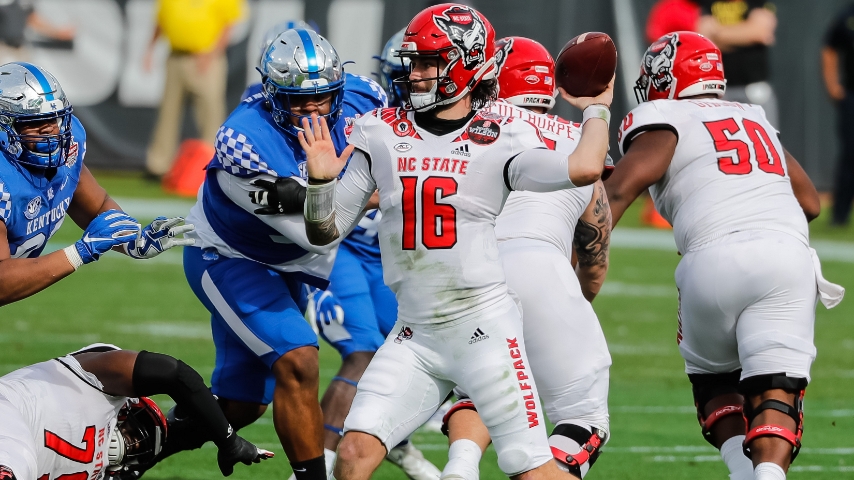 During the final four games, Hockman completed 84-of-128 passes (65.6 percent) for 1,041 yards, seven touchdowns, and three interceptions.
When NC State needed him most, Hockman was there and at his career-best.
Where would the Wolfpack be without Hockman? What type of momentum would the program have if NC State did not improve significantly in 2020? Would Dave Doeren have the same job security, or even a job at all, if the Pack had posted a second straight losing season?
Those are issues that will never have to be addressed.
Instead, there is an entirely different crop of questions going into the offseason. Several of them center around Hockman.
Will Hockman be a starter in 2021? Will he return to NC State if he is not a starter? Is there a higher ceiling for him, or has he maxed out his potential?
That leads to the biggest query of them all: Can NC State improve in 2021 and during the following seasons to eventually become an elite football program?
Dave Doeren basically has four bridges left to cross as head coach at NC State. He needs to beat Clemson, win an Atlantic Division, compete for and win an ACC title, and then finally guide the Wolfpack to a major bowl. Doeren eschewed a chance at the latter in 2012 when he accepted the NC State head coaching job, as his Northern Illinois squad was headed to the Orange Bowl.
In the process, Doeren (55-46 overall at NC State) is also probably three seasons away from becoming the winningest coach in school history.
After the Gator Bowl loss, Zonovan Knight addressed the media and immediately stated that he intended to improve his game during the offseason, with his pass blocking being mentioned specifically.
It seems on the surface, at least, that the Wolfpack is primarily focused on continuing its ascent.
Imagine what NC State would be like, post-pandemic, as a divisional champion, conference champ, or preparing to play in a major bowl? The thrill of that would be palpable across Carter-Finley Stadium, the school's campus, the city of Raleigh, and the state of North Carolina. Over the past decade or so, the Wolfpack had its opportunities (2010, 2017, 2018), but they could not breakthrough whenever the chance arrived.
If the Wolfpack do cross into unchartered territory in 2021, or in one of the few seasons after, the genesis of that journey may have started in this crazy year of COVID-19. It would be the ultimate irony of reaching unparalleled heights after returning to form during an unprecedented time in college football history.
NC State did not get its ninth win, and Hockman did not play well against Kentucky, where his uncle Ryan Hockman was also a quarterback for three seasons (1990-1992) during Bill Curry's tenure in Lexington. The idyllic opportunity that presented itself could not be completed into a beautiful story.
But the truth is Hockman's story was already compelling.
The Wolfpack football program owes a debt of gratitude to Hockman, regardless of where their immediate future may lie.
The potential for 2020 to be the extent of Hockman's on-the-field contribution to NC State is real. If that is where it falls, he can certainly view his college career as a success -- particularly when it comes to showing a resiliency that will serve him well off the gridiron during adulthood.
The 2019 season was putrid for the Wolfpack. No one projected things to be much better in 2020. Hockman saw to it that NC State got itself back in the mix.
The truest sign of respect and gratitude members of the NC State football program can show Hockman is to work to improve, including the coaching staff.
It is a legacy that may or may not be complete as of now, but it is profound, regardless.
Bailey Hockman became a great Wolfpacker in 2020. No one that truly loves North Carolina State University should ever forget that.
Never miss the latest news from Inside Pack Sports!
Join our free email list