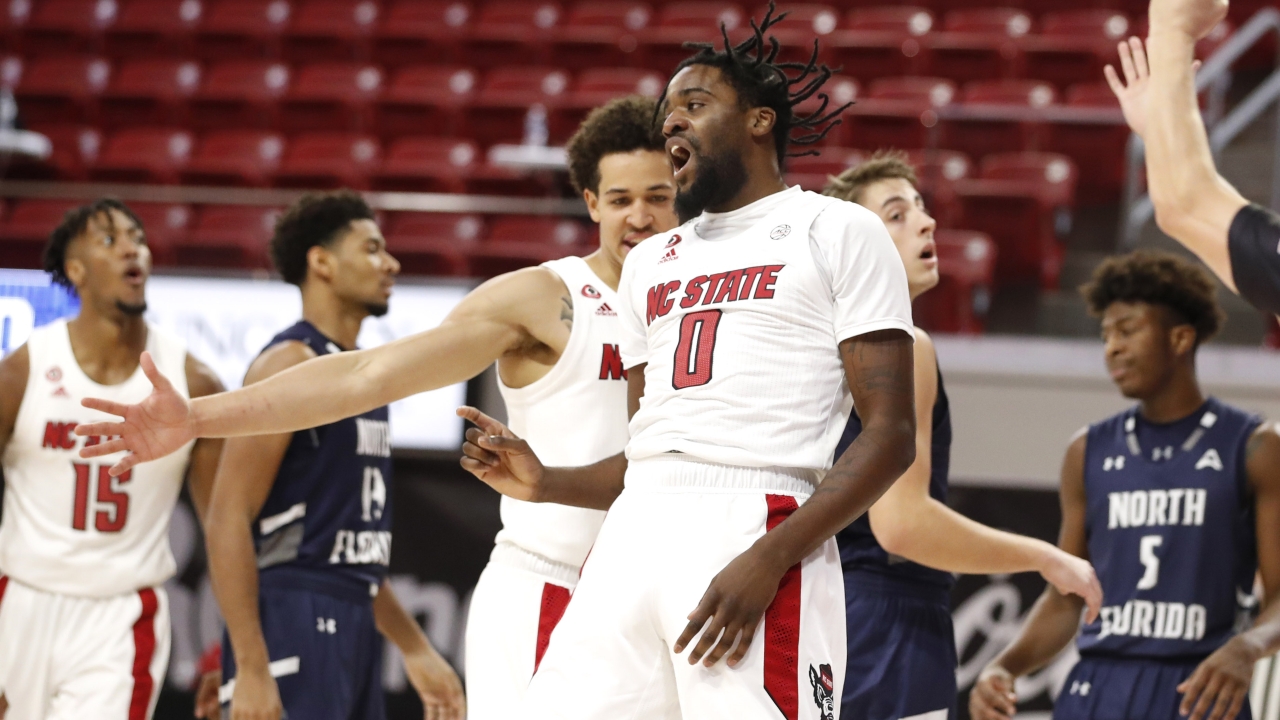 Cam Hayes
Jericole Hellems
Manny Bates
NC State Basketball
LOCKER ROOM REPORT: Wolfpack Players
---
Several NC State players met with the media via Zoom following the Wolfpack's 86-51 win over North Florida Friday evening.
NOTE: Click on each player's respective thumbnail to watch each interview.
---
Cam Hayes
What was the difference for you tonight that led to your 13-point performance versus North Florida?
"I think it was the confidence. Last game, I played really hard, but my shots weren't falling. Today when I saw my shots falling, it made me play harder. Once the first went in, I felt more confident shooting the ball today."
Do you feel you're more ahead on the defensive end thus far?
"I just know, on the defensive end, I try to play as hard as I can. I know it's going to take a while for me to get everything, and I'm going to mess up, but when I get on defense, I try to play as hard as I can. I guess my steals come from me playing hard on the defensive end."
How much more comfortable did you feel on the court tonight?
"I felt way more comfortable. Going in on Wednesday, it was my first college game. I was a little nervous and anxious, but once I got that first game out of the way, I just felt more comfortable coming in. Coming into today, I just had a lot of confidence. I just wanted to bring a lot of energy on both ends of the floor, and I guess that showed with my performance tonight."
Kevin Keatts seems to have wasted little time getting you in the game and giving you a lot of time on the court. What does it mean for him to show that kind of trust in you?
"It means a lot being able to play a lot, especially with a great coach in coach Keatts and him believing in me. I guess it just comes from me coming to practice and producing when I get in the game. I've got to give credit to the upperclassmen showing me the ropes throughout practices. They set the example out there when they start, and I just try to build off of that."
Do you feel like the game is starting to slow down for you?
"Yes, a little bit. I can make the right reads, and I try to make the best play every time I'm down [the court] and get my teammates involved. It is kind of slowing down for me. It isn't really fast as it was when I got into practice, but it's really slowed down a lot for me."
Jericole Hellems
What have you seen from Cam Hayes thus far? What is it like getting to play with a guy like that?
"He's a great player. He makes the right reads, and he's growing as a player. It's always fun. He's a funny guy, and he's a good dude off the court. He's great to play with."
Is there any difference in your approach when you start versus when you come off the bench?
"Not necessarily. Coach talks to us about coming on and off the bench. It doesn't necessarily matter; it just matters what you're doing on the court. I'm just worried about producing and helping the team win."
It seems like the team is having a lot of fun on the court. Is there any reason why you guys seem to have more joy this year?
"First of all, it's a blessing to be able to get back on the court. Obviously, we all know we've been away for a while. And it's just a great group of guys, and we're all comfortable with each other, so it's helping on the court."
What is the Wolfpack doing well on the defensive end to get teams off their game and forcing them to turn it over?
"Just energy. Everybody's bringing energy, and we're closely knitted together, so it's much easier for us to bring the energy on the defensive end and force teams into making bad decisions."
How much does that energy and those sparks on defense get the offense going?
"For me, playing defense sparks my offense. We've made good decisions on the defensive end, and it's helped our offense."
Manny Bates
What have you seen from Hayes in these first two games? What is it about him that's allowed him to play the point this well?
"Cam is an unbelievable point guard. He's a great facilitator. I think that's his best quality, just his ability to be a willing passer at all times. I really like that about Cam."
Can you talk about how the rest of the defense is playing in front of you?
"It's our pressure and being able to pick it up full-court. We want to turn people, so starting from when the ball goes in, we start pressing, and we pick up our intensity throughout the whole game."
Does having personnel like Hayes, Hellems, and Shakeel Moore who can pressure guys full-court help a lot?
"Absolutely. Those guys are terrific on-ball defenders, so they help us a lot."
You got into foul trouble on Wednesday but only picked up one foul tonight. Did you make a conscious effort to stay out of foul trouble tonight?
"I didn't really think about it too much. The coaches told me not to think about fouling or the refs' calls tonight and just to go out and have fun, and that's what I did. I wasn't really thinking about it until halftime when I realized that I hadn't fouled yet. I was really happy for that."
Did it feel weird going into halftime with zero fouls?
"Not really. I was just focused on coming out of the half."
How blessed do you feel to get your first two games in when other teams throughout the country haven't gotten theirs in?
"We're extremely blessed to be out here playing. We're just happy every day that we get on the court."
Never miss the latest news from Inside Pack Sports!
Join our free email list