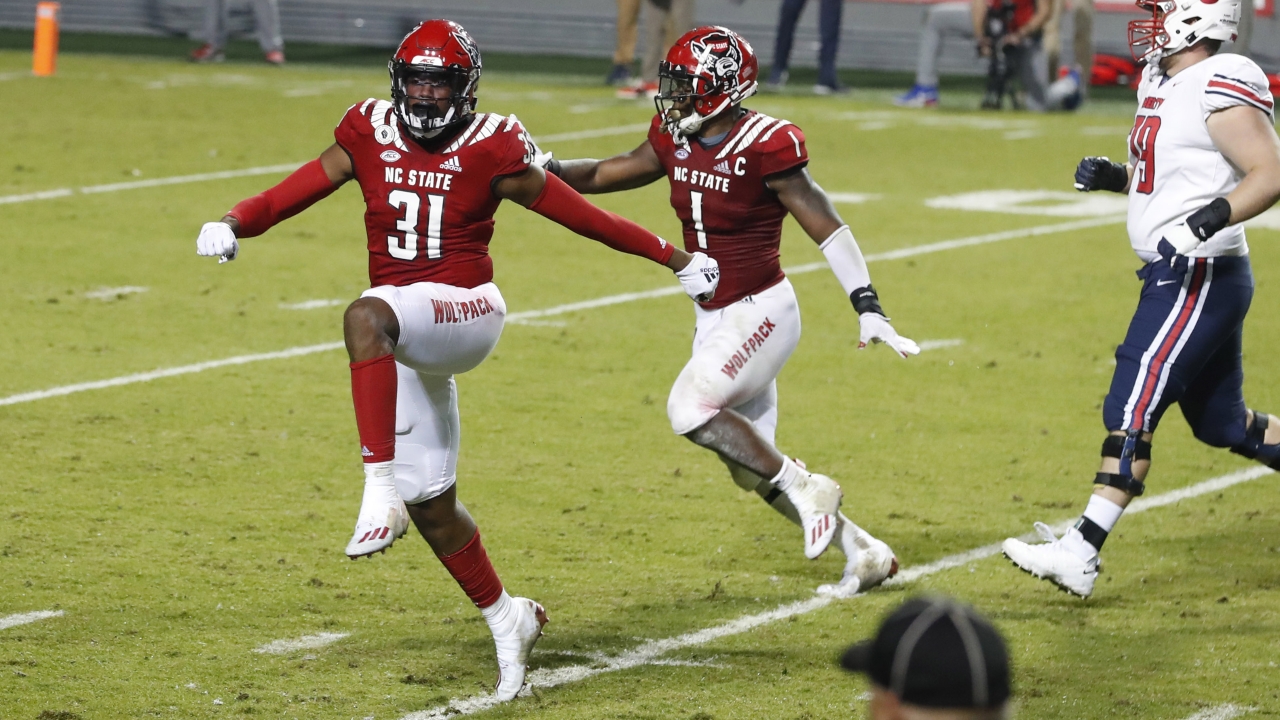 Aydan White
Zonovan Knight
Levi Jones
Isaiah Moore
NC State Football
LOCKER ROOM REPORT: Wolfpack Players
---
Several NC State players met with the media following the Wolfpack's 15-14 win over No. 21 Liberty Saturday evening.
NOTE: Click on each player's thumbnail to watch each interview.
---
Aydan White
What are your thoughts on the game, the Wolfpack's defensive effort, and how NC State stopped Liberty's offense?
"We did a lot of good film study over the week. Everybody locked in and prepared really well. We'd seen a lot of the calls that they ran on film, and we did them in practice, so we were locked in for this game."
What did you see on your interception?
"Like I said, we'd been working in practice all week. It was a little 'twix' look, so No. 1 motions in, and tell Tyler [Baker-Williams], 'Bump, bump, bump.' We already know No. 1 is coming up doing an out route, so it was about being prepared then picking it off."
To be such a young player making a clutch play like that, what does that do for your confidence going forward?
"It boosts it. It shows that the sky's the limit. If you really put in the work, it shows that it really pays off."
How thrilling was it to make that play?
"Coach [Dave] Doeren came to me and said, 'You have a good chance of playing this week.' I had a really good week of practice and really locked into the game plan."
How much did picking off three passes in practice carry over into the interception tonight?
"I worked in practice with ball skills, breaking on the ball on time, and being ready so that, in the game, it would be easy for me."
What does the Wolfpack's response to adversity says about the team and its mental makeup?
"It really shows that we really are '1Pack1Goal.' Everybody's ready to step up when it's their time. The other person who had an interception, Isaac Duffy-Webb, stepped up big time when Tanner [Ingle] came out."
What are you going to do with your first career game ball?
"I'm probably going to put it in my room and sign it. That's pretty much it."
Zonovan Knight
How important was it to get the sixth win after not gaining bowl eligibility in 2019?
"I think it's very important. One, based off of last year, it helps the team overall with our confidence. To be able to keep doing that and keep going not only this year but also next year, I think that'll be big for the team."
Do you think you missed out on a lot last year because of missing out on the bowl experience?
"Yeah, I feel like I missed out on a lot, but I'm one of the people that's a firm believer that everything happens for a reason. I believe what we went through last year ultimately led to what we're going through now which is success."
How difficult was it to stay patient as an offense?
"I think it was extremely frustrating, but I was glad that we were able to get the ball moving in the fourth quarter. The drive where I scored was the determining factor in the game. I'm glad we were able to get that push."
What did the team discuss going back onto the field after Aydan White's interception?
"Just going out there and executing. We had a lot of drives where we kept beating ourselves and getting penalties. We wanted to execute and not beat ourselves, and we knew we were able to take care of our business from there."
When you look at the changes between last year and this year as well as all of the adversity the Wolfpack has had to endure, what does this season show about Coach Doeren and his leadership as a coach?
"I think it shows belief in his team. I'm not saying that he didn't believe in us last year, but I believe he's taken the extra step to show that he cares about us, and that's brought the team together not only to him but also to ourselves as a unit. I believe that's why we've been so successful this year."
Did this game feel like a big game to you guys? How did the team fight through the tension, especially in the third quarter?
"It felt like an extremely big game. You could tell by [Liberty's] demeanor on the field that they were a little cocky about themselves. We kept ourselves together and trying not to get the penalties we were getting. We wanted to keep the offense calm on the sideline. That's why we just went out there and started executing. We started calming people down. A lot of people were throwing helmets on the sideline and stuff. We started bringing people together. Even [Justin] Witt brought the whole offense up. He started talking to us in the fourth quarter, and we actually scored on the drive after he started talking with us."
Levi Jones
This was your third blocked kick this season. Do you just have a knack for it?
"It's just my coaches putting me in the position to be successful and giving me an opportunity to make something happen."
Can you take us through the blocked field goal?
"It was just a desperation block. We'd go in, and I'm the jumper on the play. I jumped as high as I could. I remember seeing the ball coming, and boom, it hits me right on the elbow. I was like, 'Oh, I blocked it! I blocked it!'"
Liberty came in with a highly touted offense. Did the defense take it personally, wanting to slow them down?
"Of course. You don't ever want to let an offense just run the ball on you, so you go in every week with a plan to stop the run. We made a big deal on that, and we wanted to show that tonight and put what we have on tape. That's what we went in the game with, and we made sure that we played our game and played hard, fast, and physical."
The Pack's won games in many different ways. What does it says about this team that you guys have been able to find different groups to find different ways to win when you need it to?
"It's just us playing complementary football, playing off of each other, and having each other's backs. The offense has had our back a lot this season, and tonight we had to have theirs, and that's what we did."
Coach Doeren said something about a moment shared between you both at the end of the game. Can you tell us what happened?
"At the end of the game, we needed something to happen. We needed to make a play. I just remember going up, making that play, and going over to the coaches and saying, 'That was for you.' It was just a great moment in the game for something to happen."
Isaiah Moore
Liberty averaged over 400 yards on offense heading into tonight; you held them to 279. Was this a personal challenge for the defense to show you could hold them down?
"Yeah. Coach [Tony] Gibson challenged us to play a full game, 60 minutes, and see what happens when we did that. We got the win and managed to hold a Top 25 team to under their averages, and I'm definitely happy with it. We've still got two more games left, so we've got to keep building on it."
What did you do to take Malik Willis out of his game?
"We know he's a great athlete. He can throw, or he can run it. We just tried to give him some different looks and make him hold it longer than he wanted. He got around it a little bit early, and then we were able to dial up the blitzes from there. We kept mixing it up to make it hard for him to read what coverage we were in."
Could you sense Willis' frustration?
"Yeah, a little bit. We definitely assessed it. We just had to keep turning it on and holding him under his averages."
How well do you think the Pack did on holding the edges and preventing Willis from getting big plays?
"That was one of our keys to victory this week: condensing the pocket and keeping him in there. I think we did a pretty good job. He did get out a couple of times. He's an athlete; you expect some things to happen a couple of times. Overall, we did a pretty good job."
On the safety in the third quarter, did you feel like the team needed a spark at that point? What kind of spark did that provide for the sideline?
"Yeah, I thought that we needed a spark. I told the guys before we went out, 'We're going to win this game. We're going to find a way to win. The offense is going to score, and we aren't going to give that lead back.' We definitely needed a spark, and I was glad I was able to make that play."
How good is it to see the young players step up as the next man up?
"It's huge, especially in a year like this where we've dealt with so many different injuries from COVID to injuries and guys being in and out of the lineup. We tell all our guys, 'You need to practice like you're a starter.' Those guys did that all week long, and they were ready when for the opportunity when it came to them."
Never miss the latest news from Inside Pack Sports!
Join our free email list