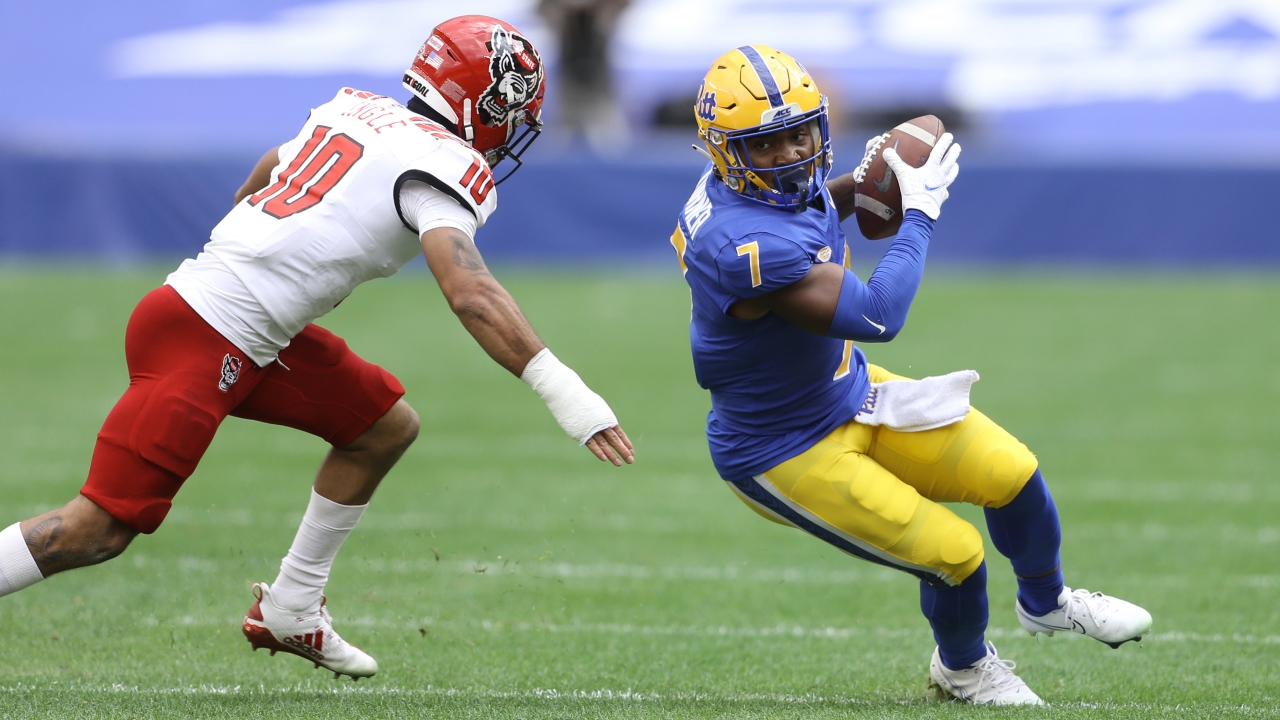 Photo by Charles LeClaire-USA TODAY Sports
NC State Football
Tanner Ingle: "I Feel Back To Normal"
---
NC State will get a key piece of its defense back this week, as junior safety and team captain Tanner Ingle is on track to return after missing three weeks.
Ingle spoke to the media about his rehab process and this week's game against Liberty, and here's a full breakdown of everything he had to say:
---
How are you feeling, and how good is it going to feel to be back after three weeks out?
I'm excited, more than anything. It's been a minute since I've played some football. So just getting back on the field, I feel good. I feel back to normal. So I'm just ready to go and play.
What's your role been in your absence?
With me not being present on the field, I still have to be present as a leader. Therefore, I'm just out there making sure the young guys know what they're doing, going through it with them. I'll watch film with the younger kids, making sure they know their plays, making sure they know their checks. Apart from that, I'm just making sure everybody keeps their head up. On the sidelines, I try to do a good job of getting everybody some motivation, making sure they keep their head in the game. And so it's just the little things like that to help keep the team going.
What was the recovery process like during the COVID era with the safety precautions?
As of right now, being so far into it, we've been doing it for about four months now. So it's just kind of become a normal routine. It really hasn't changed besides having to wear a mask and social distancing. So apart from that, it's just become normal, really.
Has it slowed you down at all?
Not at all. It does make me have to wake up a little earlier just because of everything we've got to go through to get into the building, but apart from that, once I get in and once I get going, everything's been the same.
With the offense playing so well, are you guys feeling pressure to come up big?
We don't feel any pressure at all as a defense. We've got to do our part as a team. We've got to play complementary football. So if we aren't doing our part, obviously we aren't going to win the game. But yes, we're just happy that our offense has been playing so well, because it's been making our job a lot easier as a defense.
Coach Doeren has singled Tyler Baker-Williams each of the last two weeks as someone who stood out to him. What have you seen from him?
Tyler is a huge player for us. He can do everything. As far as seeing him move from nickel to safety and still performing just as well, it's just kind of what we expect out of Tyler, just because we see it every day in practice. You can tell, before, Tyler's played nickel, Tyler's played safety, Tyler's played running back. So he can do everything. Him going out there and performing as well as he does, it's just what we expect to see out of him every day.
When you look at Malik Wilson, Liberty's quarterback, what do you see in him, and how difficult is it to contain him?
He has a lot of good players around him. They've got his receivers, No. 5 and No. 3, they do a good job of catching the ball for him. But as far as Malik Willis, he's an elusive player, he's physical. He can throw the ball anywhere on the field. So we've just got to do a good job of playing collective football as a defense, just making sure everyone's doing their job, everyone's doing what they're supposed to be doing. That's the only way that we will be able to contain him.
It looked like you dressed out and warmed up for Miami; what happened? Were you expecting to play in that game?
I wasn't expecting to play. I just needed to warm up before the game. It was part of my rehab process.
On the defensive side, is there a little added excitement with you guys getting healthy now?
We approach every game the same as a defense. But yes, just as far as going further into the season, being able to play Liberty, an undefeated team, we are excited as a football team. We're ready to get after people and just start playing football.
Is this as healthy as you guys have been on that side of the ball for awhile?
Yes, it is as healthy as we've been. And it bodes well because it adds depth to our defense. It allows more players. It's given the younger players experience, as well, so it adds a lot more depth to our defense.
Following in on Tyler Baker-Williams playing safety, did you give him any pointers in practice?
Once Tyler moved to safety, he switched into our position room and started meeting with us as safeties, as well. As far as that, Tyler would come up to me during practice and ask questions. I'd make sure if I saw something or he messed up in practice, I'd make sure I'd correct it, make sure he knows exactly what he needs to be doing. So as far as that, I was just making sure he knew all the plays and stuff, but ability wise, Tyler's going to do what he does.
Knowing that this is a zero year, and you guys will get next year back, did that ease your mind to not rush back from injury?
This time, especially after hurting it again, I decided to just take my time with it and just make sure that I was healthy before I came back. It does take a lot of pressure off of me knowing that this year I don't even have to worry about it, because I'm going to get it back regardless. That allows me to not worry about having to rush back and miss any more games or anything like that.
When this game was scheduled, I guarantee there was no way they were thinking Liberty would be in the top 25 at 8-0. Does your mentality about this game change because of what they've done?
The mentality stays the same every week. We approach every opponent the same. So as far as the mentality, we look at them just like any other team.
Never miss the latest news from Inside Pack Sports!
Join our free email list