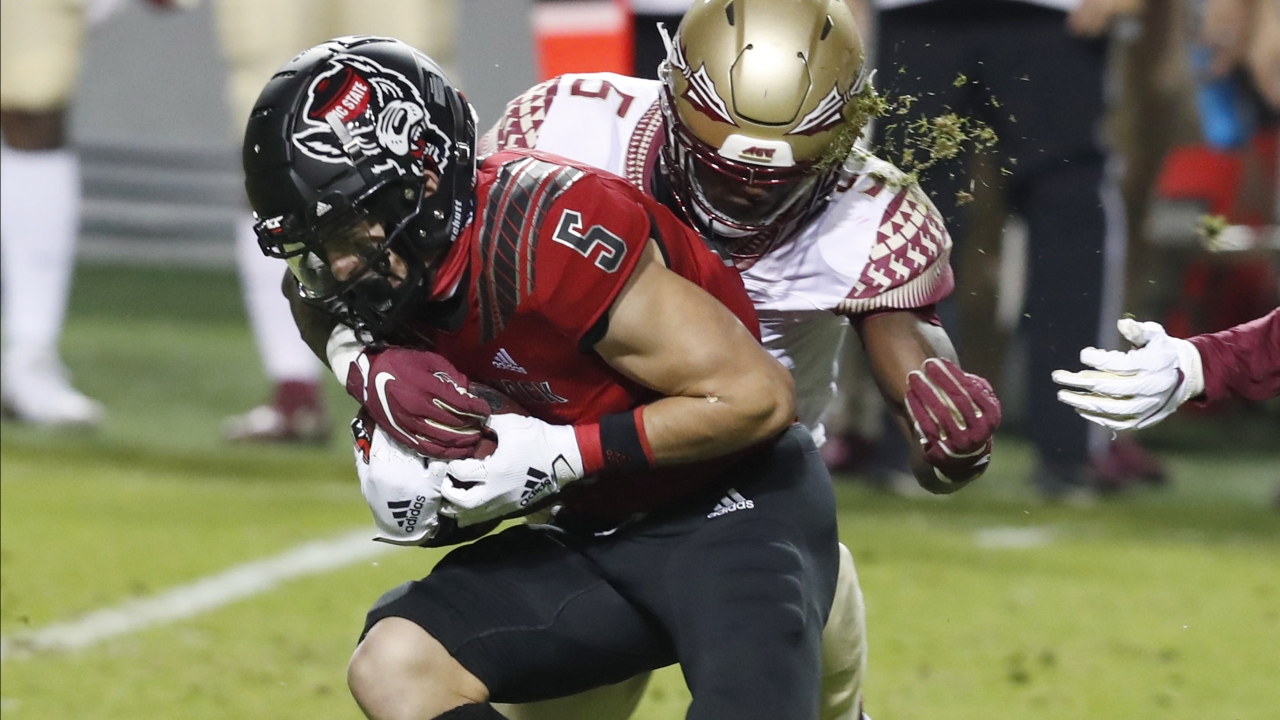 Photo by ehyman@newsobserver.com
NC State Football
Thayer Thomas: "I Always Love Helping The Team Win"
---
NC State redshirt junior wide receiver Thayer Thomas met with the media via Zoom ahead of the Wolfpack's upcoming matchup versus No. 20 Liberty.
Thomas has amassed 27 receptions on the season for 349 yards and three touchdowns. The Heritage HS standout has also returned four punts for 72 yards as well as thrown a 31-yard touchdown pass.
A transcript of Thomas' comments to the media is posted below.
---
What do you say to the people who are discrediting Liberty because they're a smaller school?
"I think them beating Virginia Tech alone says a lot about their team because I thought Virginia Tech was really good when we played them. Obviously, we're going to have respect for them just off of that. Also, they haven't lost a game. It doesn't matter what level of play you're playing; if you're undefeated, you have to be a really good football team. We look at those two things, honestly, and we're going to treat them as any ACC opponent we play this year."
The Wolfpack's success offensively has come most often from vertical passing. You thrived off the underneath routes against Florida State. Do you feel that having that element to the offense will change how teams view the offense on a week-to-week basis?
"Putting that on film and taking advantage of any kind of coverage they give us will add another element to our offense. [Liberty] is a big zone team, and I feel like it'll be key for me to find the different zones in the defense and find open holes for Bailey [Hockman]. I was happy about the game Saturday. Bailey took advantage of the routes I was running, and hopefully we can continue that the rest of the season moving forward."
What did Hockman's response to you after the Miami game say about him as a quarterback and as a leader?
"Personally, I was a little upset with [only getting one reception versus Miami], but if we would have won that game regardless, I would have been happy with the win. I'm not the type of person to go up to the quarterback and say that I need more targets. In the heat of the moment and the flow of the game, it's really not about me. It's about the offense executing. I was glad that he came up to me and said that because he saw something that I felt. I didn't show it, but he saw it from the film. I'm glad that he saw it and took advantage of it in the next game. I always love helping the team win."
Is there someone you've faced this year that you can compare Liberty's defense to schematically?
"We compare them a lot to Virginia. There's a lot of zone dropping and stuff like that. They don't really ever play man. Virginia was definitely a very high-zone team. They play a lot of Cover 3 and Cover 4. They force you to find the holes and force you to throw underneath. We could really take advantage of that and just be smart in finding holes for Bailey this weekend."
Do you expect it to be a game where you have to sustain drives, or will the explosive plays be there?
"We need to take what they give us at first, and then the big plays will come like they do every game for us. We need to take advantage of whatever they're going to give us: the hitches, the slants, and stuff like that. Then, the big plays will work themselves in there the way they do."
Can you give us specific examples where the team has improved week to week?
"I feel like, in practice, the ball isn't on the ground really ever. We're connecting on a lot of stuff. The timing is getting better, and that's coming with reps. Bailey's getting more reps with the receivers, and therefore the connection and timing is going to improve. I think everyone can see it on Saturdays. At first, you might have seen Bailey hesitate and start to scramble. Now, the ball is coming out at the proper time. When he needs to scramble, he's looking to throw it instead of trying to run it. Against Florida State, when he was scrambling, he was definitely looking downfield more than he maybe had in the past. I think that's from practice and repetition."
How has your pass-catching ability developed before coming to NC State?
"I give credit to my parents for playing me in as many sports as I possibly could. I played up to five sports. Obviously, I played football, basketball, and baseball, but I also played soccer and gymnastics, as well. I feel like being well-rounded there and playing all those different sports has helped me be a well-rounded player. Also, when I was younger, I feel like the hands thing is just a natural thing. My grandfather was a really good baseball player, so maybe he passed down his genetic makeup with the hand-eye coordination. When we were younger, we played flag football, and I was one of the receivers because I was the only one who could run and catch the deep ball. We were probably seven years old, and we played a Pop Warner team with the Raleigh Bulldogs. The quarterback was Reid Herring, the former quarterback at ECU, and he would literally just throw me nine-balls, and I would just run under it and get it. I was one of the only kids that could do it. It started at a young age, and it became more of a natural thing, and baseball has helped that. It's more natural, but it can be developed over time with my parents allowing to play many sports and be more rounded in that aspect."
As the punt-return specialist, how similar is it to catching a punt and fielding a pop-fly in baseball?
"I'd say they're probably the exact same. I would say being able to track a baseball would definitely help my punt return skills because I think tracking a baseball is a little bit harder because it's smaller, but obviously a punt has spin on it. Catching punts and catching fly balls are almost exactly the same. In high school, I didn't really do it as much because we had a really good punt returner. I would do it whenever he couldn't. The first day of college practice in 2017, Nyheim [Hines] was the punt returner, obviously, but he just said, 'Come catch punts with me. Just try to find a way on the field.' Fast-forward a year later, and my first touch ever in college football was off a punt return. It's definitely helped me get on the field at first, and now it's one of my strengths in football."
Did you see the offense's production coming this year? Where has the offense's confidence come from?
"I think the offense took the outcome of 2019's games personally, and we all had to look in the mirror and say we have to do better. Obviously, we had our things we had to improve upon, but I think Coach [Tim] Beck coming in really helped us out. He talks us up and instills confidence in us on a daily basis. Obviously, he coaches us hard to get better, but he's also honest about letting us know when we did a good job. He thinks we're one of the best offenses in the ACC, if not the country. He preaches that stuff, and we've all bought into what he's saying, and it's shown up on Saturdays. We're all playing fast and physical out there."
Never miss the latest news from Inside Pack Sports!
Join our free email list