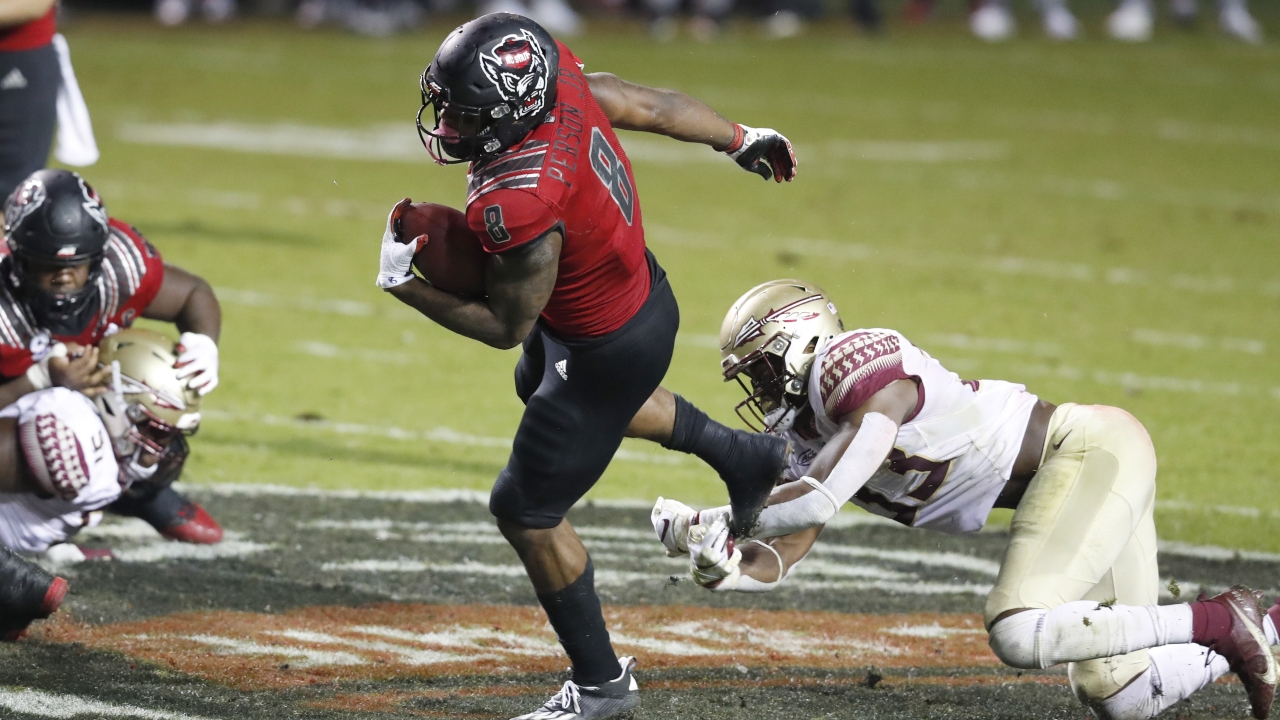 Photo by ehyman@newsobserver.com
NC State Football
Ricky Person: "Liberty Has Earned Their Respect"
---
NC State junior running back Ricky Person, Jr. met with the media via Zoom ahead of the Wolfpack's upcoming matchup versus No. 20 Liberty.
Person is currently the second-leading rusher on the team with 95 carries for 432 yards and three touchdowns. The Wake Forest, N.C. product has also caught 13 passes for 85 yards as well as returned four kickoffs for 95 yards.
A transcript of Person's comments to the media is posted below.
---
How fun and exciting is it to run behind a dominant blocker like Ikem Ekwonu?
"It's very exciting because 'Ickey' is always going to get the job done, and he'll always be the first to come up and say, 'If you want to score or you want to do anything, get behind me.' It's good because you actually see it on film with the pancakes he's having and him leading down the field. The impact that he brings to the game at his position is exciting. He's going to be a great player."
On the #PackUnited movement...
"#PackUnited is us coming together throughout this tough time with police brutality and us raising awareness to the situation. We athletes have a voice in what's going on in today's world, and we want to use our platform to be able to speak for those people whose voices cannot be heard."
How have the black and white athletes come together to unite with this cause?
"We had a conversation like that when the situation first occurred. People like Payton Wilson, Devin Leary, and a few other players, we just sat down inside a room, and we just had a powwow with each other. They gave their perspective about the situation and wanted to understand the situation from people like me. They wanted to educate themselves on the situation so they could understand what's going on and what we go through on a daily basis."
How much did the offense come together to buy into the new system under Tim Beck?
"Coach Beck has a lot of experience under his belt, and everybody knows that. The process that we went through during the offseason and the type of bond that we have with each other is ten times better than what it was last year. Most people look at it as 'Coach Beck, Coach Beck, Coach Beck,' which it is; Coach Beck plays a huge role. I just feel like the brotherhood that we have and the adversity that we went through together makes us want to play harder for the man to our left and right. I feel like that's the reason why you've seen some of the plays that we're making this year than last year. This type of brotherhood and the adversity that we're going through with COVID and the program during in the offseason… it's just ten times bigger than it was last year."
Have you caught yourself, either on film or on the sideline, watching Ekwonu, trying to see him get a pancake block?
"Without a doubt. It's 'Ickey.' He's going to make a play regardless. I love that man to death. We hang out with each other outside of football, but there have been plenty of times where I catch myself on the sideline or during film like, 'Man, look what 'Ickey' did.' The coaches actually zoom in on him on Sundays on the tape. They're like, 'Yeah, you get some syrup behind that.' But that's what you're supposed to do. In the words of my coaches, 'What do you want, a cookie? For doing what you're supposed to do?' 'Ickey' is a great player. I love that guy to death."
Do you have a favorite 'Ickey' pancake block this season?
"I would say the one where he was lead-blocking for Bailey [Hockman] down the sideline where Bailey ran a bootleg and he pancaked a dude right in front of him."
Have you noticed a difference in Hockman's confidence level lately?
"Yeah. We all had conversations with Bailey. When you get the role of starting quarterback, the pressure can get you feeling overwhelmed at times. Basically, from us leaders, to the coaches, to Coach Beck, and to other people inside, we've been inside Bailey's ear telling him to cut it loose. 'You have nothing to lose. You shouldn't play uptight. You should be able to play your game. If you make a mistake, you make a mistake, but you make that mistake playing at 100 percent, and we can go back and fix it. Compare it to playing uptight and not cutting loose and playing to the ability we know you can.' Bailey has stepped up to his role, and you've noticed that over the last two games. He's playing to his full potential now. He's a great ball player."
How have you seen Hockman grow as a leader?
"He's been using the voice a lot more, getting the guys hyped up. Whenever we have a big drive on offense, he's always the first guy to talk with the offensive linemen or to us, trying to break the small details on certain passes or certain protections so he can get a better understanding and also keeping the energy alive on the sideline. He's stepped into that role where he's a vocal leader. At first, Bailey wasn't as vocal as he is now, and he's starting to grow up and show what he can do."
What do you see from Liberty that makes you say that you have to take them seriously?
"We take every opponent seriously. Liberty has earned their respect. They're ranked 20th in the country, and they're 8-0. It's nothing that we have to do better on our part. We just have to play our brand of football, hard, tough, together, day in and day out. If we play our brand of football, there's nobody that can beat us. Like I said, we don't overlook anybody. Watching them on tape, they have some great players at Liberty. Just like Coach [Dave Doeren] says, respect the players who deserve the respect, and they deserve that respect."
Never miss the latest news from Inside Pack Sports!
Join our free email list