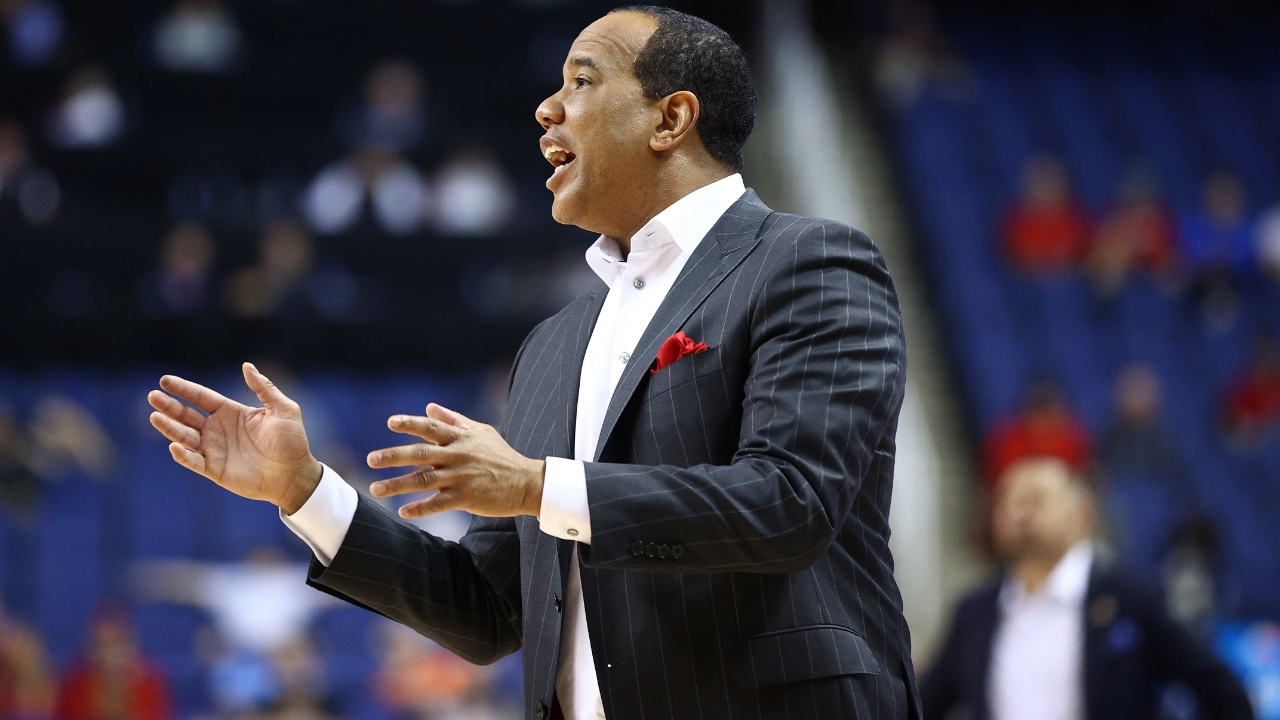 Photo by USA TODAY Sports
NC State Basketball
Kevin Keatts: 'I'm Very Excited About These Guys"
---
As the NC State men's basketball season draws closer, head coach Kevin Keatts continues to work to get his team ready to play in these unusual circumstances.
Keatts spoke to the media to update the team's progress this week, here's a full breakdown of everything he had to say:
---
Opening Statement
It was a good day yesterday, and I'm excited because we signed three really good young men that fit our system and our program, culturally and basketball wise. I'm very excited about these guys.
Obviously, I'm going to always start with Terquavion [Smith] because he's been committed for, it seems like, five years now, or the amount of years that I've been at NC State. In today's climate, for a young man to give you a commitment as a sophomore and then two or three years later still sign a scholarship, that says a lot about him and his family and how loyal he is to NC State. He is a bucket getter. The kid can just score the basketball. He goes out and plays. He loves to play. He's a tremendous player. He's going to be really good for us. At his size, he'll be able to play some combo guard for us. I think he's got a chance to be one of those freshmen that can come in and play right away. I'm really, really excited about him. He's super athletic. He's a major competitor.
Then I'll stay in state because our theme has been that we've been able to recruit, the last couple years, some really good players in our state. Breon [Pass], I think, is the steal of our state. A reason a lot of people don't know about him is that he's been a two-sport guy for all of his love. Then he decided, obviously, to concentrate on basketball. I think you're going to see a really good basketball player just because he'll have a chance to spend all of his time now working on his skills. He's also a combo guard who can really shoot the basketball. He's tough with that football background. He has a little swagger about him. I'm very excited for him to join our program. Him and his mom are golden. It meant so much for this man to be able to come to NC State.
When I first offered him as a young kid, I sat down with him and his family and his dad, who has since passed away, and I think he respected that part of it. A lot of times people forgot that we offered him a scholarship because we offered it so many years ago. He's an unbelievable story. That's a great success story. The kid is going to be really good. He's a winner.
And then Ernest Ross, I give a lot of credit to my staff. They did a tremendous job going into the state of Florida and getting a really good combo forward that can play. He's very skilled, long, athletic, can defend multiple positions, can step out and shoot it. By most publications he's a top-60 prospect in the country, so we're very excited about him. I think he's going to be really good.
The great thing about the guys that we've recruited lately is that they all are gym rats. One of the things that I told my coaches was that I want guys that are, number one, committed to their academics, but also they have to love basketball. Not like it because certainly there's a lot of kids in the country that like basketball, but I want somebody who will line up the way we do. And we love basketball. We love being in the gym.
I've got a lot of self starters that's coming into the program, along with the five freshmen that we added this year who are very good also. I'm excited and pumped about the class. I know that we're going to send out a press release some time today about these guys, but you guys don't need press releases. You've already ran with it and know who they are. You guys should be recruiters too. You guys have got more cell phone numbers than I've got of these kids.
I'm excited about it. I'll take questions. I know there will be some questions about our current team, and I'm excited to talk about them, but I wanted to dedicate my opening to the new guys who are coming in because they deserve it.
Could you have foreseen Cam Hayes, Terquavion Smith and Breon Pass eventually signing with NC State?
I think the biggest thing is that all of those guys, when they left out of there, were surprised they had an offer. We talked, the staff and I, talked about that when these guys came to campus, we could sit them down and have a chance to offer them a scholarship. I think that went a long way not only with the kids, but with their families.
When you think about Terquavion, just remember most people didn't even have him in their top 100. We were able as a staff to identify him early on, and we offered him a scholarship. I think that went a long way with those guys.
Same thing with Cam and same thing with Breon. We took advantage a couple years ago of trying to recruit younger guys, starting in their ninth and 10th grade year, and get them to campus. You talk about that UVA football atmosphere, it's been great. When you have a chance for our guys to go over to our student tailgate, have a chance to meet our staff and come to practice and hang out with our players at the football game, that goes a long way. That's one of the things that we wanted to do as a staff, to start recruiting some younger guys. It's paying off now because of that.
How much did Manny Bates' transformation help with in-state recruiting?
Yeah, and you know what, as crazy as this sounds, I think we got the number one and two player in the state of North Carolina. Here's what the deal is. I think it's becoming more and more popular for guys to come to NC State. When I first came here I had a theory that in-state guys, if they didn't get an offer at one point from Carolina or Duke, I think they would look at it as a disappointment and go outside of the state to sign with another Power 5 team. That's a little different now. We're starting to recruit our state and it's acceptable now, because of guys like Manny Bates, to come to NC State and obviously have a good career.
I give him a lot of credit because he's the one that kind of started this for us. Not a one-and-done young man, but a guy that has come in and gotten better. I think everybody is starting to understand that this is a viable option because we've been fortunate enough in the last three years to win 20 games. That certainly helps, and we've been very competitive as we continue to build a program and a culture.
What have you seen from the freshmen so far? Will they be able to play serious minutes?
That's a challenge. I think every coach around the country is going to have to play some freshmen at some point, and even in our situation we could have one freshman or possibly two start for us at the beginning of the year. It's a challenge because we don't have exhibitions, and we don't have scrimmages. We're going right into playing . And so, we've tried to create an atmosphere in practice and in the inter squads that we've had where we challenge these guys to grow up fast.
They don't have the luxury of being freshmen, especially the two guys that really have to be ready to play as freshmen: Shakeel Moore and Cam Hayes. Those guys have to come in and play. They both are going to play some one and two. I don't have the ability for them to have growing pains. We're going to have to live with some of their mistakes early. That's the tough part about it, but they both have handled everything that I've thrown at them. We've tried to make it competitive. We've tried to put them in situations where they may fail in practice, so they can be successful in games.
Do you want a uniform policy on testing and how many fans are allowed?
You're trying to get me to be a politician, and I refuse to get into it. I don't know. Listen, I get paid to be the coach. It's funny because we are gathering information for our team. The reason why we're going that is because I'm trying to let our guys know because our schedule has been released. We go to Michigan, so how many of their parents can come to the game if we go to certain places? Can that happen?
It's different. We're in a pandemic. It's different from state to state. I understand that. Who am I to question how many people come to the game? We're going to play the game whether it's an empty arena or we have to play in front of 10,000. That's not my position. Do I wish it was across the board? Probably not because I don't know what states, or how bad some of this stuff is in certain states. I'm not in position to say that.
How strange will be playing games in Reynolds without fans?
Well, I hope you listen to everything I'm going to tell you today because you didn't believe me when I told you that Manny Bates had put on some good weight, did you? Now everybody believes that now. That kid is stronger. I see him on the call, but you've got to just thank Wes Moore for allowing me to play in Reynolds Coliseum. He's given the blessing for our team to play there.
Will we miss it? Absolutely. That atmosphere is great. It's a perfect sized arena. It's an arena that is special to not only women's basketball, but to men's basketball because it's legendary Reynolds Coliseum. Will we miss the crowds? Absolutely. But, I love PNC also. We're fortunate enough to have two great arenas, one that holds a little over 5,000 and one that holds close to 22,000. As much as I love Reynolds, and Reynolds is always a great place, I don't want to talk down on the place that we have called home for men's basketball for so long, which is PNC. I'm going to miss the crowds anyway at both venues, but at the end of the day we are going to have to try and create our own excitement with our own team.
Does it motivate you guys to be picked eighth and not have any players selected for preseason honors?
I feel like that's something that happens a lot. I'm still thinking about the fact that Manny Bates led the ACC in shot blocks, but he wasn't on the All-Defensive team. Here's the great thing about it; we had our day off yesterday when all that got released, and I never disturb the guys on their day off so I haven't had the chance to say anything to them about being picked eighth or Devon Daniels, or D.J. Funderburk, or Braxton Beverly, or Jericole Hellems, or Thomas Allen, none of those guys who are older guys being chosen as preseason.
Now, every coach in the country is going to tell you that preseason and where they pick you doesn't matter. And it doesn't because at the end of the day you've got to play the games. You are not going to win it before. But, I've got some guys with some pride that certainly it is going to bother them, and they're going to have some conversations about it.
How have Cam Hayes and Shakeel Moore responded to tough situations in practice?
They've got to run an offense, and I try not to coach them as I'm running an offense. I want them to be a bigger voice. Obviously, I want them to take control of their team. They've struggled a lot, because as you guys know, when you are a freshman and you don't think you know as much, you don't talk as much. And so with those situations I'm trying to get them to take control, to put everybody in the right place that they can be. They're going to have an opportunity to play the toughest position in college basketball, and they just happen to be young guys. That's the point guard position.
I'm trying to get those guys to get out of their comfort zone and become better leaders on the floor. It's hard when you're a freshman trying to command the huddle of a basketball team or football team if you're a quarterback. I'm trying to get those guys to empower them so they know they have the ability to take control, say the right stuff, get people in the right position and even yell at somebody, which freshmen typically don't do.
How did your scrimmage go? Who stood out?
As far as our scrimmage, it was a great scrimmage. I would say our veterans probably played better than our younger guys.
That being said, I had some bright spots with our younger guys. I thought Shakeel Moore had a tremendous first half, where I think he had 16 points. Because he's young guy and they don't know how to play full games now, he ended up with 19 points. When you look back at it, as great as I thought some guys played defensively, I didn't say the same thing as the defensive end. We had too many breakdowns. That's a tough thing.
I thought D.J. Funderburk was good. I think that particular scrimmage, I thought Devon Daniels was probably the best player, which he should be because he obviously it was a more guard game that particular game. He did some good things.
It's tough when you're watching an inter squad scrimmage because one team is going to do well and the other is not. As a coach, who are you mad at? Are you mad at the team who played well? It's just tough.
As you guys know after every game, we do good, bad and ugly. We have a breakdown on film. So we got back in the gym, we took off Sunday and got back in there Monday, we got in the gym and we watched film. I kind of separated the groups so I could break them down on 'here's what you did good. Here's what you did bad, and here's the things that are so outrageous that we shouldn't even talk about.'
I thought it was very refreshing to see some of those guys be able to sit down and learn. We also try to do it as if it was a game situation because obviously we don't have exhibitions or scrimmages. We brought them in the night before on the Friday, and we did film.
We did scouting reports. It was funny to see those guys get a scouting report of their own teammates. I just hope they didn't go back and tell their teammates what the other coach said about their weaknesses.
Do you feel like you have more information on what the ACC will be like compared to last year?
I think it's still the same way. The one thing consistent is there are great coaches in the league always. There are really good players. We lost some really good players, but we also have some really good returning players. I think that every group has freshmen that are ready to come in and play. AAU has become so big over the years that typically these freshmen come in and they are not freshmen. They've already played so many games.
I think it will be different. You think about the great places, including NC State, when you go to other great venues with home-court advantage, but how do you get your guys to play when there is no home-court advantage? There are no fans.
So, I think it will change a little bit with how each game is played because, let's say for us, we thrive on getting a steal. We thrive on making a 3. You've got to create your own excitement. There is no fan rush from that. So, college basketball in general will be different at away venues than it has been in the past.
Is it even harder on the freshmen having to adjust to college life in an unusual year?
I had a great opportunity to speak to a class earlier today, and these are future leaders. What I asked of them was to be able to adjust. There is nothing normal about what any of us have been through this year. There will be nothing normal about what we go through for the rest of the year.
What I've told our guys is that you have to be able to adjust on the fly. I think back to our ACC Tournament. We had just beat Pitt and had a chance to beat Duke again, and all of a sudden in a flash it was gone. By the time we got back to Raleigh, the whole NCAA Tournament had been canceled. Then we come back to school and we think we're going to be back in school, but everything is moved to online classes.
We're not finished. There are going to be a lot of bumps in the road. We are not like football, where football has two or three bye weeks. At any point, and you can look on the internet, there's basketball programs that have to stop playing for a couple of weeks because of the fact of COVID-19. We could miss five or six games during that time. Most of our teams are scheduled to play 25 to 27 games. We're all fortunate if we get 13 to 15 games in. We're hopeful.
I think the biggest thing that we've all had to deal with is change. You guys are doing it with your daily lives. I'm doing it at home. My kids are in online class. You don't get a chance to see people like you used to. I've seen Wes Moore for the first time yesterday. I hadn't seen him in a while. He practiced over at our facility about two weeks ago, and I didn't have a chance to go down there and talk to him because I didn't want to put his team in danger and I didn't want him to put mine in danger.
So, we actually met up yesterday. You guys will respect that this is inside news. We met up yesterday for the games at Reynolds, so we could see how the court will be set up for games. It will be a lot different than what you guys expect. Coach Keatts is giving you breaking news. Somebody can put that out there 'breaking news, Reynolds Coliseum will be set up than it has been anytime before.
Never miss the latest news from Inside Pack Sports!
Join our free email list