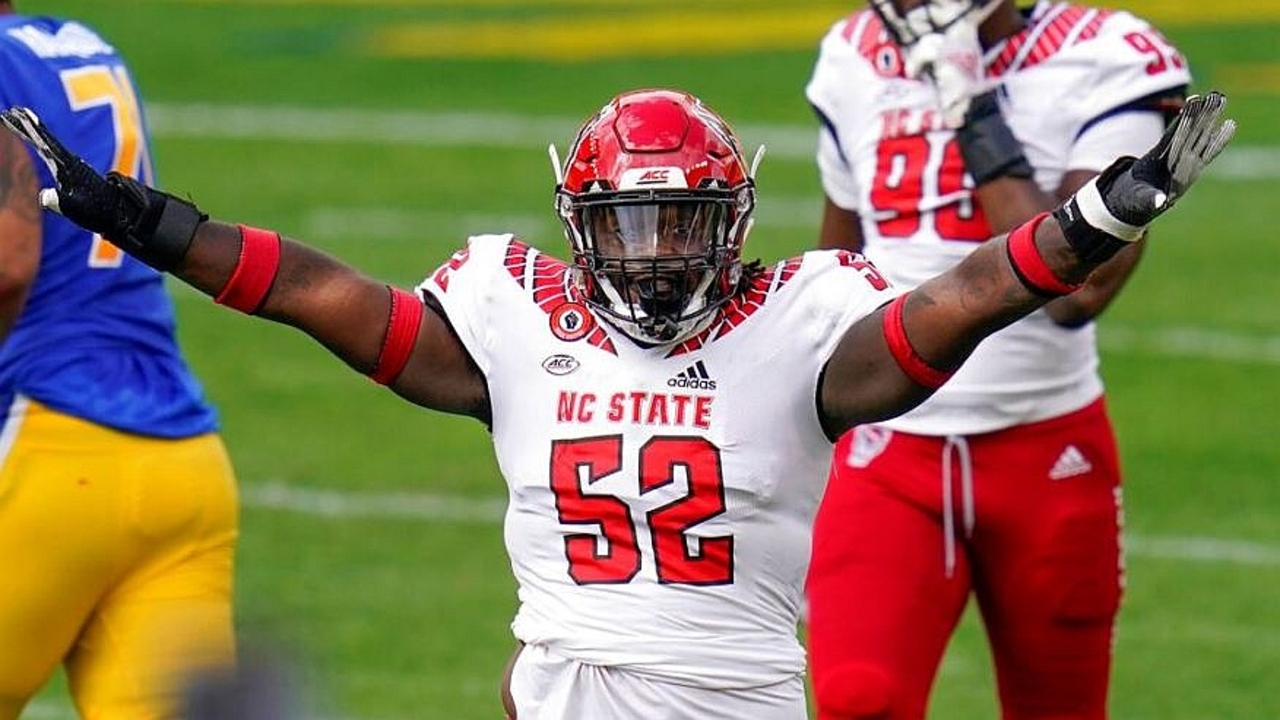 Photo by Keith Srakocic/AP
NC State Football
C.J. Clark: "I'm Blessed To Have This Opportunity"
---
NC State redshirt freshman defensive tackle C.J. Clark met with the media via Zoom to discuss the Wolfpack's upcoming matchup versus Florida State.
The New London, N.C. native has played in all seven games thus far, including last week's game where he started versus Miami, and has tallied 14 tackles with two quarterback pressures.
---
What are the keys to boxing in Florida State's quarterback? What did facing D'Eriq King help the team learn in facing dual-threat quarterbacks?
"I think we have the keys now. I don't think anything really changed; maybe it was small things that changed. Overall, I think we have the keys to get him."
After missing last season due to injury, how much time did you invest into being prepared for this season to come out of the gates as a redshirt freshman and earn the role you have at this point?
"It took a lot of work. I had to take a lot of sacrifices, especially coming in and not having the ability to work out with the strength staff. We had to figure out our own plans with the quarantine. That was a sacrifice I had to make, so I had to figure out what I was going to do. I worked out with one of my friends back home, and we made it a habit. We worked out every day, went over our sheets that we had, and it carried over where I picked up that work ethic. It made things a lot simpler to help me develop and get on the field this year. That was a big part."
How much motivation does seeing Larrell Murchison getting drafted, as well as Alim McNeill's performance this year, give you to get better and continue progressing at defensive tackle?
"It helps a lot because I'm seeing that it's capable and possible to happen here. It's not just knowing what my role is at my age and position as a redshirt freshman. It's exciting, and I'm blessed to have this opportunity."
What's the team morale after a close loss to a great team? Personally, how do you get over a loss like that?
"Personally, I watch the game right after the game, see things I could have done better, and then see where we could improve as a team. I learn from that. When we lose, it's part of the game. It comes with football, so you've got to learn from it, take from it, and get better for the next week. That's really what we're doing."
What did you see in the differences between the Miami game versus the Carolina game as it pertains to stopping the running backs?
"We switched up our scheme slightly. We brought in the edges to have our edges set; if the edges are setting in, they can't run outside, so they have to run up the middle. They have to run through the B gaps which we have been working on all throughout the season. That's the thing we'd focused on that week in practice to stop the run. We squared up tackling people the way we were supposed to, as well."
If Carter-Finley Stadium were filled to capacity on Friday, would that have helped the Wolfpack pull out the win versus Miami?
"I believe the fan base would have gone crazy at the time given the position we were in. I don't know if it would have affected the plays, but I think it would have affected the game overall."
What does a rowdy crowd do for a defensive player like you?
"Definitely on third down, that's when the crowd gets loud. It's really exciting for me. I'm on the field on third down thinking, 'Who's going to get the play? It could be me or the person to the left or right of me.' That's the energy that gives me when I hear the crowd because they're behind us, and I know that we have to make a play or else the tone goes down, and we want to keep the same tone in the crowd."
When you look at Florida State, what, on their offense, sticks out as a problem for the defense?
"Personally, I don't see anything different from any of the other games we've played. They've got tough backs. They run really hard. I think we match up well against them."
Is it a bummer to have night games at Carter-Finley Stadium without the full-capacity crowd?
"I think the crowd we have now is doing a pretty good job because I hear them pretty well on the field. I don't think too much about it. I'm just happy to have fans in general."
Never miss the latest news from Inside Pack Sports!
Join our free email list