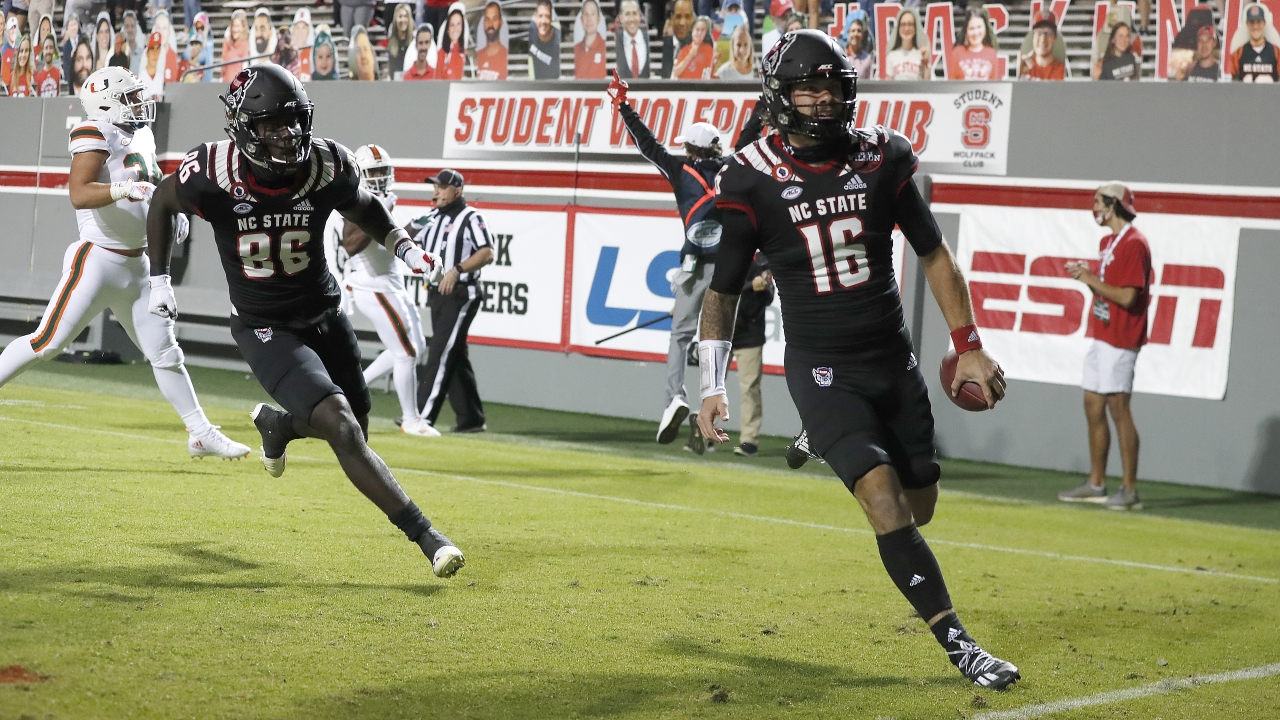 Bailey Hockman
Zonovan Knight
Tyler Baker-Williams
NC State Football
LOCKER ROOM REPORT: Wolfpack Players
---
Several NC State players met with the media via Zoom following the Wolfpack's 44-41 loss to No. 11 Miami.
NOTE: Click on each player's respective thumbnail to watch each interview.
---
Bailey Hockman
How would you assess the offense's performance against a Miami defense that hasn't allowed many points in recent games?
"The guys played great. The offensive line blocked their butts off. I'm so proud of them. We've just got to keep putting it together, making that one more play we need to make. I'm proud of the guys, and we've just got to keep working and keep building. It's only up from here."
How important was it to get that first drive going and get momentum going after the game in Chapel Hill two weeks ago?
"We wanted to get up early and make them play from behind which is always a good way to start the game. Like I said, we've just got to keep executing and finish the game. That's the biggest part of it. But it's definitely huge to get up early and get things going."
How much did that help your confidence?
"I think my confidence has been the same if I play bad or if I play good. I like to stay at an even plane and not really try to fluctuate too much. It's always great to be up by seven. That's always where you want to be."
How disappointing is it to play that well as a team offensively and come up short? How do you bounce back?
"Just keep working. We just have to get back in the lab and keep working. The guys came together and said, 'One more play, and we win the game.' That's just how it goes sometimes. That's the game. Hats off to [Miami]. They made that one more play, but we're just going to keep working, stay focused, and try to make a run here at the end of the season."
How much did the bye week help?
"It helped us get healthy. The guys were a little banged up, but the guys are feeling good now. We're ready to roll for the rest of the season and to finish it off."
Did Miami change anything going into the fourth quarter?
"I don't think they necessarily changed much. They were kind of running the same thing. They just executed a little better than we did. The guys played their butts off. I'm proud of the way the O-line, running backs, and receivers all played. They were extremely physical. We've just got to keep working from here."
Zonovan Knight
Can you take us through the kickoff return touchdown?
"Honestly, you could tell a lot of people let off. I really shouldn't have brought it out because it was in the end zone. We normally let those go. Secondly, when I did bring it out, I didn't even run the correct turn. It was all vision and luck, honestly."
What was that feeling like?
"That's a great feeling because they had me listed as the third-string return guy this week. Just getting out there and making a play like that was great for my confidence and for the team confidence considering how close the game was."
Can you take us through the one-yard touchdown run? What happened with your shoe?
"On the play prior, my shoe came off. They wanted to run tempo, and I tried to slide it on real quick, but Bailey got set and said, 'Hurry up! Hurry up!' I tossed it and lined up. I was worried about slipping because it was a little wet, but everything worked out."
What was the mindset of the locker room after the game?
"The result of the game was that we lost by three, and that was the No. 11 team in the country. That shows what we're capable of, and it all came down to that last play where they scored. That shows where we stand. We just have to build off that and build on going forward."
What attributed to the team's struggles rushing the ball in the second half?
"I think it was [Miami] making adjustments. It was the D-line and how they shedded blocks and got penetration. I think they did a great job of adjusting at halftime."
Tyler Baker-Williams
How frustrating is it to play so hard just to have the win slip away that late?
"It's difficult, but as a team, we have to keep playing, keep striving to be great, and just keep on playing as hard as we did. It just didn't go our way."
How tough has it been considering how many people have been moved around in the secondary?
"Not tough at all. We're taught, whatever is thrown our way, to take that task and play as hard as we can. That's what we've done today."
How hard is it to defend a player like D'Eriq King?
"It's pretty tough when a quarterback can run and throw as good as he can, but we came out and had a gameplan for it. We just fell short tonight."
More on King…
"He puts pressure because he can pass and run, but the way we practice, off the bye week and this week, we prepare for it. We just played the best that we could tonight."
Do you think that, with a healthier team, you could have found a way to win?
"We have the mentality, 'Next man up.' That's just what we build off of; the next man up has to be ready to play their time."
Can you take us through Miami's final touchdown drive?
"We were playing hard, but we just lost focus on the back end of the defense. It happens. It's a tough loss tonight."
Never miss the latest news from Inside Pack Sports!
Join our free email list