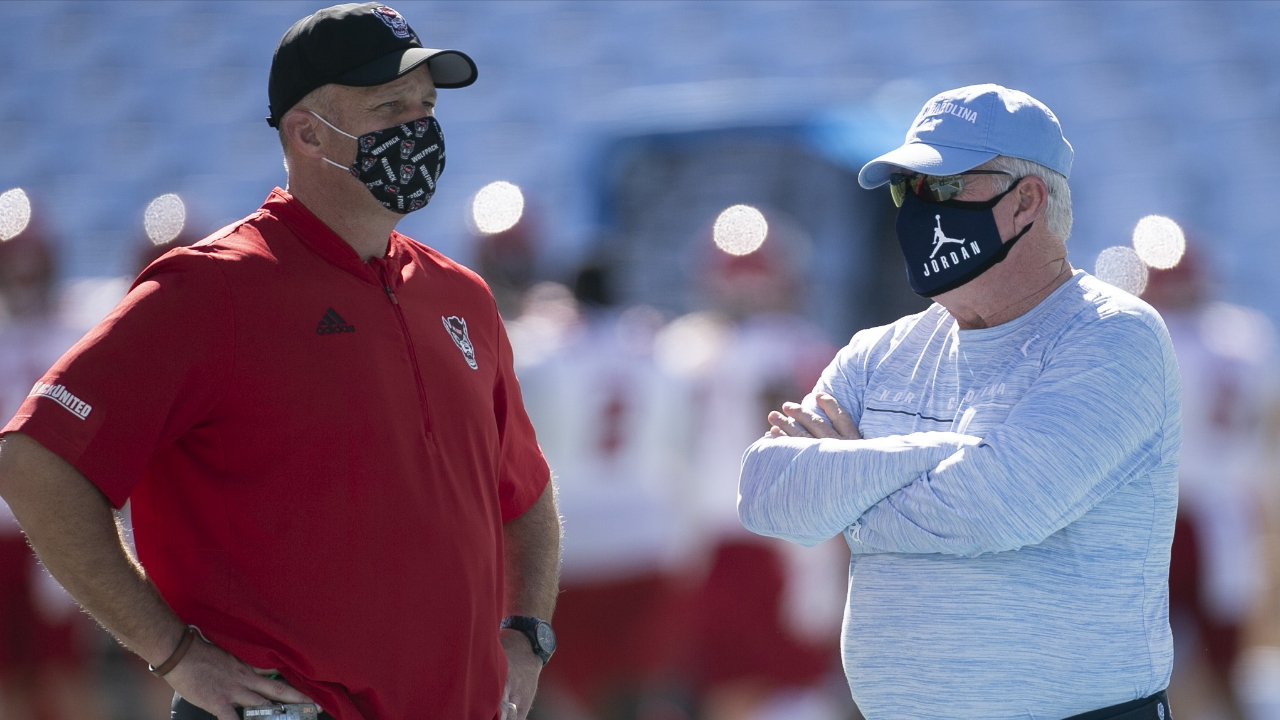 Photo by rwillett@newsobserver.com
NC State Football
Dave Doeren: "They're A Team That Keeps Playing"
---
While NC State's had a lot go right over a 4-2 start, the team sitll has several things to figure out during its off week, mainly the quarterback situation.
NC State had coach Dave Doeren spoke with Tony Haynes and Jeff Gravley of NC State Athletics this week on Wolfpack Weekly, the team's radio show, about the season so far:
---
When are the players back on the field this week, and how much time do you try to give them off?
We took Sunday and Monday as recovery days. Today we lifted and got in the meeting room with them a little bit. So three days off the field to kind of give them a chance to heal. We'll practice Wednesday and Thursday. We spent a lot of Wednesday on us, just working on things that we need to work on fundamentally, hitting each special team, as well.
And then our Thursday practice will be our intro to Miami, give the guys a good lift on Friday, give them Saturday off. Sunday, because it's really game week Monday with it being a Friday game, we'll get back into practice. We'll have a couple evening practices Sunday and Monday just to get used to going at night because we play at night on Friday.
How does wanting to get your guys healed up physically affect your practice plan this week?
Some of the guys will be back, and we look forward to getting them back. Some of them won't be until probably Sunday. We've got to use this week to get some of the guys really healthy that have taken a ton of reps. We're averaging close to 80 snaps a game per side of the ball. Some of the guys like Jakeen Harris, Ikem Ekwonu, and Grant Gibson have taken every snap of the season. So you want to give the guys rest where you can. But we also have some things we need to work on. So we won't be tackling full speed or anything like that, but we are going to be working a ton on our fundamentals. There's a lot of little things that you see in the games, wins and losses, that we need to improve upon.
You talk about how much of a grind it was the first six games. How much was that also because of this not being a typical preseason?
Yeah, and some of the guys, like [Payton Wilson] for example was out. He was gone 14-17 days, and then he's back playing. It's been crazy. Everyone's dealing with similar issues, not the same, because some teams have had a bigger run of it than other teams. It's the most unique season, probably for everybody in our country. But in this sport, it requires so much preparation and practice. It's put us in some difficult situation.
But you're set up now to have a successful season in getting through this stretch of games at 4-2. You'd love to be 6-0, but at 4-2 with some of these obstacles, do you feel pretty positive?
I think we're in a good spot. Obviously we'd like to have some of the players that are injured for this stretch coming up. But without that being said, we've got four of five at home. We are undefeated at home.
We're 50-50 on the road, so we have one road game left. We'd love to win that one, as well. But I think we're in as good a position from a schedule standpoint as we can be in terms of where we're playing. But every game in this league is a challenge, and obviously this next one, we're playing a really good football team.
It was interesting to see Ben get his first college snaps. One of the things that I liked, not only about his play, but that you guys put him in not in mop-up duty. The game was far from decided. And you got to see how he would actually respond in a game-type situation. You look at the two interceptions and the fumble; two of those were not his fault. What did you think of his play?
The plan was to put him in the fourth series. Bailey Hockman understood that, as well. [Finley] has never taken a game rep, and we all know we're one play away in this season from having a different guy at every position. So we thought we'd get Ben in the game, get him a series of plays that he felt comfortable with. It just happened that he went in and went 80 yards with the drive. So we left him in and he did it again.
And then I think the game got a little bit different from that point on. You're behind, and you could see that when we were in drop-back protection mode, that some of the stuff was happening a little quick for him.
So we went back to Bailey. I thought Bailey did a good job staying composed, coming in and playing really good for us. So Bailey's definitely ahead of where Ben is mentally with his game, but you're able to see some of Ben's skillset and how good Ben can be eventually once everything starts to slow down for him.
How important do you think it was for Tim Beck to build a game plan for Ben Finley early where he didn't have to make a lot of decisions and could get the ball out very quick?
A lot of our runs, as you know, have the RPO bubbles and different things. Some of those plays would have been handoffs had they not given them to him. So Ben did a good job using numbers and leverage rules that coach Beck gives him and delivering the ball out to guys that can make plays. That got things going on the drives.
Will he enthusiastically take on the weight room here in the next year or two?
He needs to develop physically. He does. Knowing him, he's going to work really hard at it. That's the one thing, he's a hard-working young man, and I think he's thinned out and now he's starting to build back up. I think when we lost the ability to train these guys in the summer, guys like him really lost out. He needed the weight room when he got here.
And he can quick kick?
Yeah, he's actually kicked 50-60 yard field goals in practice. The guy's got a really good leg. He can kick, he can punt. There's a lot of things athletically that he can do.
Some people look at that fourth quarter going in, you've had a tough day and North Carolina pretty much controlled the game. But I don't think you can ever underestimate some of the things that happened in the fourth quarter, especially what Bailey Hockman was able to do. How important do you think that is?
I think it was great, and the fact that he did it with some freshman receivers, it was great to see Chris Scott make a tough catch, and Anthony Smith made a couple catches, got his first touchdown. So there were some positive things that happened there. For Bailey just to go in and handle a tough situation, because a lot of times you're taken out of a game because you weren't playing well. That wasn't what happened in that game for Bailey. It was a planned pull and it just happened that we all of the sudden drove two straight series. I know that's hard on a quarterback, and for him, I thought he really managed it well.
From a defensive standpoint, why do you think it was so difficult to tackle North Carolina? It was something you talked about last week. Every week, it's key to tackle well. But especially in this game, why was it so difficult?
There were multiple things. Their running back got on our freshman safety. That's not a good matchup. I told Devan after the game, 'You just saw what you're going to be like in two-three years.' Those two running backs are really good players, and schematically, they were able to get back to our free safety who's in our run fit. Which is why Tanner Ingle makes so many plays in our defense and he wasn't playing. It was an unfortunate matchup there at times. Some of the other plays, we just didn't play with good technique. I think we were flat for whatever reason at times.
We didn't shed blocks the way we have been. We were one-on-one blocked a lot more than we had been in the last three games. All those things play into it. I don't think there was anything when you look at the schemes that they were just outscheming us, it's just that when there's a one-on-one situation with a D-Lineman, they need to win those blocks. They need to shed those edges, and when you have an unblocked player at the point of attack, you count on him making the play more times than he doesn't. So you've got to give North Carolina's backs credit. I think those two kids are really good. But we didn't do a good enough job of defending them.
NC State, in the first six weeks, has faced first and goal 13 times and has scored a touchdown 12 of the 13 times. The only miss was when Dylan Parham couldn't hang onto that ball. But when you look at that, first and goal, it's so difficult to score touchdowns. Your team's able to do that. That's hard to do, isn't it?
It is. I think that says a lot about what Tim's doing with the offense and the way the guys are executing down there. And it's unfortunate, I said this to you guys offline, but the two tipped picks were plays that should have been momentum plays for NC State. Dylan's is a touchdown that should have made it 14-14; ends up being intercepted. The one that's tipped at the line is a wide-open receiver on the sideline he's throwing to on second and eight; it probably turns into first and 10 and who knows after that. So those two were tough plays that flipped the momentum of the game.
When you self evaluate, you look at things to improve but also things you like. Of the six games that you've played, what are the three things that you like the most?
Well one, I think they stick together. They're a team that keeps playing and they don't point fingers. They encourage each other. And our four wins, I think we've played really complementary football with each other and picked up the other side of the football. Until this game I would tell you that I think we're a very physical team. I did not see that Saturday, but in the previous games, we'd been striking people and guys have been playing with a lot of confidence and swagger, so we've got to get back to that.
You made the statement about NC State being the perfect place for you, a hand in the dirt type school. And you cited when Philip Rivers was here two or three years ago speaking to your team, but I remember you seeing that speech that day crystalized how you felt about NC State and NC State football. Can you talk about that?
When you get to a place, you're trying to have sayings and things, and you're trying to bring together what your culture is. One Pack, One Goal has always been our mission statement. I had mentioned to win a championship, but just the kind of identity of what an NC State football player is. We've talked about it in a lot of ways, and when Philip came in and talked about what playing hard, playing tough, and playing together was, it really wrapped it all up for me. So I thank him for that. Obviously, it was a great moment for me, our team, and our staff to hear a former player talk about how it's still ingrained in him from his days here. And that's what you want. You want all the players to come out of this place the same way where they embrace the culture of the university.
This would be a normal Friday where you could go watch a high school game or recruit. How do you recruit in this environment, where in North Carolina teams aren't even playing?
Everything's on the phone. It's calling kids on the phone, it's texting. It's facetime, Zoom when you get multiple parties on. So it's challenging at this point. I really feel for the young people out there trying to make college decisions, because they can't visit campuses and get tours from us, can't come to our games, can't do a lot of things. But they're making what I consider very adult decisions, where they're going to go to college, without the ability to go look around. I know it's because of the restrictions with COVID and all that, but it's a tough scenario for these young people and for us. We'd like to get to know them better. As much as you can get to know somebody on the phone, we're doing that. But you're really relying on a lot of things that aren't in person and that's really hard for both sides.
And it's a big deal for them to have you on the sidelines.
Yeah, and I like going to games. It's something I've always enjoyed. I think a live evaluation is critical in the process for a lot of reasons. I see our players on the grass every day, so I know what they are. So when I see him on the grass doing it, it really confirms or denies the evaluation, because on a film, you can't really tell how good or bad the competition is sometimes that they're playing against. The second thing is you can see how they interact with teammates, you can see how the coaches interact with them, how they're coached, how they take coaching. So there's a lot of things in play when we're there live that you're missing out on right now.
A few years ago your receiver room was really special with Steph Louis, Kelvin Harmon, and Jakobi Meyers. Not only were they producing on the field, they were developing a culture in there that you hope to carry over. Are you seeing some of that now from Emeka Emezie and Thayer Thomas, as well?
I think they carry the work ethic, for sure, that those guys brought in. I think they're doing it differently when you're talking about the leadership piece of it. They're both much quieter than some of those guys that you brought up. I think each kid's going to have his own way of passing along the torch. I think Emeka and Devin Carter have really built a bond together. So you're seeing that. Devin's kind of the vocal guy, to be honest, in that room right now. He's the one that really speaks up. So they have to pull on each other's skill sets, and you're not going to get someone to be very vocal if that's just not who they are. Thayer is going to outwork people all the time. And he may bring a guy with him. But he's not going to be the one giving the speech in front of the room. That's just not how he is.
One of the improvements from last year that really stands out to me is receivers making more plays, making more difficult catches, and helping the quarterbacks more. Do you see that?
I do. I think there were so many drops a year ago that were drive stallers, and plays that keep you on the field. Every time you get a first down, your odds of scoring go way up. Dropped passes, particularly when they're passes that lead to first downs, those are killers. You call a play, it's wide open. You throw a good ball and it's a drop. That's tough. It's just like running the football and getting zero yards from a play. So you need those momentum-type plays. As you know, sometimes guys are covered and there's going to be contact. They have to be able to make difficult catches, because PIs don't always get called your way. Those guys have done that this year; they're really improved and that's helped us a lot.
Cary Angeline's a nice weapon to have in the red zone, and I think that's one reason the numbers are up for NC State in the red zone, as well.
Having a 6'-7" target down there is really nice, as well. Tim has some play-action passes, pop passes and things that allow him to sometimes get away with people not even seeing him which is crazy with how big he is. But he's been able to get wide open a few times down there. But he's also made some pretty challenging catches over the shoulder. He tracks the ball well, so obviously he'll be a guy we continue to look for in the red zone.
Never miss the latest news from Inside Pack Sports!
Join our free email list